THIS POST MAY CONTAIN AFFILIATE LINKS WHICH MEANS WE EARN A SMALL COMMISSION.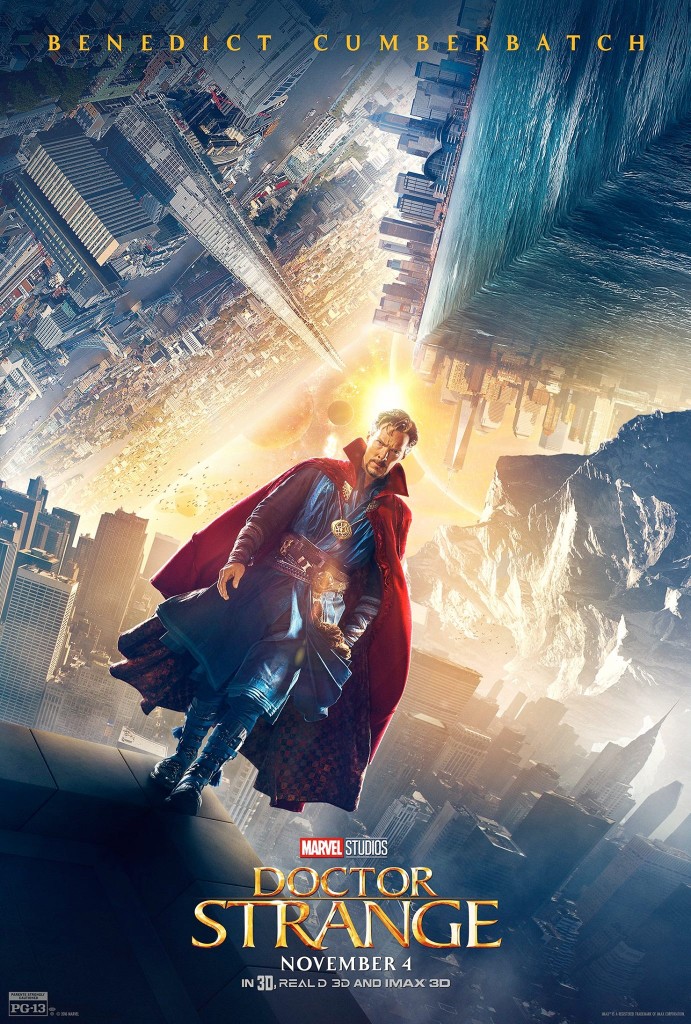 On Tuesday, I had the privilege of getting a sneak peek into the latest installment of the (massive) Marvel Universe.  To be honest, it has been tough to keep up. Over the past couple years, it seems we are being assaulted on both the large and small screen by these "gifted" beings from earth and beyond.  I often have to get some clarification on plots and story lines from the intense, bearded fellow that has the office next door to mine.  I know you all have one of these guys in your office.  They can be invaluable, if not a little long winded at times.
So there I was again, asking him about Doctor Strange.  I really want to claim, once and for all, that enough is enough.  We don't need anymore television shows.  We don't need another character added to The Avengers.  But I don't really feel that way.  To be honest the efforts from the folks at Marvel have always been well worth my time and money.  So there I was in theater a couple nights ago as the lights dimmed and the crowd stirred, ready to dive back in.
For those of you not familiar (or don't have a bearded coworker to explain it to you), the backstory of Doctor Strange starts out with our title character, Dr. Stephen Strange (played by Benedict Cumberbatch) as a brilliant and egotistical surgeon that is living the high life.  He is highly respected by his peers, lives in a smoking cool pad with floor to ceiling windows, drives some exotic sports cars and makes bundles of money.  For Benedict Cumberbatch (who has recently played Sherlock Holmes and Alan Turing) to play a supersmart jerk that no one understands isn't much of a stretch.  I went into the movie a little annoyed at this.  But Mr. Cumberbatch is a supremely talented actor that is able to give all his characters a likeability and vulnerability that makes it a bit easier to excuse the predictable casting.
Everything is going well for Doctor Strange until a horrible accident maims his hands and takes away his ability to perform surgery.  His hands were his life and his livelihood and he is a broken and incomplete man without them.  After trying traditional and ineffective methods to repair his hands, his desperation and brilliance drive across the world to try a more mystical approach.  He doesn't really understand what he is getting into, but doesn't really seem to care.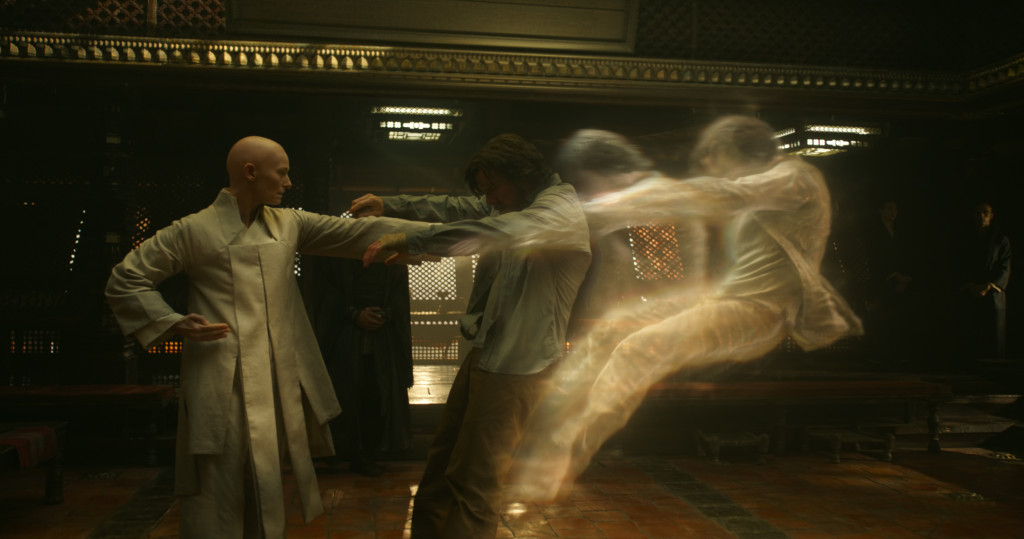 In Nepal, he meets the mysterious Ancient One (played by pitch perfect Tilda Swinton) and gets introduced to a world(s) of power that he never knew existed.  I won't spoil it here but you can be assured that there is a bad guy trying to end the world and our "padawan" is thrust, unwillingly, into the front lines.  The bad guy is a former student of The Ancient One who became powerful by drawing power from the dark side or dark world or dark dimension or whatever they call it here.  Does this ring a bell? It is a tired plot line that is really my only critique of this movie.
Tilda Swinton is a brilliant actor that is able to make every soul in that theater hang on her every word.  She is wise, mysterious and flawed all at the same time and frames a beautiful and sad portrait of a warrior tired of fighting.  The supporting cast of Chiwetel Ejiofor as the noble and loyal sidekick of The Ancient One, Mads Mikkelsen playing another bad guy and Benedict Wong as the comic relief librarian are all solid.  I don't really understand Rachel McAdams' role as Christine Palmer yet.  I guess I need to ask my bearded coworker again.  She didn't fit too much into the movie but I can only assume she become the Night Nurse in future installments.  I trust Avengers to not cast an A-List celebrity in vain.
On top of all of this, the real reason to see this movie is the special effects.  Walking out of the movie, I said to myself that the special effects I witnessed were on a new level.  I feel like we may say this to ourselves about once a year, and this may be true.  But Scott Derrickson (who has a strong career in the horror film genre) really knocked it out of the park with his ability to show us the mind bending world that Dr. Strange is introduced to.  It is not the scale of the effects that impressed me.  We see large buildings in major cities meeting all sorts of demises these days in our action flicks.  What amazed me is that these special effects really seemed to have a direct impact on the characters around them.  In other recent big-budget films, I feel like some of the spectacular effects I see now are so crazy that it seems like the effect and the actors are in two separate movies.  With Doctor Strange, as crazy as the things that are thrown up on the screen (and they are super crazy, I know you've probably seen some trailers) they do seem to be happening organically around the actors.  I suppose I'm just trying to say that all seemed a little more real to me  than usual and I'm not sure how they achieved that.  That is true movie magic.  And this is saying a lot for a movie that has a scene of a hand growing out of someone's finger, only have smaller hands grow out of the fingers of the second hand, only to have smaller hands grow out of…. You get the picture.  Wacky stuff. But seemed plausible enough when it happened.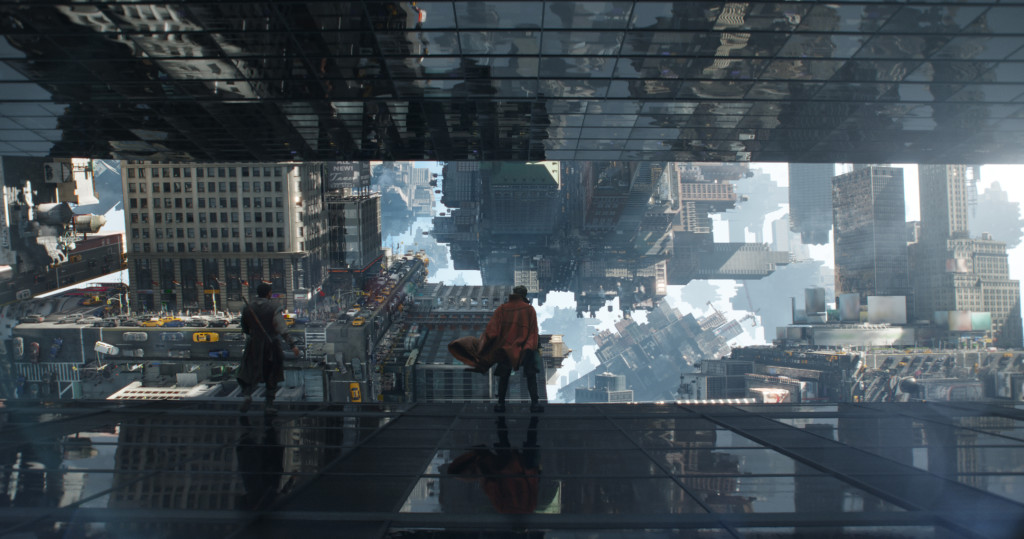 Sure, there are some things that happen in the movie that I thought about the next day and said, "Wait…. That doesn't make any sense…"  But this is a superhero movie and that is ok.  This film is another solid chapter in a solid film franchise.  I can't help but get excited to see how all these characters I am being introduced to will get together in end.