THIS POST MAY CONTAIN AFFILIATE LINKS WHICH MEANS WE EARN A SMALL COMMISSION.
This post is sponsored by NESTLÉ® NESQUIK® but the content and opinions expressed here are my own.
My wife and I frequently fall into the same rut on busy weekday mornings.  We intend to give our two children a healthy, balanced breakfast every morning, we really do.  But sometimes I turn around and I realize that I've given them the same sugary cereal several days in a row.  Lately, I have been thinking a lot about how to make sure we stay on track and give our children the balanced nutrients they need to start their day.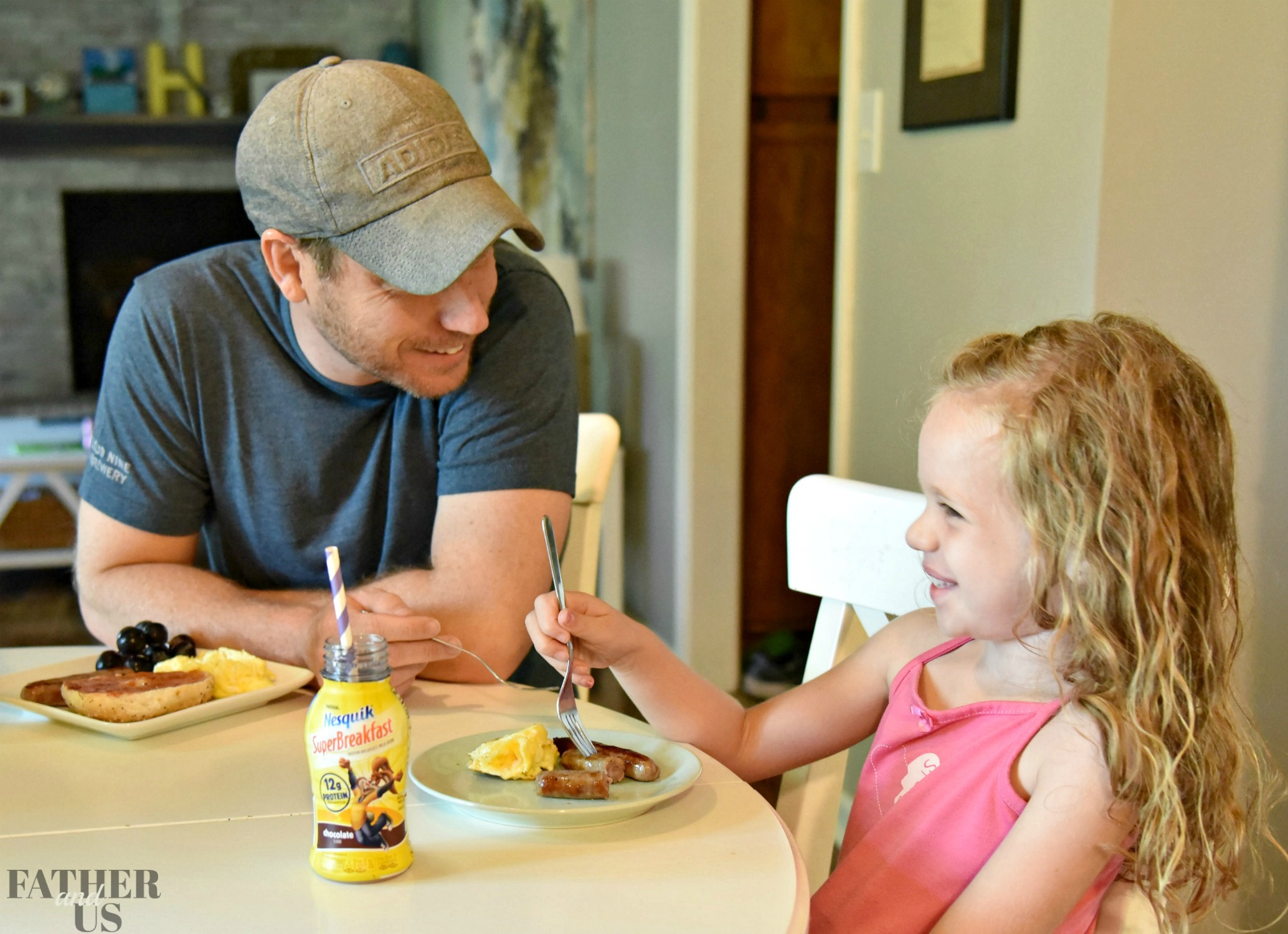 Our Busy Morning Routines
Our family is a fine tuned machine in the mornings before work and school.  We all have our roles and responsibilities and have the routine down to a science.  The only problem is, we don't leave much room for error or improvisation.  Just one wrinkle (or tantrum) and now we are scrambling to make sure no one goes out to the bus stop in bare feet or without brushing their teeth.  Often, we have to start cutting corners to do this.  The most frequent corner that gets cut is taking the time to cook a healthy, balanced breakfast. My wife and I sat down and came up with a plan to make sure this important meal doesn't get neglected.  Here are 4 ways we are going to make sure we give our children a healthy, balanced breakfast every morning.
Balanced Breakfast Tip #1-Set Your Alarm Earlier
I know.  Obvious, right?  But we have found that the time our alarm goes off isn't actually the time that we get up.  We often get on our phones and check the weather, news and social media feeds.  The next thing we know, it is 10 minutes later (or more!) and we haven't even started the process of waking our kids up.  And you KNOW they don't just bounce right up out of bed!  That is at least another 10 minutes right there!
So, my wife and I decided that we like the 10 minutes in the morning of phone time.  It gives us some time to wake up and get acclimated to the day.  So, we have set our alarms 20 minutes earlier and have stopped feeling guilty about the slow rise out of bed.  This also gives our kids more time to wake up as well.  I have found that when we come rushing into their room hurrying them to get up, it always starts the morning off on the wrong foot.  Crankiness ensues.  If they  also have some time to get used to the idea of waking up, they are in a much better mood during breakfast and everything goes a lot smoother.  They are both picky eaters, so a healthy and balanced breakfast isn't always exactly what they want to see when they come downstairs.  A good mood helps.
Balanced Breakfast Tip #2-Prepare As Much As You Can The Night Before
Our daughter is getting to the age where she likes to pick out her own clothes.  That is completely fine, but I don't like to negotiate this exercise at 6am.  Have this be a routine that is done before bedtime.  Do your kids bring their lunches to school?  Pack them the night before.  Where are their shoes?  The shoes always get us.  My son is famous for putting them in completely random places and there is an insane scavenger hunt for them at the last second.
Balanced Breakfast Tip #3-Find Easy, Nutritious Products To Be Part of a Healthy Breakfast
Nutrition doesn't always have to equal a lot of time spent in the kitchen.  We are always keeping our eyes out for shortcuts to give our children the vitamins and protein they need for the most important meal of the day.  I often scramble eggs and give them a breakfast meat.  My son loves bacon and my daughter loves sausage (why can't they agree on even this!?!?).  My wife LOVES her bagels.  She usually puts cream cheese on hers, the kids like honey or jam.  I also throw some grapes on the plate for a fresh fruit option. Grapes are extremely easy to prepare, right?!?!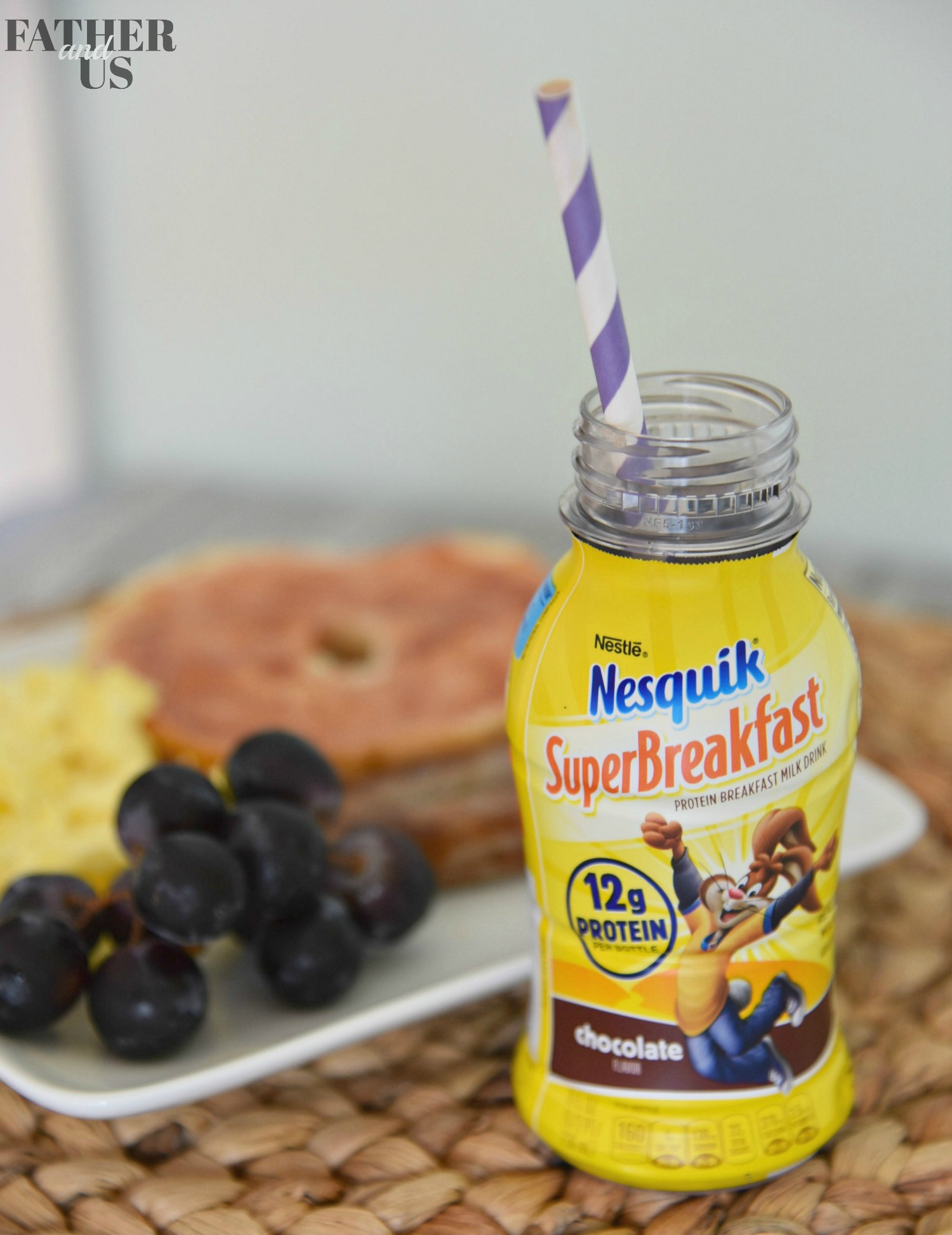 Lately, my wife and I have really been focused on giving our children enough protein, especially in their breakfast.  This is why I was so pumped to see NESTLÉ® NESQUIK® Super Breakfast in the juice aisle at Walmart.  The first thing that stood out to me was that it had 12 grams of protein from real milk!  Adding this to the normal balanced breakfast I prepare will be sure to help my kids start the day the way they need to.
I bought a six pack and brought it home for my kids to try.  As I mentioned before, they are both very picky eaters but as soon as they saw the word "chocolate", they did not hesitate to give the NESQUIK® Super Breakfast a try.  Made with real cocoa, this drink has a smooth delicious flavor that both kids and adults will love.  The flavor is coming from real cocoa in 100% real milk.  There is no high fructose corn syrup, artificial sweeteners, flavors or colors.   Along with the protein and the great taste, NESQUIK® Super Breakfast is also a source of both vitamin A, vitamin D and calcium.
Finding this yummy drink was a huge win for my wife and I.  Anytime you can pair great taste, easy preparation and nutrition, you will have happy parents.  NESQUIK® Super Breakfast has made our goals of providing a healthy, balanced breakfast a lot easier.  This will remain a frequent partner along with our usual eggs, bacon and bagels.
There is a great opportunity to try out NESQUIK® Super Breakfast during your next trip to Walmart.  Check out this offer to get up to $1.50 back on your purchase!  Remember, you can find it in the juice aisle.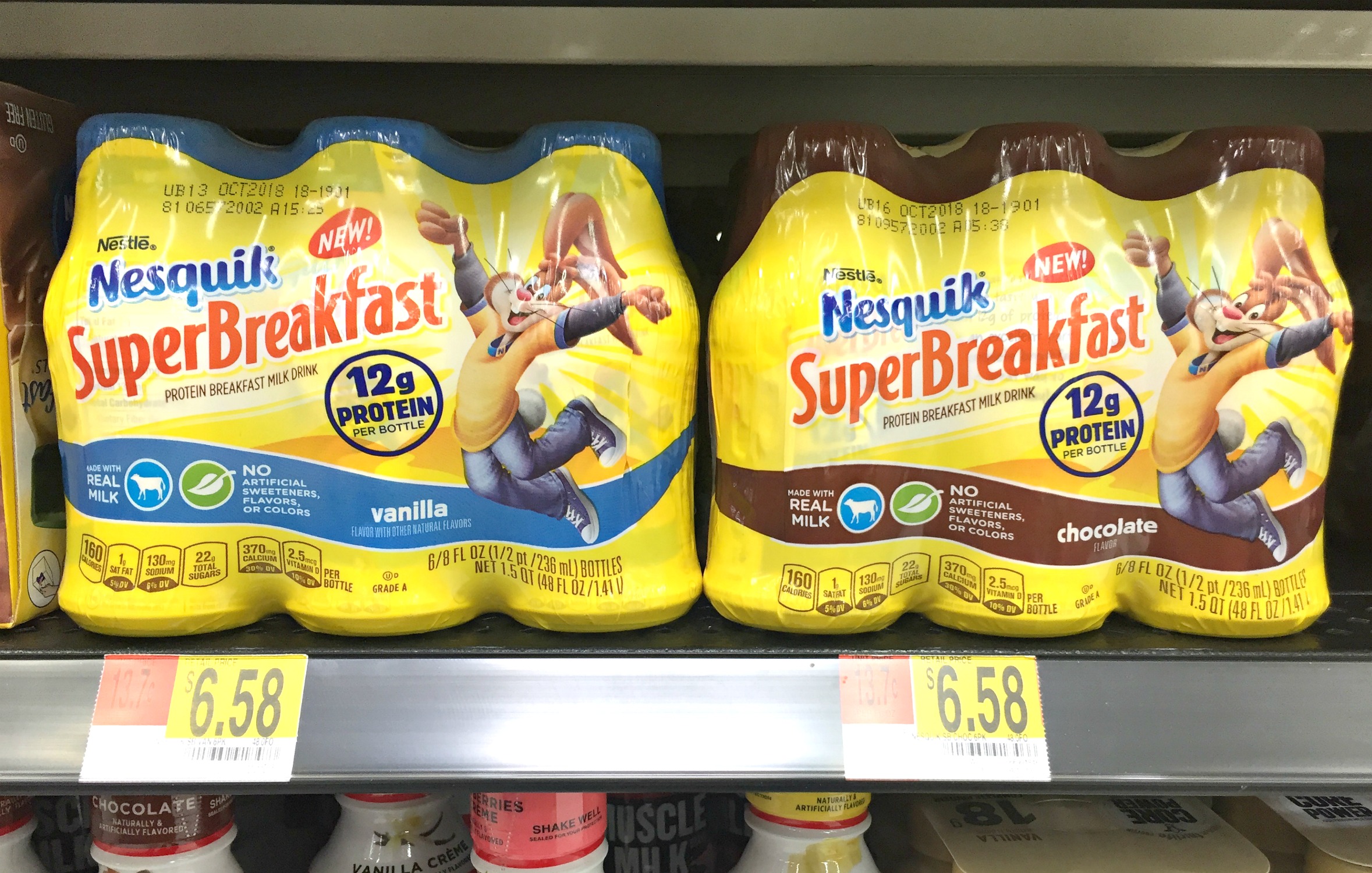 Balanced Breakfast Tip #4-Mix It Up!
If your kids are anything like mine, they will get bored of the same old thing every morning.  I'm not saying that you need to have a huge breakfast buffet for them to choose from, but mix it up just a little bit.  We do love our eggs in the family, but they tend to get tiresome after a couple mornings in a row.  We have started to eat oatmeal in this house a little more and both of our kids love that.  I love to put Avocado on my toast sometimes, just to do something a little different.  Use your imagination!  Remember though, these are things you should be planning out the night before so your aren't rummaging through your pantry or fridge as precious time runs down!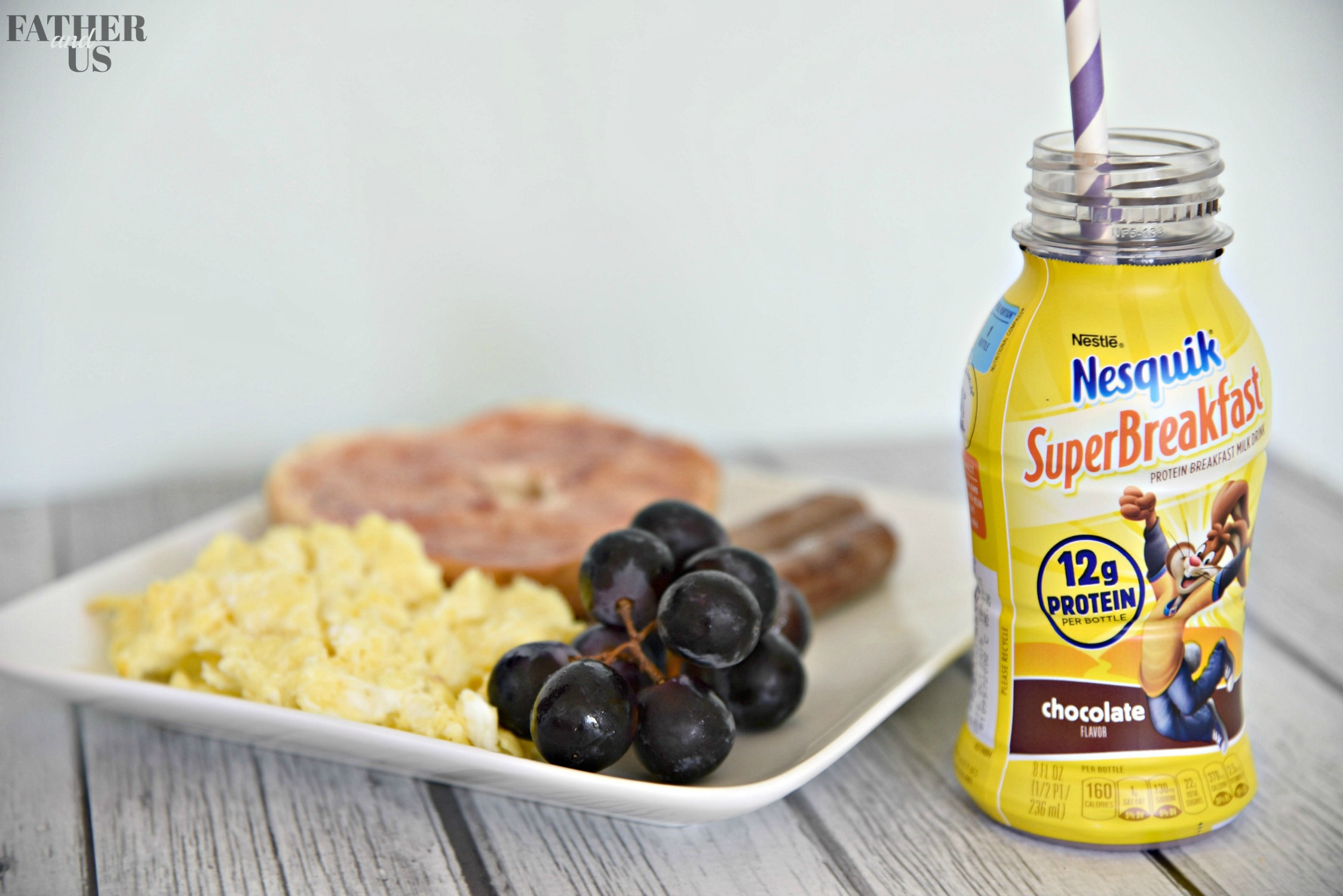 Staying on Track for a Balanced Breakfast
I have found that it is never hard to come up with a plan, the hard part is sticking with it.  My wife and I both have to hold each other accountable to stay on track and provide our kids with a balanced breakfast every morning.  Sure, we may not feel like packing their lunches after the kids go to bed and the house is finally quiet and peaceful.  But we need to do it anyways.  I think I'm going to put little mini GPS trackers on my son's shoes so I know where they are at all times!
The bottom line is that we, just like a lot of parents, are still figuring this out.  We will continue to search for shortcuts and life hacks to make our mornings easy, fun and healthy.  What are some of the things your family has figured out to get your kids out the door on time while giving them the healthy, balance breakfast they deserve?
Remember to stock up on NESTLÉ® NESQUIK® Super Breakfast next time you are at Walmart.  You can find it in the juice aisle!
Pin For Later