THIS POST MAY CONTAIN AFFILIATE LINKS WHICH MEANS WE EARN A SMALL COMMISSION.
This post has been sponsored by Best Buy. All opinions are mine.
Best Buy has raised the bar in customer service by actually coming your house to answer all your questions about which products and services are right for you. How does their new Free In-Home Consultation work? Read below!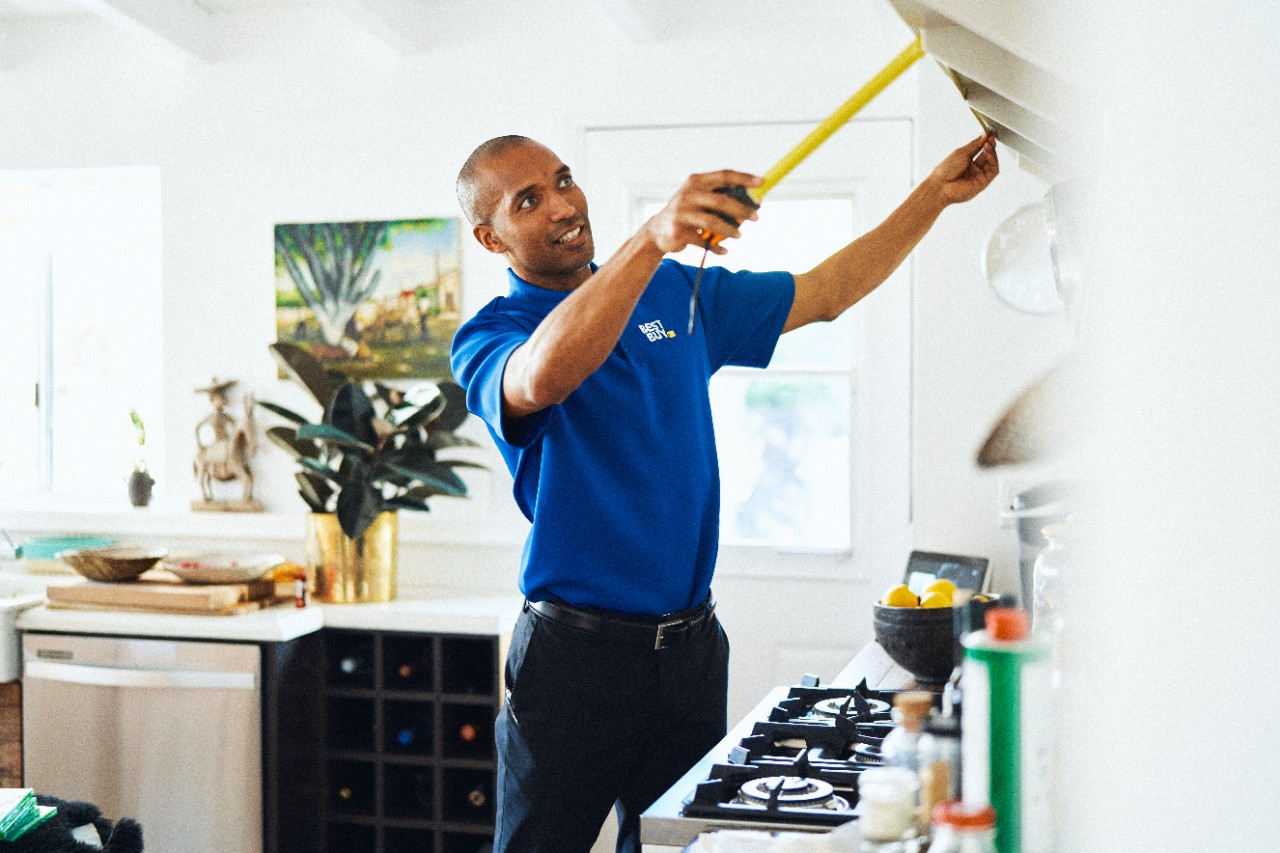 Lately, I feel like almost every month we are adding some new technology to our home that I don't FULLY understand. And it's not going to slow down. Whether we like it or not, our homes are relying more and more on technology, gadgets and internet-based services. I know that, for me, it's not going to slow down. Our kids are in elementary school now, but as they get older (and more technology advances) our home will be invaded with more and more new devices.
In the midst of all of this endless and ground-breaking technology, the question that I frequently ask myself is: "Do I really need this new thing?"  And, if that answer is a "yes", there will be a ton more questions to follow. What brand should I get? What size? What other technology will I need for it to work? Is it compatible with what I have? Will I be able to install it and set it up? Then, suddenly I find myself down the rabbit hole.  It can be overwhelming.
The Need For In-Home Consultation
Sure, there may be lots of answers online, but I feel it's best to have an actual expert listen to my specific problem and give me a solution tailored to my needs. And yes, you can go to stores and speak to lots of employees to get their take on your issue. The only problem is… they are at the store and it's impossible for them to really see what is going on in your house. It's like going to the home improvement store to get a specific part for a project. You can take lots of pictures with your cell phone, or draw plans and charts and layouts to show the expert there, but you really wish you could just bring them back to your house to see it all for themselves. Well, now Best Buy is actually willing to do that! They call it their Free In-Home Consultation. And you don't even need to go to the store to drag an employee back with you.
How Does Best Buy's Free In-Home Consultation Work?
It couldn't be easier! All you need to do is head online and follow their easy instructions to schedule a time that is best for you. After that, they will come to you, create a tailored plan and then they will handle all the details such as delivery and installation.  Now you are able to partner with a reliable, trained, background-checked expert to consult with about any product or service they have. No project is to big or too small and once they begin, they will be with you every step of the way. Some of the areas they can help you with include:
Office
Outdoor
Home Theater
Smart Home
Appliances
Garage
There is never any commitment and you can cancel or reschedule your appointment as needed. You can view proposals and request adjustments anytime you need. They can even help with business or commercial projects! There are a ton of really cool products and services that Best Buy offers that can make your life so much easier, organized or even just more fun!
What New Products Does Best Buy Offer?
Here are just a couple of the cool products that Best Buy can offer:
Eero Mesh WiFi System: This 3-pack of Euros can enhance your WiFi system with an easy set-up of 10 minutes or less. With frequent upgrades, it keeps your internet service running at tip top shape and protects you from all the security threats out there. It comes with an easy-to-use app with great parental controls to make this a must-have for any family!   
Ring Video Doorbell 2: With this cool new device, you can see who is at your door even when your not at home. And, with voice feature, you can monitor the camera hands-free on any smart device, TV or phone! 
GE Profile Wall Oven: This sleek looking oven from GE is able to cook meals for the whole family with 5 cubic feet of cooking capacity. And, with the app, you can monitor and control your oven from anywhere! The most exciting aspect of this oven is that you are able to use it to Air Fry your recipes. I love Air Frying. You can get tender and crispy results by using super heated circulating air without the need for much oil at all! 
These are just a few of the things that Best Buy can provide for your home. There are so many others. Jump online, head to the store or simply ask a professional to stop by your home to learn more!