THIS POST MAY CONTAIN AFFILIATE LINKS WHICH MEANS WE EARN A SMALL COMMISSION.
Thank you First Alert for sponsoring this post. First Alert 10-year sealed battery alarms offer hassle-free protection that helps keep your home and family protected for a decade! #LiveWithA10
These 5 Tips to increase fire safety for kids will help keep your home safe and sound.  Discuss and drill these practices frequently with the whole family.  Getting everyone involved with fire safety is important and it all starts with a properly working smoke and carbon monoxide alarm.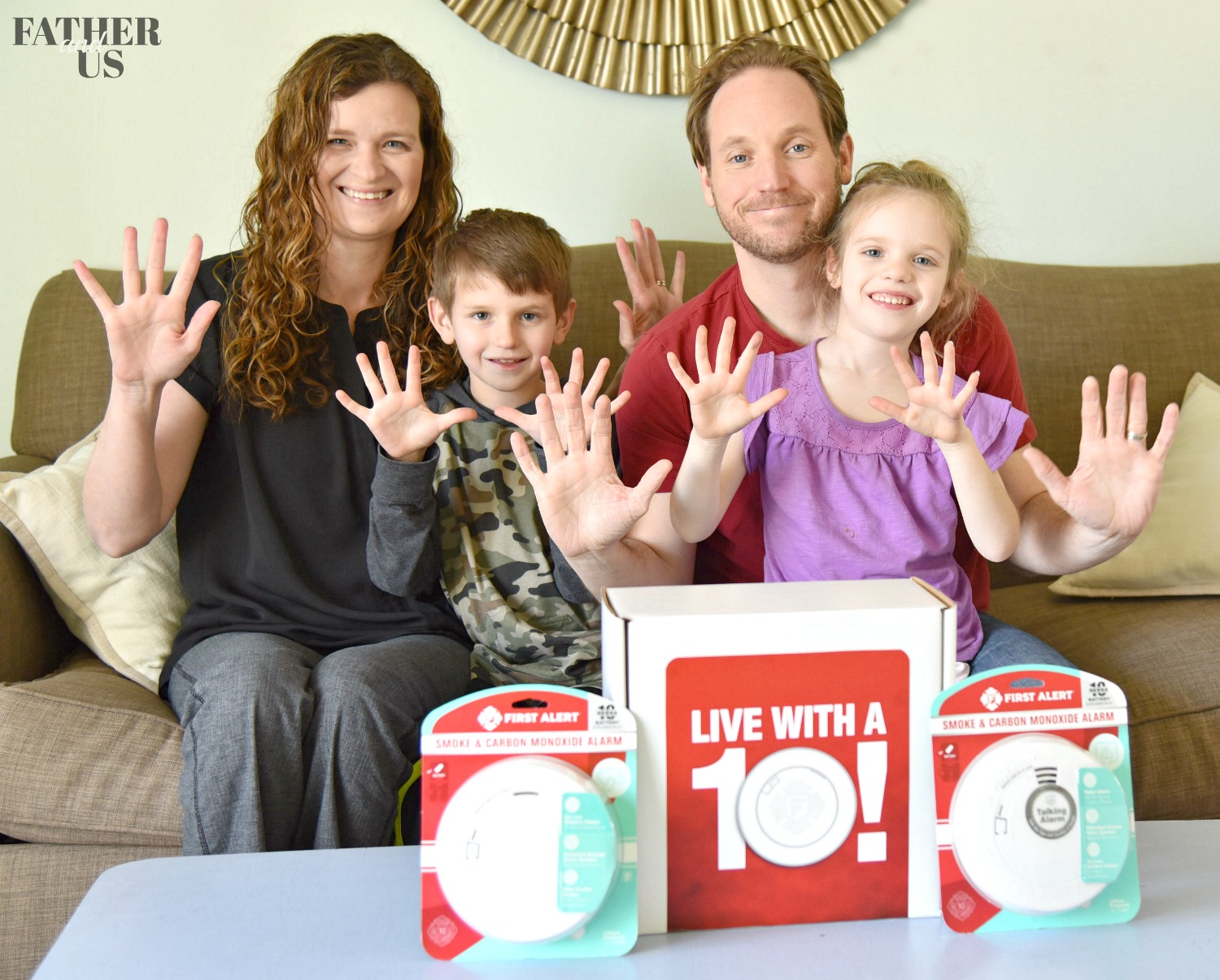 Keeping My Kids Safe In The Big, Beautiful World
As a father of two school-aged children, I am constantly on the lookout for ways to keep them safe from the outside world.  They are growing so fast and I sometimes feel that it is hard to keep up with the evolving threats. New dangers seem to lurk around every corner with each passing birthday.  I used to be scared of them falling down the stairs, now I'm on edge when the jump on their bikes to ride to a friend's house.  I know that this anxiety will never end.  It is just part of being a parent.
At the end of the day, when they are tucked safely in their beds, my wife and I can finally breath a sigh of relief that they have once again been able to navigate this big, beautiful world with no scars to show for it.  But the truth is, just because they are snuggled at home in their bed, doesn't mean that they are completely safe.  Without proper precautions, our homes can present very real dangers.  Fire, smoke and Carbon Monoxide poisoning are threats that every home and every family should consider.  Did you know that a fire department responds to a house fire every 24 seconds in America?  Luckily, there are many ways to mitigate these dangers and I feel that it is important to give my kids a more active role in home fire safety.  So, here are 5 tips to get your whole family involved in making your house a safer place.
5 Tips To Increase Fire Safety For Kids
TIP #1: Discuss and Practice An Evacuation Plan
Talk to your kids about different ways to get out of the home if a fire breaks out.  This is especially important if you live in a 2-story home.  If your family sleeps upstairs, it is wise to invest in collapsible ladders that can be put in each bedroom.  Make sure every window can easily open and teach your kids how to open them.   If you don't have ladders in each room, take a look at other exit possibilities.  In our house, there is one bedroom that has the roof of the porch right under it.  In another room, there is a large tree branch right outside.  In my son's room, there is a lower roof with some soft bushes under it.  I make it clear to my kids that these are options in a dire situation.
In case of a fire, getting out and staying out is the primary goal.  Inform your children that smoke is toxic.  When they are moving, remind them to stay low.  Teach them how to quickly touch door handles with the back of their hands to see if they are hot before grabbing.  Practice and drill with the whole family.  We do this every six months.  I use the daylight savings time change in the Fall and the Spring to remind me.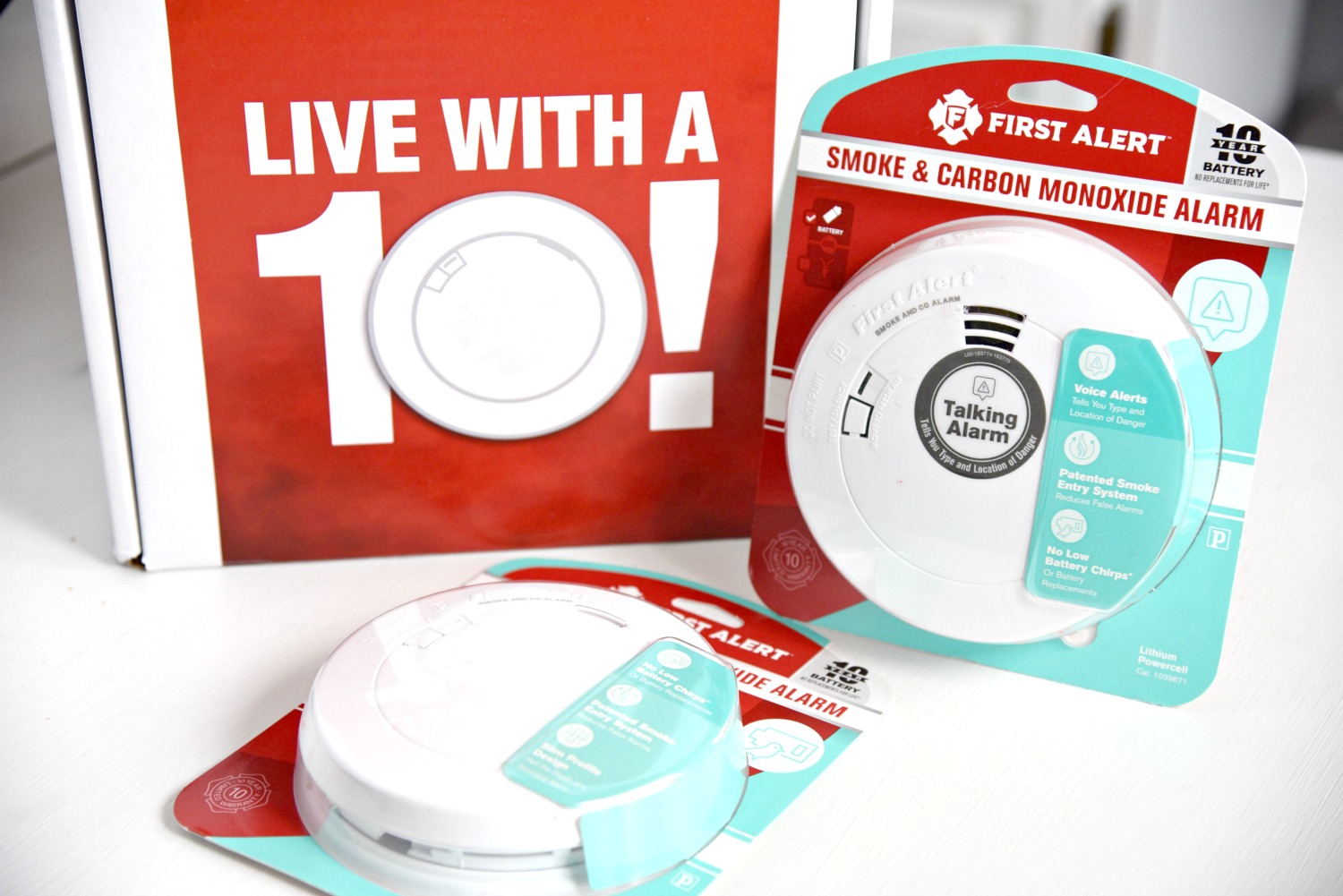 TIP #2: Don't Hide
If they are trapped inside their rooms, tell them to cover up the vents and cracks under the doorways to keep smoke from coming in.  Many times, if kids are scared, they will try to hide.  They may go into a closet or under a bed.  Tell them not to do this.  They may become even more trapped or make it harder for first responders to find them.
TIP #3: Install Smoke Alarms On Every Floor Of Your Home and In Every Bedroom
I cannot stress enough how important it is to install Smoke and Carbon Monoxide Alarms on every level and in every bedroom of your house.  But, just having them isn't enough.  You should be testing them regularly.  3 out of every 5 home fire deaths are a result of alarms that are not working properly.  You should be replacing your batteries every six months to make sure they are in proper working order.  Or, an even better idea is to get a 10-year sealed battery alarm so you don't ever need to worry about replacing the battery for the lifetime of the device.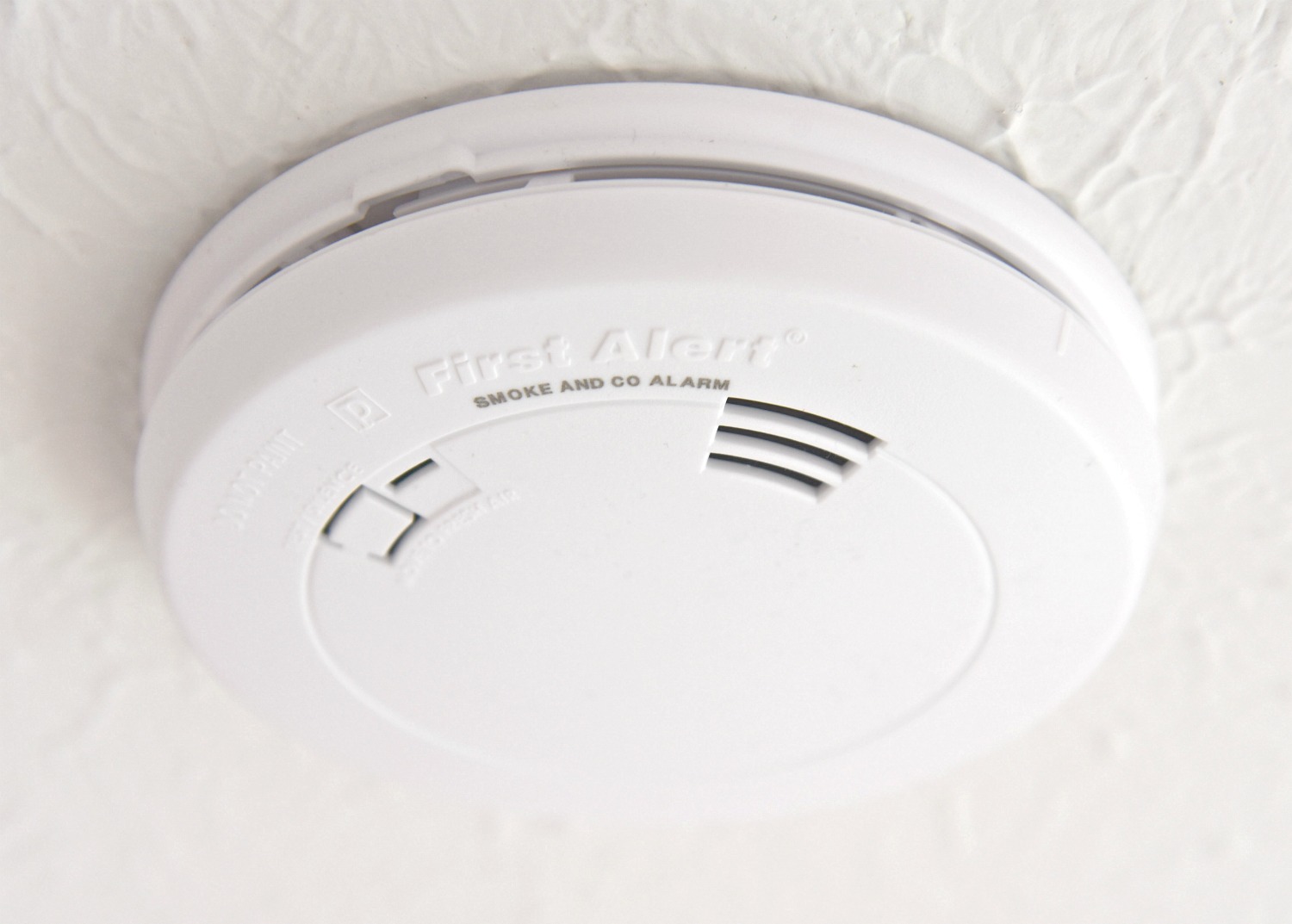 First Alert 10-Year Combination Smoke & Carbon Monoxide Alarm
I've recently had the opportunity to work with First Alert and have learned all the benefits of having a 10-year sealed battery alarm in our home.  We received two products from them, the 10-Year Combination Smoke & Carbon Monoxide Alarm and the 10-Year Combination Smoke & Carbon Monoxide Alarm with Voice Alerts.
Both of these alarms feature a modern looking, low profile that is about half as thick as a traditional alarm.  They also offer dual protection against both smoke and carbon monoxide.  But the best feature of both of these systems is the sealed 10-year battery.  This provides hassle-free protection to your whole family for a whole decade!  No longer do you need to remember to change the battery, or wake up in the middle of the night to that.annoying chirp.  No more hauling a ladder inside and up the stairs just so you can change the battery.  You can also save money on all the costly battery replacements for the next decade!  Save those batteries for the toys!  Or my TV remote!
Both systems offer up all of these great benefits.  But 10-Year Combination Smoke & Carbon Monoxide Alarm with Voice Alert offers even more protection.  This system is actually able to tell you the location and type of danger in your home so you can act even quicker to keep your family safe.
I'd highly suggest changing your current smoke & carbon monoxide alarm to a 10-year sealed battery alarm from First Alert. It literally took me about 4 minutes to install each alarm, from beginning to end.  There is no excuse not to do this!
10-year sealed batteries are becoming the standard in home safety.  There is actually new legislation in some states that require a 10-year sealed battery alarm.  Go here to check out the status in your state.  I just looked up my own state and we require a 10-year sealed battery on all new construction.  I had no idea!
But remember even these 10-year sealed battery alarms will need to be replaced at some point.  But, with First Alert, you will be aided by it's end-of-life-warning, telling you that it is time to get a new one.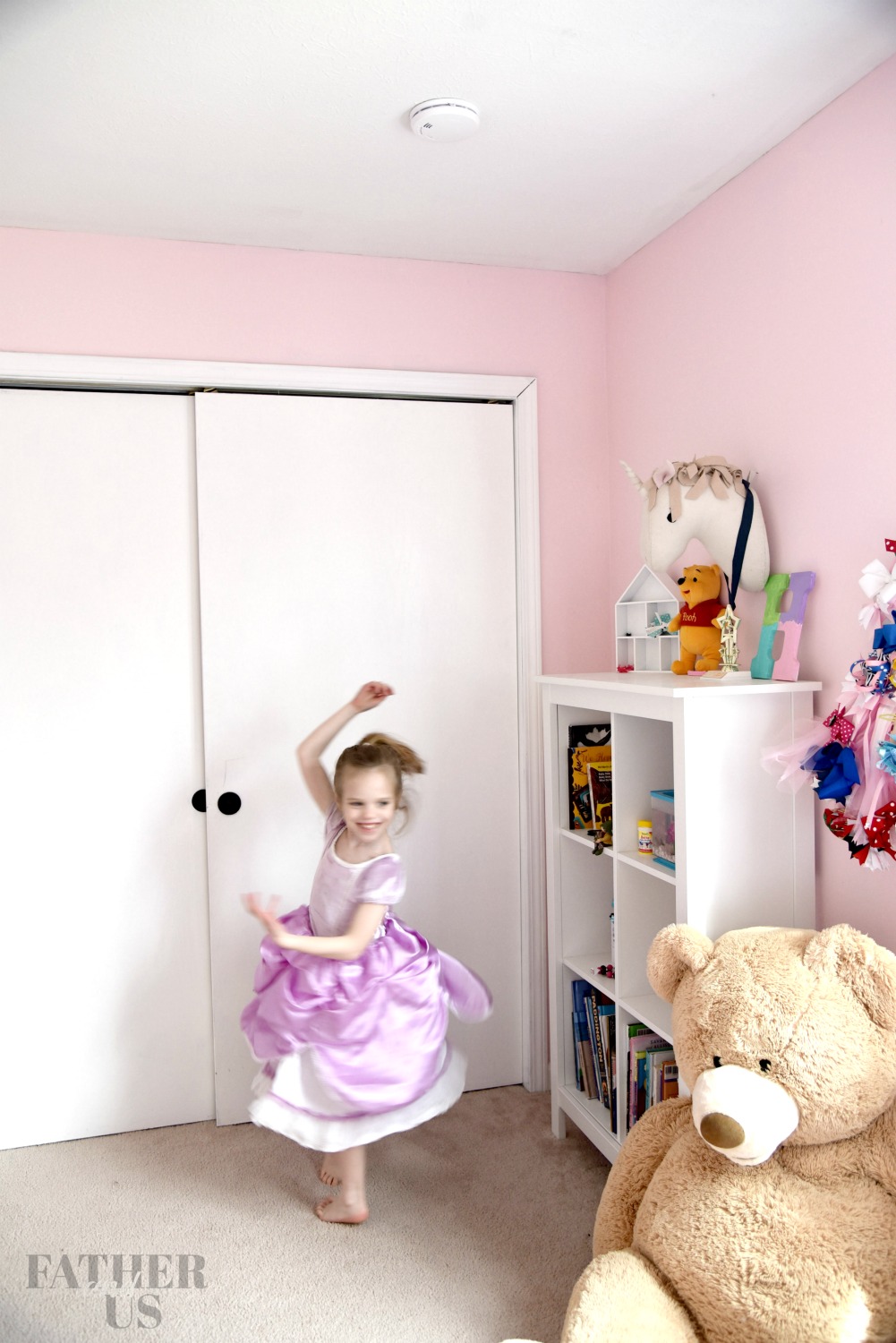 TIP#4: Don't Over Plug Outlets
It seems that we have more and more electronic gadgets in our house every year!  There are so many appliances that need to be plugged in and devices that need to be charged.  As a general rule, I still advise my kids to let me help them plug everything in.  But, even if you kids are a bit older and you are comfortable with them plugging things into the wall, counsel them to never over plug. This certainly increases the risk for a house fire.
TIP#5: Have A Designated Meeting Place Somewhere Safe Outside
Things may be chaotic if your house is on fire.  And it may be hard to see around in the house.  My kids are certainly old enough to get out by themselves and they may have done without our help.  Make sure you have place to all meet up once outside the house.  This way you can know for sure who is out and who is still inside.
Fire Safety Is Something The Whole Family Can Get Involved With
Sure, as parents, we feel that it is our job to keep our kids safe from the outside world.  Don't forget that they can also play an active role in their own safety.  We do this all the time with "stranger danger" talks and other important conversations that we have with them.  Thanks to working with First Alert, I've been thinking about how to get my kids involved in fire safety as well.  I think that it is imperative to talk about these things with your kids.  Practice, drill and rehearse with them.  And always make sure you have a working smoke and carbon monoxide alarm!