THIS POST MAY CONTAIN AFFILIATE LINKS WHICH MEANS WE EARN A SMALL COMMISSION.
This shop has been compensated by Collective Bias, Inc. and its advertiser. All opinions are mine alone. #SunbeamTargetedHeat #CollectiveBias
I have struggled with back pain for 15 years. Over all of this time, I've discovered some tricks to help me deal with it. I've recently had surgery and have discovered that these same methods are helping me to heal. Stretching, exercise and heat application have become very important to me living my best life!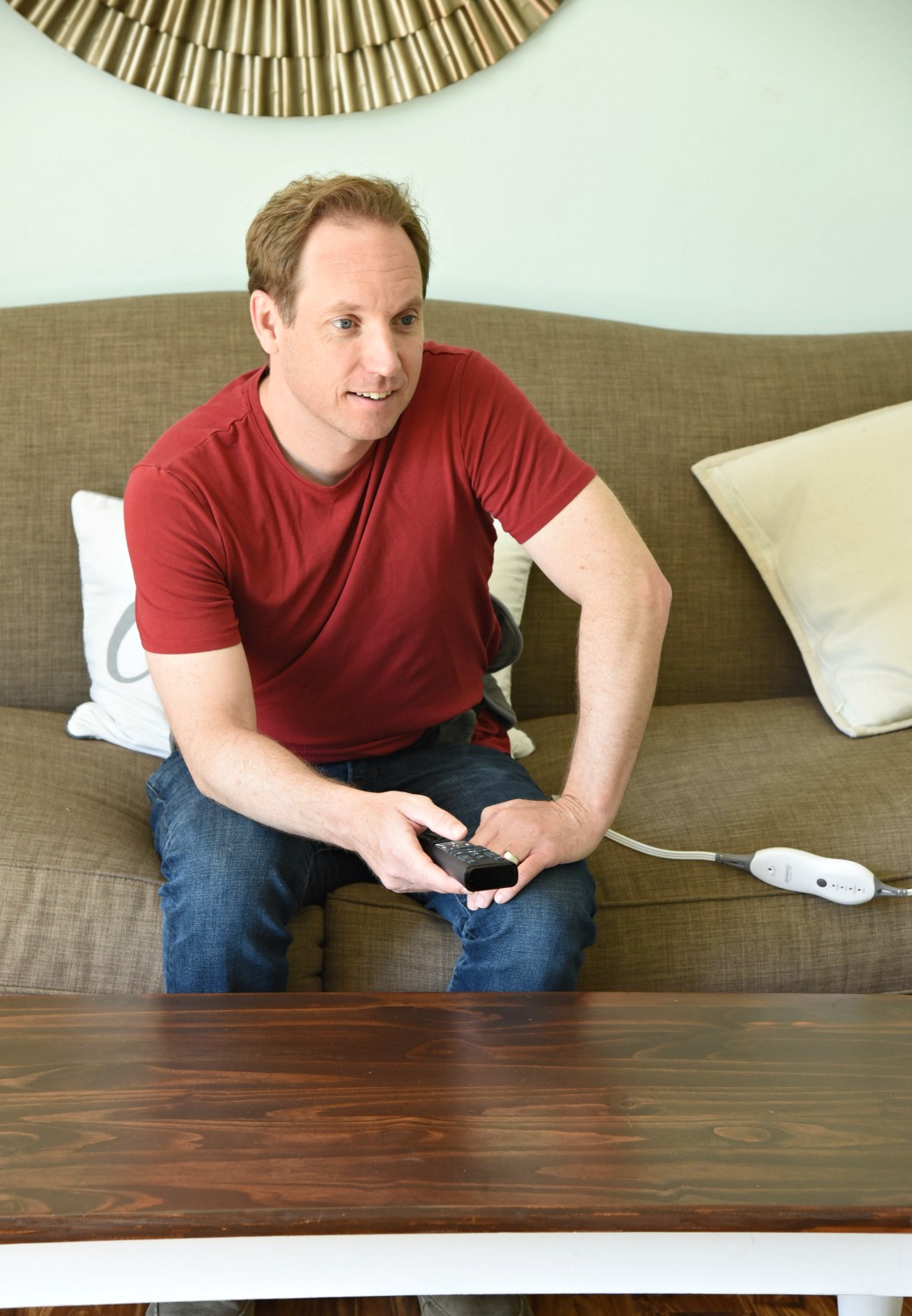 Beware of Bowling
Although it was 15 years ago, I remember it like it was yesterday. I was visiting my extended family for the Thanksgiving holiday. On Black Friday, it was a tradition that all the ladies go out shopping and all the boys go bowling.
Evidently, there was something wrong with my shoes, they were too "sticky". I remember not sliding properly on the floor when I released my ball. This resulted in my back being jerked forward repeatedly. It didn't hurt at the time. But, man, I woke up the next morning and could barely move. I still wasn't worried. I was in my early 20's and figured my body would heal up fine on it's own in a couple of days, just like it always did.
That pain never went away. I went to doctors, physical therapists and chiropractors. I took steroids, anti-inflammatories, pain relief meds, vitamins and supplements. Nothing seemed to work. Sure, the pain would subside for a while and I would think everything would be fine. But then I'd try a new exercise or do some yard work and I'd be back in severe pain again. Or, worse, my back would flare up for no discernible reason. This started to make me afraid to do anything. Pretty soon, I was in my 40's and I was afraid to play tennis with my dad, wrestle with my son or play basketball with my friends. There were only a handful of low impact exercises that I could do at the gym. This was no way to live. That is when I first considered surgery.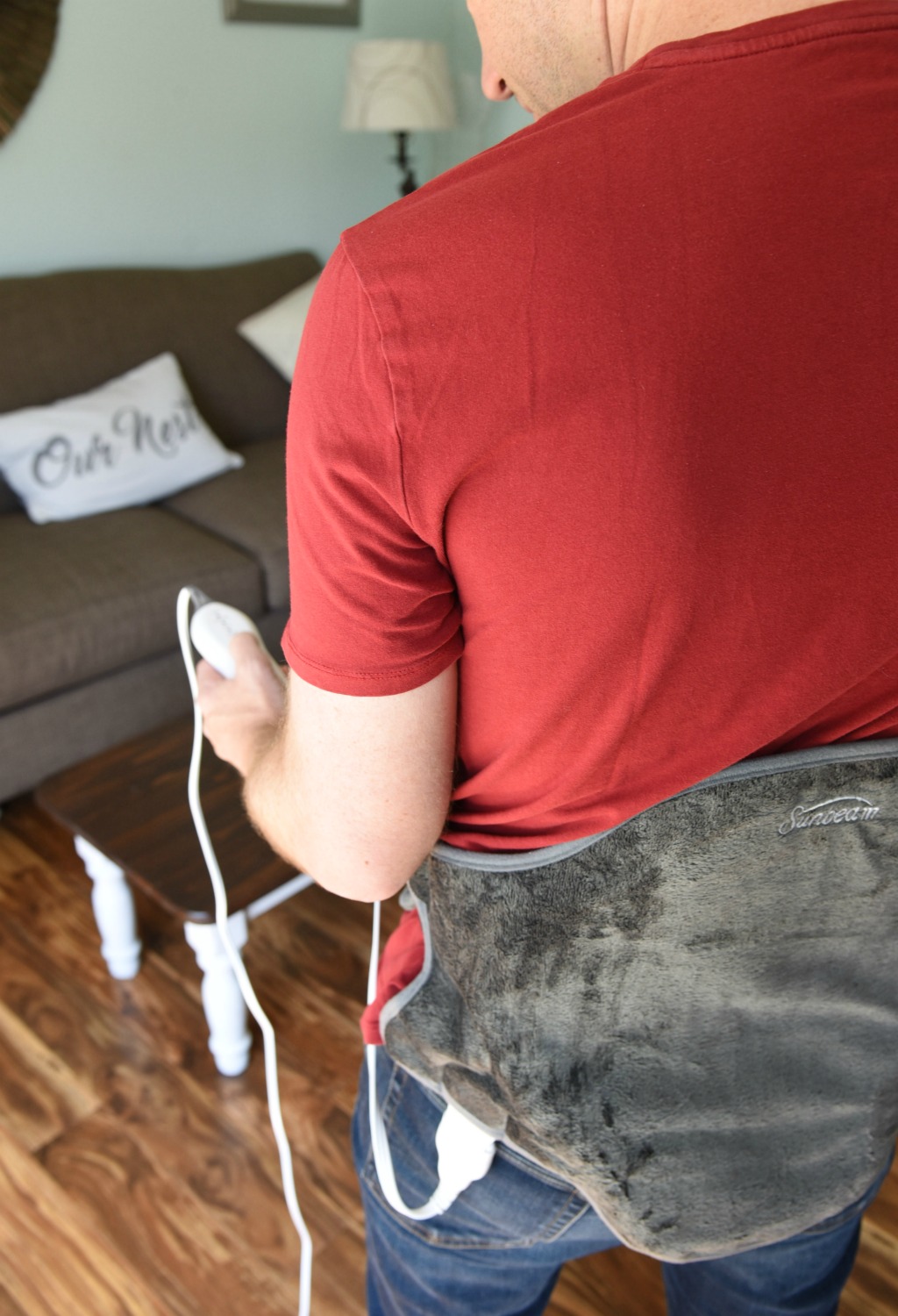 How I Deal With Back Pain
But in those 15 years prior to surgery, I had to live with my back pain everyday. And, going to all those doctors, therapists and specialists were not a complete waste of time. Over the years, I did learn some tips and tricks to help deal with it. So I'd like to share with you some of the things that have helped me with my back pain, both pre and post-surgery.
One thing I try to do as much as possible is exercise.  I totally understand how hard this can be. When your back is absolutely killing me, I sometimes feel like just lying around all day. But actually getting up and moving around really helps. No, I'm not going to the gym and doing deadlifts or anything like that. By exercise, I mean VERY low impact. For me, I find that swimming and the Stair Stepper work great. Even just taking a walk around the neighborhood can make my back feel better. But talk to your doctor or physical therapist to find exercises that could work well for you.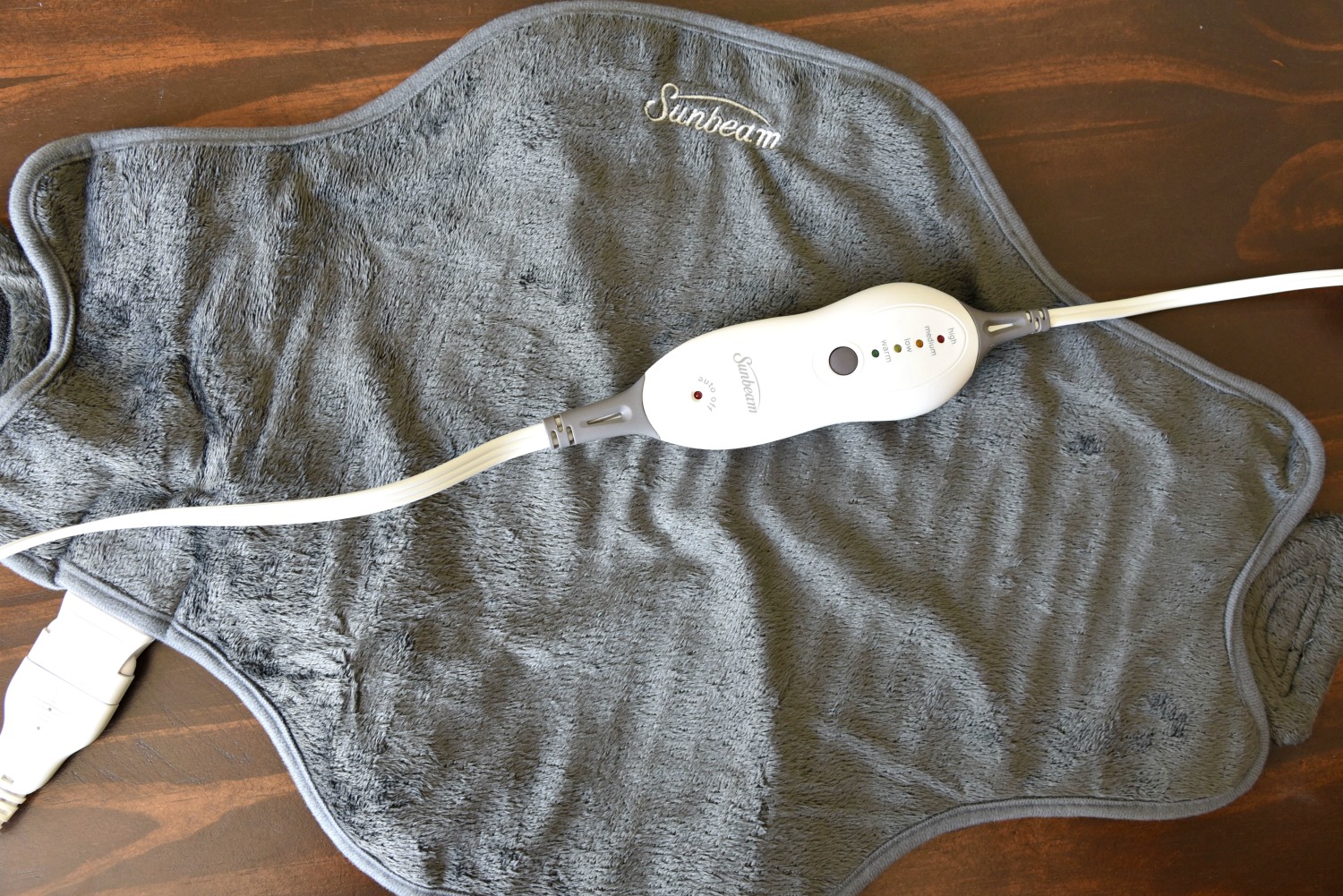 Sunbeam® Renue® Contoured Back Heating Pad
The second thing that really helps out is applying heat to my back. This has been true both pre and post-surgery. This can get your muscles warm and loose, much like exercise can. But, by applying heat, you can do this without going to the gym or walking around the neighborhood. I love using a heating pad on my lower back. I try to avoid taking pain medication, so using heat is certainly my first choice in pain relief. For years, we have had this VERY old heating pad. In order to get it in the right spot to be most effective, I would have to tuck it into the waist of my pants, prop it up with a pillow behind me or sit in an awkward way. It was pretty frustrating.
Recently, I got the opportunity to try out the Sunbeam® Renue® Contoured Back Heating Pad.  It has really changed the way that I can relieve my pain through heat application.  Now available at Walmart, I'm pretty excited about this cool device and want to tell you about it.
The feature that I was really excited about was the integrated waist strap. This soft, comfortable and adjustable strap keeps the pad perfectly in place totally hands-free.  So it can give you targeted, high-level heat therapy no matter what you are doing. No more tucking it into my waist! The strap comes with an additional extender as well, so it can stretch up to 85 inches. Now I can watch a movie, work at my desk or read a book while the Sunbeam® Renue® Heating Pad stays exactly where it needs to be. The pad is contoured for maximum comfort and made out of soft, Micromink fabric, so it doesn't bother me, no matter what position I am in.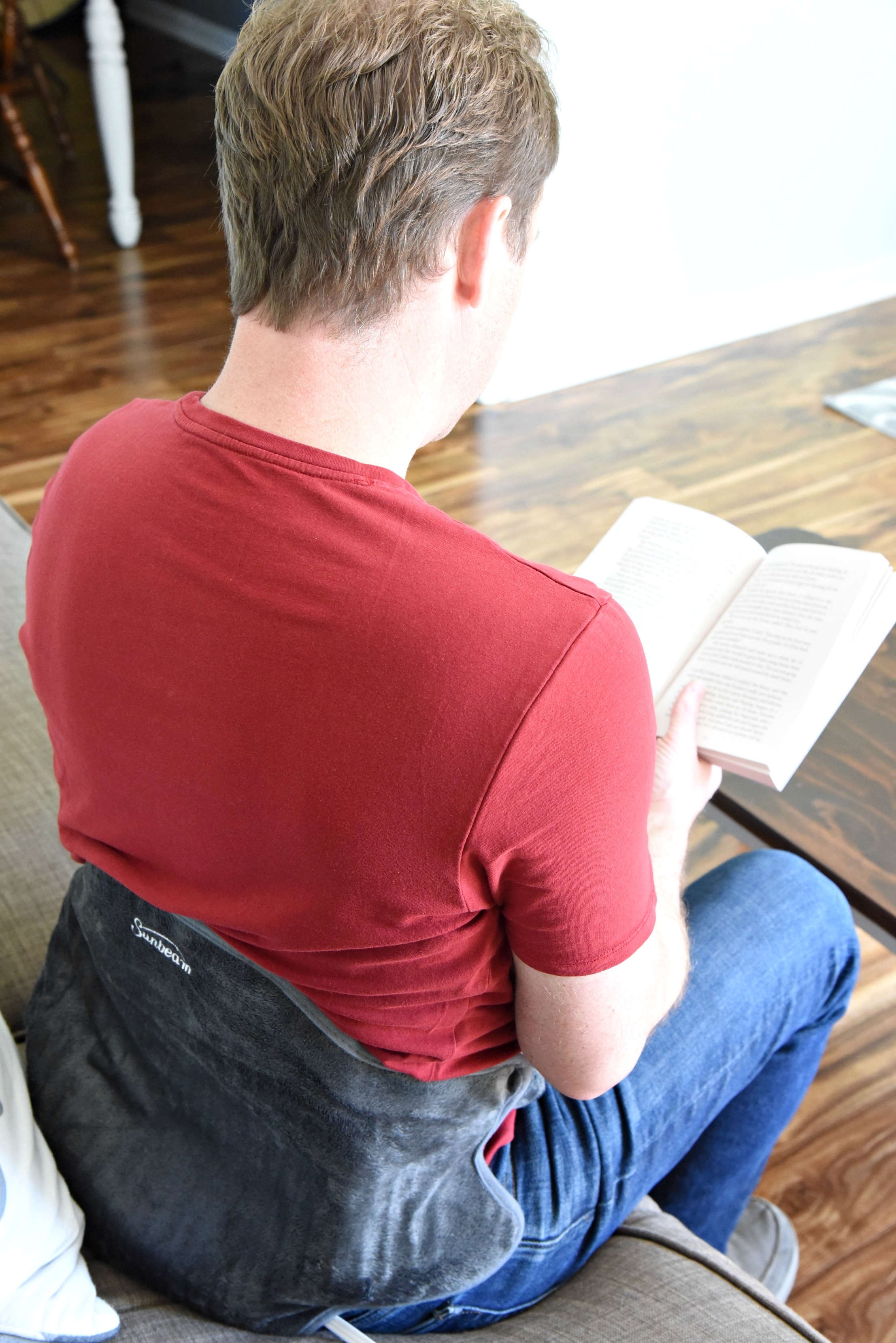 This targeted heat therapy is clinically proven to relieve pain associated with stress and muscle tension in the lower back. And the Sunbeam® Renue® Heating Pad gives you this therapy in other convenient ways as well. There are 4 heat settings from low to high along with a 2 hour automatic shut off. And the whole pad is easy to care for and clean because it is machine washable!
Next time you are at Walmart, look for the new Sunbeam® Renue® Heating Pad. After 100 years, Sunbeam has really mastered heat control products with innovation and design. All that experience is evident in the simple, elegant design of the Sunbeam® Renue® Heating Pad.
Stay Flexible!
The third way that I can get through a rough patch of back pain is by stretching. I've learned some great stretches from my physical therapist that really help me out when I am in pain.  Almost all of them have to do with lower back and hamstring flexibility. I love to do these stretches at least three times a day: in the morning, afternoon and before I go to sleep at night. Make sure you talk to your doctor or physical therapist to find the right stretches for you!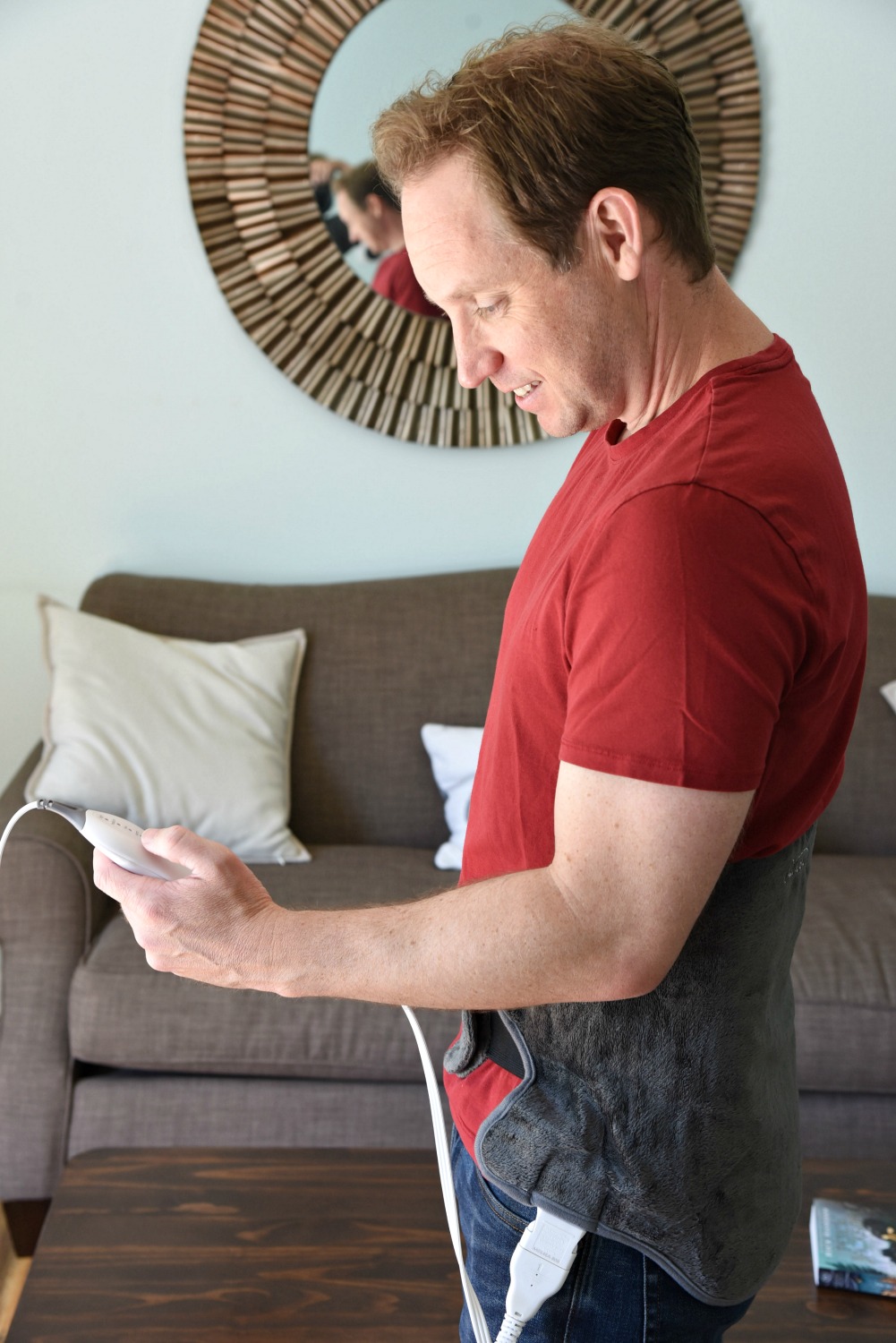 You Are Not Alone With Your Lower Back Pain
I know that I'm not alone. So many of us suffer from lower back pain. It can be demoralizing, stressful and hopeless.  But there are a TON of tools out there to help you through this challenge. I'm thankful that there are companies like Sunbeam® out there helping us all deal with our lower back pain.
Consult with your doctor and stay as active as you can. I find that my back pain is always the worst in the mornings after I have been lying still all night. Getting up, doing my stretches, going for a morning walk or using my heat pad while I check my emails usually helps me get into my day pain free rather quickly.
What ways have you found to deal with your lower back pain? I'd love to hear any tips and tricks that you fellow back pain sufferers may have found. And to learn more about great products like the Sunbeam® Renue® Heating Pad, follow #NewellHomeRefresh on social media!  Good luck!