Print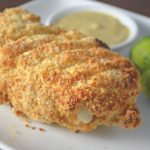 Easy Air Fryer Chicken Cordon Bleu
This Easy Air Fryer Chicken Cordon Bleu turned out perfect! My wife and kids loved it! Chicken breast stuffed with swiss cheese and ham, coated with Panko bread crumbs and Air Fried to perfection. Awesome!
Preheat Air Fryer to 375 degrees.

Slice the chicken breasts in half the long way. So you can open them up like book and get two thin pieces of chicken.

Cover the breast with plastic wrap and use a mallet to thin them out further.

Place the swiss cheese in the middle of the breast and then place the ham on top of it.

Roll the chicken up and use a toothpick to hold it in place. Salt and pepper to taste.

Coat the rolled up chicken in flour, the cover in egg and then coat with the bread crumbs.

Cook at 375 degrees in Air Fryer for 20 minutes. Turn over halfway for even cooking.
Make sure that you get a good coating on the chicken breasts to get that nice crispy outside. You can also coat your chicken in dijon mustard before coating with flour. This will probably help the coating stay on better and give it a little extra flavor. But my kids HATE mustard, so I just dipped mine in a side of it. Also, used pretty thin slices of ham and I think that worked out well. So, when I was cutting through the chicken, the knife wasn't getting hung up and tugging the ham out. After being cooked, the ham broke up nicely and gave it a great flavor and texture.