Print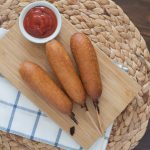 Air Fryer Corn Dogs
Stop what you are doing and try out these Air Fryer Corn Dogs. So easy to make and incredibly delicious to eat! Cooking them in your Air Fryer makes them nice and crispy on the outside and tender and juicy inside. In just a couple minutes, you can get your frozen Corn Dogs tasting just like the State Fair!
FOR REGULAR CORN DOGS: Cook for about 6 minutes. Flip them over and cook for 4 additional minutes.

FOR MINI-CORN DOGS: Cook for 4 minutes. Shake them around in the basket and then cook for an additional 4 minutes.