THIS POST MAY CONTAIN AFFILIATE LINKS WHICH MEANS WE EARN A SMALL COMMISSION.
Here is your one-stop shop to make the most of your vacation at Beaches Resort Turks and Caicos. This massive resort can be a little disorienting at first. With this guide, you can hit the ground running without wasting a minute of your precious vacation.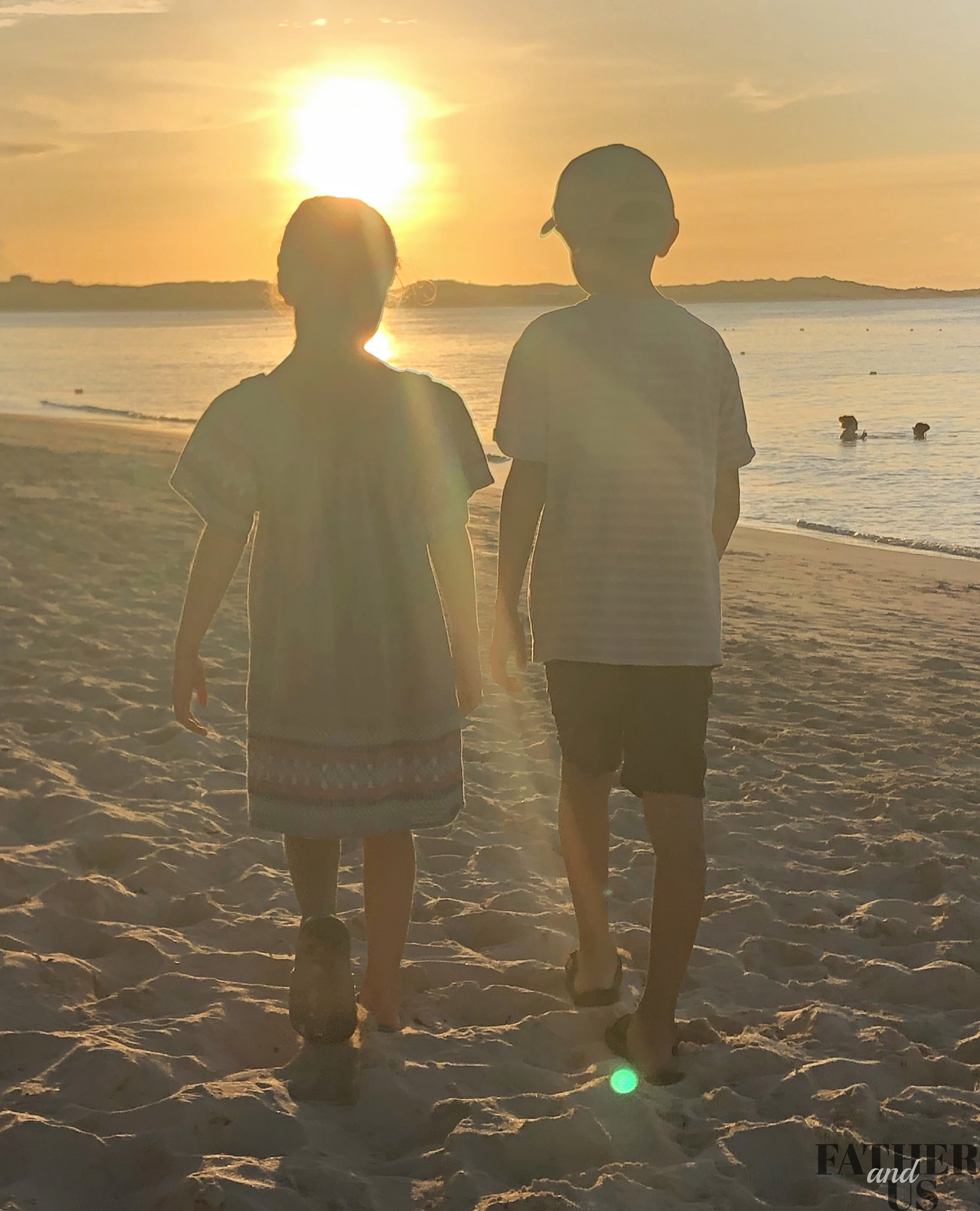 *Disclosure: While I was not required to write this post, I did visit Beaches Turks and Caicos with my wife while she was attending Social Media On The Sand. As a result, the rates for our rooms were available at a reduced price.
Beaches Turks and Caicos
Beaches is the family friendly line of resorts from Sandals. They currently have three locations: 2 in Jamaica (Negril and Ochos Rios) and on in Providenciales Turks & Caicos. While I haven't been to either in Jamaica, my family just spent a week in Turks and I learned SO much that I wish I had known since the first day! I hope you find this guide useful when you and your family have the opportunity to head there. I haven't been to a lot of Sandals resorts. For my 40th birthday, I went to Sandal's Royal Plantation. This is boutique sized, adult's only resort in Jamaica. We had a wonderful experience. So, when planning a family trip it made sense to head to Beaches in Turks & Caicos. I'd heard that Turks & Caicos had the best beaches and water in the world. I had to see for myself! So, lets start with the actual island of Providenciales.
Providenciales, Turks & Caicos
Providenciales is an an island on the Northwest of the cluster of Islands that make up Turks & Caicos. It is the third largest island in Turks (38 sq miles) with a population of about 34,000 people. This higher population is due to the fact that this is the most developed island for tourism. The tourism industry as a whole is fairly new to Providenciales, with Club Med being the first resort built back in 1984. In fact, the thing that struck me about the island as I drove around it was home much space their seemed to be to build more. There was currently a lot construction going on, especially in the Grace Bay area.
The rumor that I had heard about the beaches and the quality of the water was completely accurate. I've been to beaches all over the world: Hawaii, Jamaica, Antigua, Australia, Tazmania, South Africa and both coasts of America. These beaches on Turks were BY FAR superior to anything that I'd ever seen. The sand was soft and cool. Despite sitting in the sun all day, the sand felt like you were walking on the opposite side of your pillow the whole time. I've been on beaches were the sand was scorching. Not the case here. The water looked unreal. Literally, unreal. I looked like cartoon water. Or water that you see in Pixar films. This makes Providenciales the ultimate destination for snorkeling and scuba diving.
Of course, Beaches is all-inclusive (more on that later), so you don't need to worry about this if you are staying on property the whole time. But, we actually stayed at another resort called Ports of Call in Grace Bay for a couple of nights as well. This was not all-inclusive. And I found out that Providenciales is EXPENSIVE. A six-pack of Corona is $19.99. A loaf of white bread is $4.50. So… be prepared (By the way, despite being a British Overseas Territory, mostly Americans vacation here. So the currency is the U.S. Dollar).  But, if your staying at Beaches the whole time, you won't need to worry about this. In fact, I put my wallet in our safe when we arrived and didn't touch it until we checked out!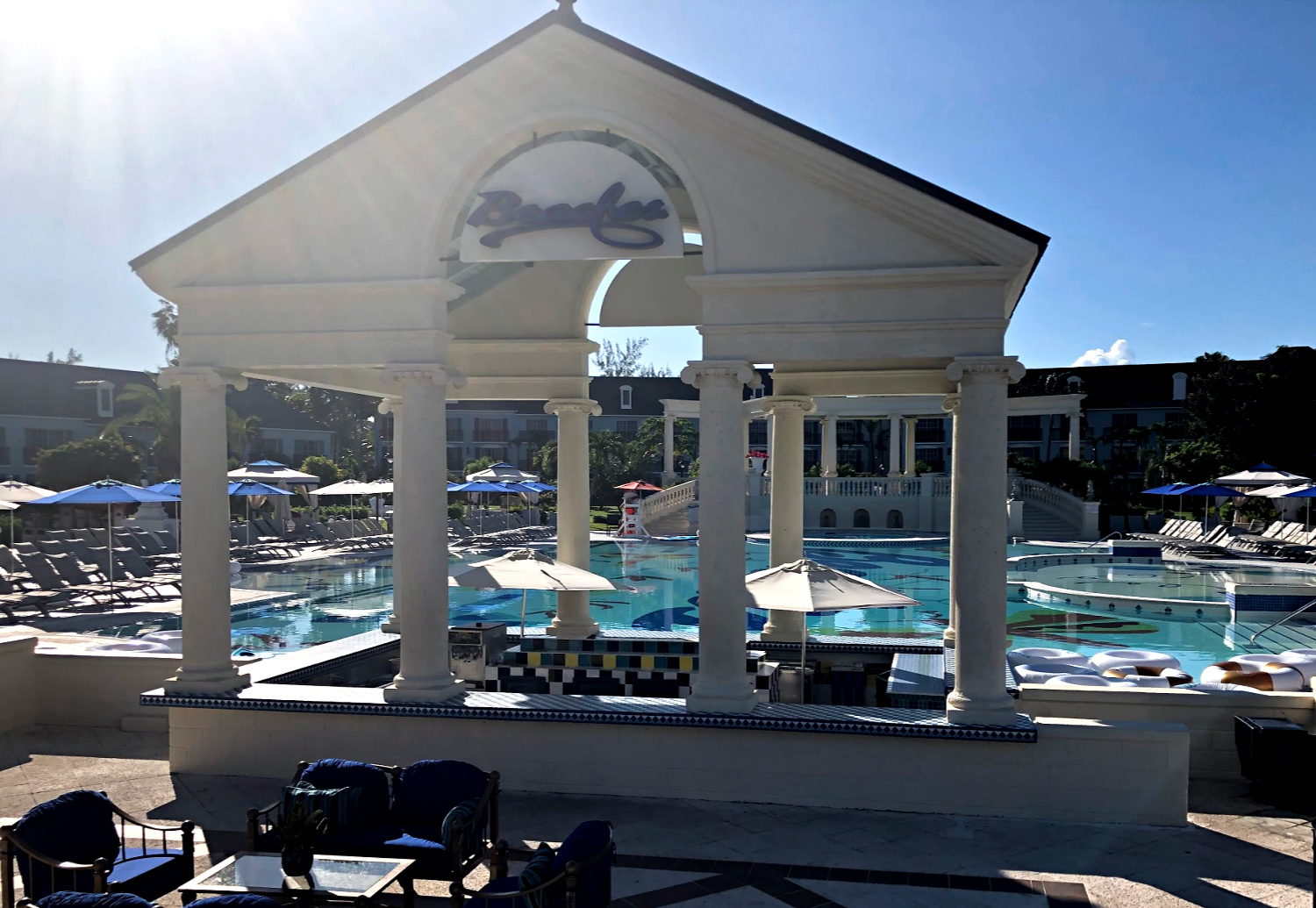 Beaches Resort-An Overview
Beaches Resort has 4 main villages: Caribbean, French, Italian and Key West. We stayed in the French Village. There are 21 restaurants, 15 bars, a handful of pools and a ton of activities all included in your price. It is all-inclusive in the most literal sense. Everything is paid for. Scuba diving, Hobie Cats, Snorkeling, Tennis.. anything. There is a kids club (more on this below), nanny service, lawn chess, pool tables, X-Box lounge, Spa, pool tables and fitness center. This is just scratching the surface. I didn't do all of this stuff, but I did a lot of it and I'm here to get you oriented. But first, lets get there!
Getting There
There really only a handful of flights on the major airlines that fly onto the island daily. So you won't have a TON of options for arrival and departure. The airport itself is fairly small, with just enough room for their customs. We waited in line for about 18 minutes to get through customs. It wasn't too bad. But I saw ropes set up to accommodate numbers about 10 times what we represented. So, who knows what your luck will be. Once through customs, our bags were off  the plane and sitting on the floor waiting for us. Just follow the crowd and exit the building and you'll see the queue for the shuttle. The shuttles were basically full sized vans that appeared to be contracted through Sandals to transport the tourists onto the property. So fancy bus with Beaches on the side or anything. No uniforms. Just people driving old beat up vans. This didn't really bother me, but I just want to prepare you. They will ask which village you are staying in, load up your luggage and your off! It is about an 8 minute drive to the resort. Despite taking the U.S. dollar, they do drive on the left side of the road. So close your eyes!
Checking In
Your shuttle driver will drop you off at the Front Desk of your village. There is a concierge/front desk area for each village. Once there, your bags will be rounded up by the staff and brought up to your room. You'll enter the air conditioned office and be offered a cool towel and a cold rum punch (either with or without alcohol). The front desk area is comfortable with couches and a play area for the kids. It shouldn't take more than 10 minutes and then they will show you to your room.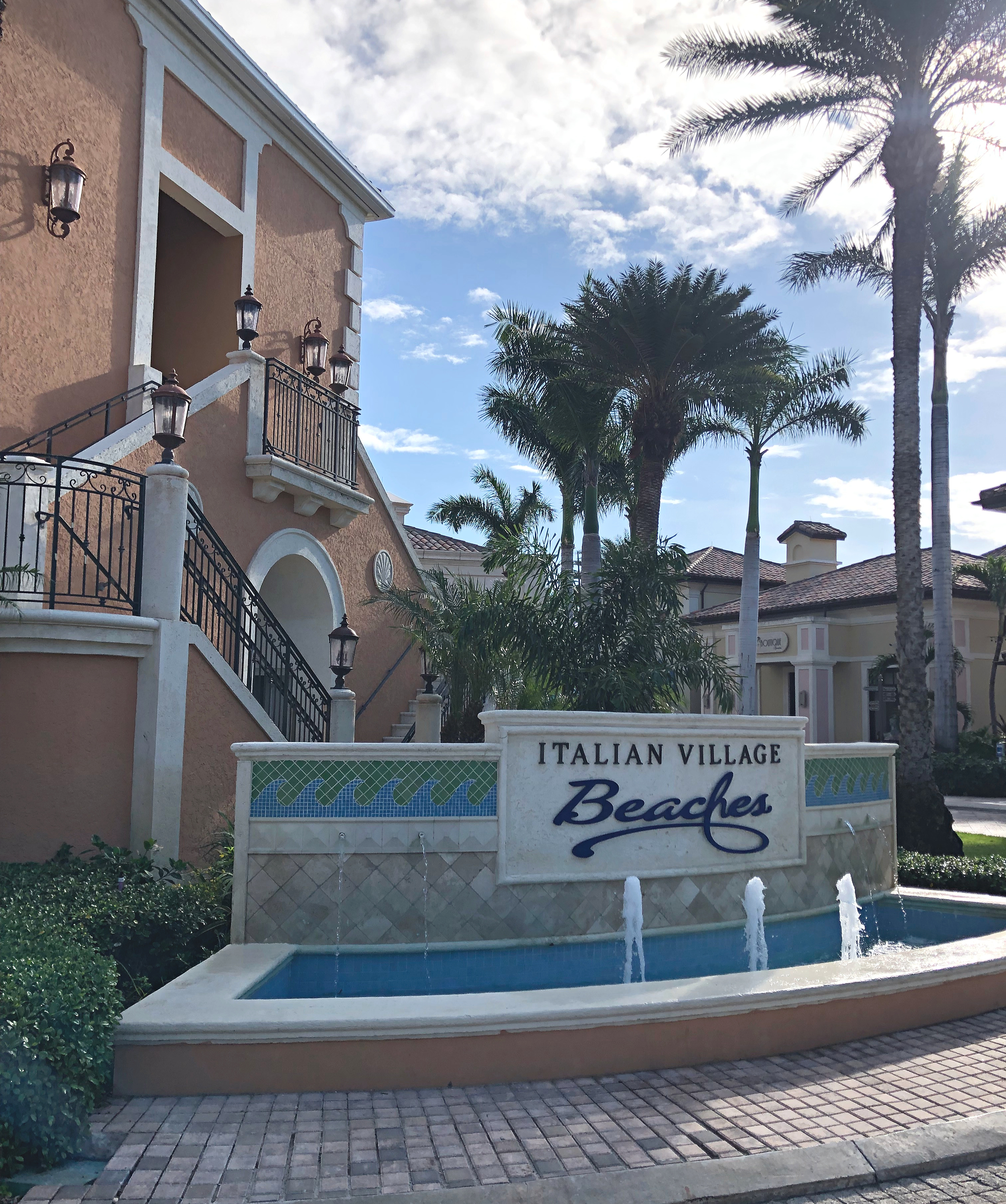 The Rooms at Beaches Turks and Caicos
We stayed in the French Village. Of the 4 villages at the resort, I'd venture to say that this is the most economic. Beaches offers many different lodging options, from our smaller room away from the beach to beachfront villas with your own private pool and butler service. Our room was fairly small. There were two double beds and pull out sleeper sofa. It was clean and we had a nice view of the French Village pool. You could not even see a glimpse of the ocean from where we were. That didn't bother me, we were never in our room, but I want to make this clear. If you looked closely, you could see some wear and tear in the room. For instance, the molding on the baseboards were pretty scuffed, etc… But nothing too bad.
Our room had a mini-fridge stocked with beer, soda, juices and water. There were also two bottles of wine waiting for us. There is also a safe. The first thing you should, I mean the VERY FIRST thing.. is put your passports and other valuables in your safe. Nothing against the Beaches staff, they were, without exception, amazing. But I don't trust anyone, especially my children to lose things!
It was about a 4 minute walk from the door of our room to the ocean. I'm a pretty fast walker. If you've got smaller kids or are moving slower, it could certainly take longer. Also, the French Village itself is pretty big. We were lucky and got a room on the Northside of the French Village (closest to the ocean). We had friends that were probably an extra 3 minute walk South from us. So if you book a room at this village, request a room as far North as you can!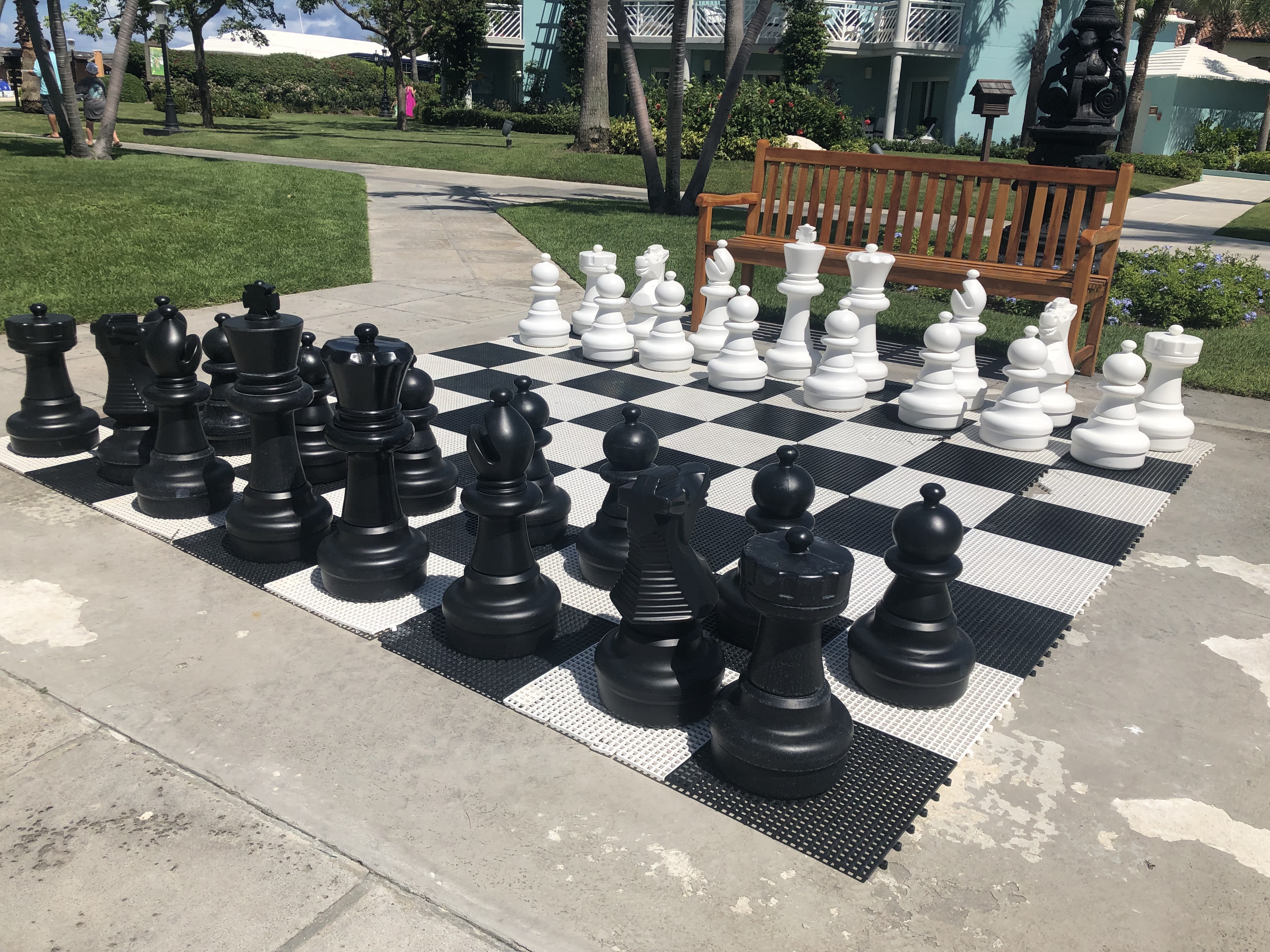 Your First Priorities After Checking In
Depending on what time you arrive, you may be hungry and it may be time to eat. The restaurants all keep different hours and some may not be open. But there are a couple options that are open all day long. The first thing that we did was go to Bella Napoli Pizzeria by the pool in the Italian Village. They fire up wood oven pizzas all day long and they are delicious! There is also Mr. Mac, the Mac and Cheese truck. I didn't eat there, Macaroni and Cheese just never sounded good to me on a hot and humid day. This is located between the French Village and the water park.
Your next priority is decide when and if you want to eat at Kimonos, their Hibachi style Grill. I believe this is the only restaurant that you will need a reservation for. And it books up. So figure out what night you want to eat there and call the front desk and they will direct you on how to reserve your table. Kimonos is probably the most popular restaurant at the resort. I honestly didn't love it too much. I was EXTREMELY loud in there. And the food was so-so. But my family loved it so we had to go.  What are you gonna do?
If you have kids, your next decision should be if you want to have an adults only dinner.  There are two restaurants that do not admit children, Sky and Le Petit Chateau. I'd make a plan sooner than later on what night you may want to have a romantic dinner with just the two of you so you can plan for it. It will be easy to dump your kids at the Kids Club (again, more on that below), I'd just have a plan. We did not eat at Le Petit Chateau. But we did eat at Sky.
*TIP* There are no reservations needed or taken for Sky. It sits on the roof of Bayside and has exquisite views of the Sunset. It starts seating at 6pm and there are only about 5 tables that have a view of the sunset. If you want one of those tables, get to the hostess stand by 5:45!
And lastly, if you have kids, it is in your best interest to get familiar with the Kid's Club ASAP.
Beaches Turks and Caicos Kid's Club
I didn't really figure out how the Kid's Club worked until about halfway through the second day. This is a shame because my kid really loved it and I really loved having some "adult" time to hand out at the pool bar. The first thing you'll want to grab is the Kid's Club Brochure. This has the schedule of events for every day of the week. So you'll know where they will be  throughout the day. Once you have the schedule. Head to sign them up.
Signing Your Kid Up For Kid's Club
Head to the games room, which is sort of the central hub for the Kid's Club. The games room is easy to find because it is right by the Pirate Ship in the water park. It is an open air room that has a foosball/air hockey/pool table in it and is across from the XBox Lounge. There are bathrooms conveniently located right there too. When you go to sign your child up, YOU WILL NEED TO BRING THEIR PASSPORTS. This isn't exactly clear and I saw a number of parents have to go back to the room. Once they are initially signed up, checking them in is pretty easy.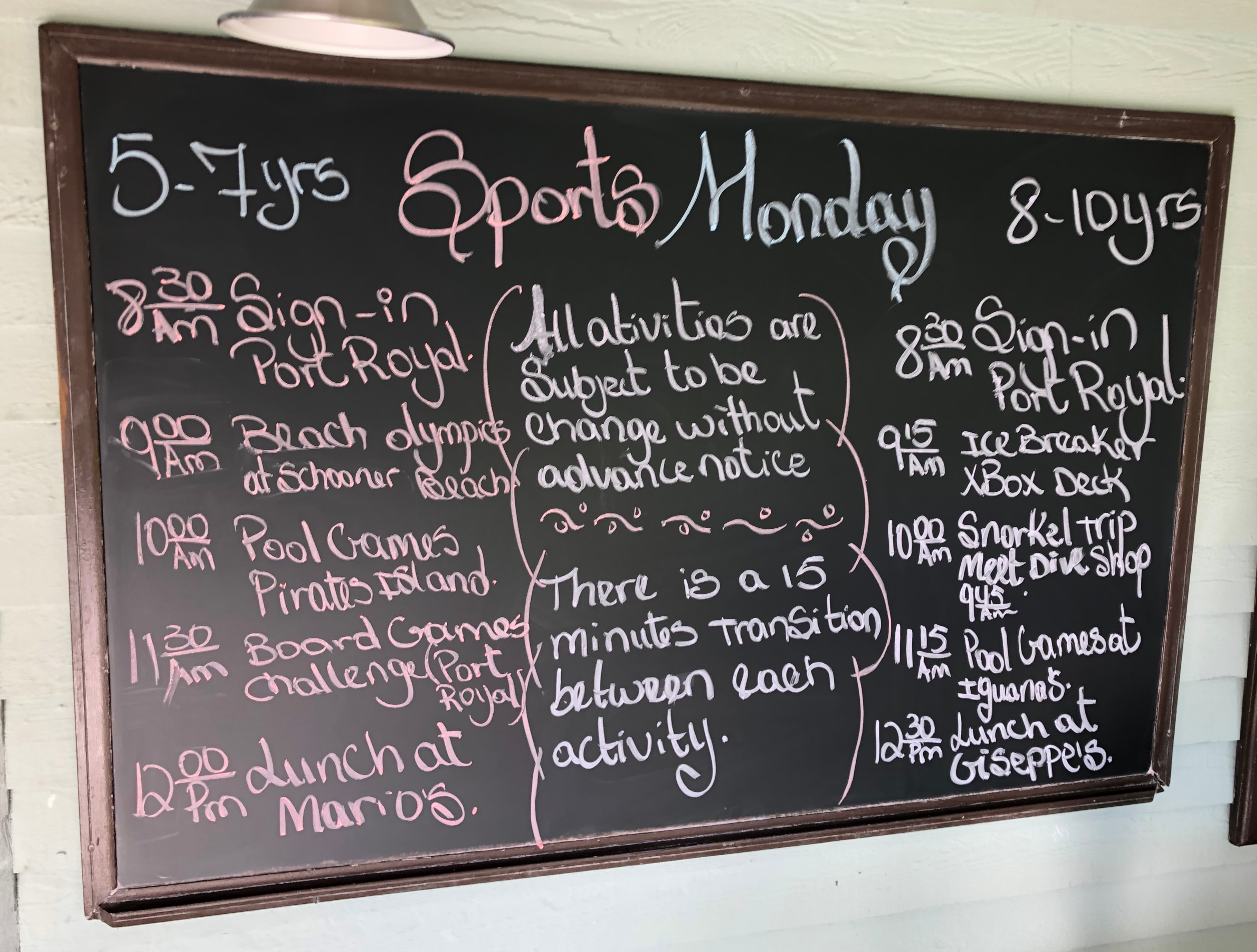 Checking In To Kid's Club Everyday
The easiest way to do it is be there at check-in time in the games room. This is usually at 8 or 8:30. But, if you miss that window, you can intercept your child's group wherever they are and sign them in then. This is why it's important to always have that schedule on you. I would just take a picture of it on my phone so I'd have it if you don't want to carry it around with you. Sometimes, the kids will be on a boat out in the water and you'll have to wait until they get back. But, mostly, you can find them wherever they are on the property. The roam ALL OVER, so you may have to walk a bit.
They generally do activities until around lunchtime, then all have lunch somewhere together (usually Giuseppe's) and then head back to the games room after lunch to reapply sunblock. If possible, this is s a good time to meet them and check on them. There were a couple times that they were having a blast and wanted to stay. And there were some times that they wanted to bail, and I could easily just check them out at that time. If they want to stay, they will be able to stay until 4pm, when you will have the pick them up. Kid's Club is closed from usually around 4-6pm. The reopens for eventing activities that can last until about 9 or 10 at night. They usually watch a movie or a live show at night.
What Should Your Child Have At Kid's Club?
Make sure you your kids have swimwear. For boys, I'd just have them wear their swimming trunks and a t-shirt. For girls, they can wear clothes over their swimwear or have a cover-up. Just about everyday incorporates pool or ocean time in the water. I made the mistake of not sending my son with his swimming trunks one day and had to intercept his group at the pool with them so he could swim.
There are cubbys in the game room where you can put their belongings. This is a great place to put a change of dry clothes if then need them or another pair of shoes. Some of their activities are best done with closed toe shoes, so they may want to ditch their flip-flops.
Obviously, you want to send them with sunscreen. I'd always make sure they had a good coat on them before I dropped them off. After lunch, the counselors reapply. I watched them do this and they really seemed to do a thorough job.
Is The Kids Club Safe?
I was incredibly impressed with the quality of care that my kids received at the Kid's Club at Beaches Resort Turks and Caicos. The counselors really seemed to enjoy their jobs. When I intercepted my son to give him his swimming trunks, I just went ahead and told him to go to the bathroom to change before telling the counselors. At this point, we had been there for several days and the counselors knew who I was, etc..  I went and told the counselor that my son had left to change.  Although she was very polite, I could tell immediately that I had broken some rule. She wanted to know exactly where he was and how long ago he left. She then sent another counselor to stand outside the bathroom door until he came out to escort him back to the group. After the first day and the usually parenting anxiety a lot of us have about these things, I felt very confident dropping them off for the rest of the vacation.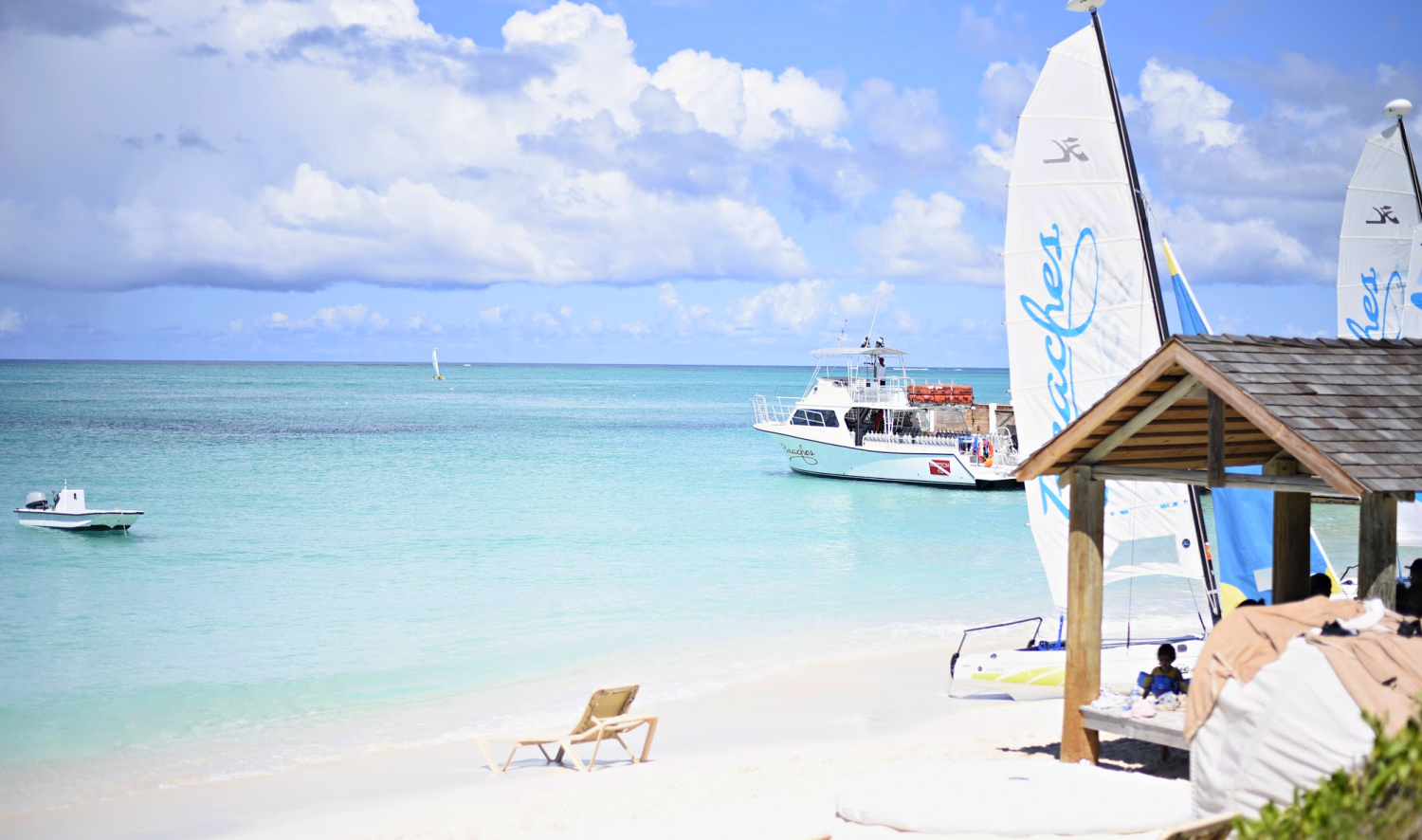 Water Sports
Beaches Resort Turks and Caicos has a huge variety of different water sports that are all included for free. These include:
Kayaks
Windsurfing
Hydrobikes
Snorkeling
Hobie Cats
Paddle Boarding
Scuba Diving (must be certified)
Most of these activities are located at the huts by the long pier between the Caribbean and Italian Villages. There are two three desks to be aware of:
Motorized Water Sports-Located up off of the beach on the walkway, this is where you can sign up for the glass bottom boat, snorkeling boat and any other activity that requires a motorized boat. You can also rent snorkeling equipment here.
Non-Motorized Water Sports- This is located down on the beach. You will see a whole bunch of life jackets. Here is where you can rent out the life jackets, paddleboards, Hobie Cats, etc… The staff is very helpful and friendly and they are glad to show you how to use the equipment. They are also willing to take you out on a Hobie Cat if your unsure how to sail.
Where is the Best Snorkeling at Beaches Turks & Caicos?
Turks and Caicos is said to provide some of the best snorkeling. It does. I did a lot of snorkeling there. The best area for snorkeling was about a 10 minute walk down the beach to the West. It's a bit of a hike but worth it. You will see a ring of orange buoys.  This is an area of protected coral and all the marine wildlife knows that they can hide in there and not be bothered by tourists. You CANNOT swim inside the ring, BUT, you can swim around it. And you will see all the wildlife coming and going. In very little time, I saw barracuda, sea turtles and a zillion different kids of fish. I've heard that dolphins and sting rays swim in and out of there as well.
You can also sign up to take a boat out to some coral further out in the ocean. We did this but didn't see much of anything. It could have been the time of day or just bad luck. But, really, just hanging out in the ocean can provide you with great opportunities to see some cool creatures. While my wife and I were sipping pina coladas in the waves, a Sting Ray swam right by us. While my son and I were playing in the waves, a juvenile sea turtle started swimming around us.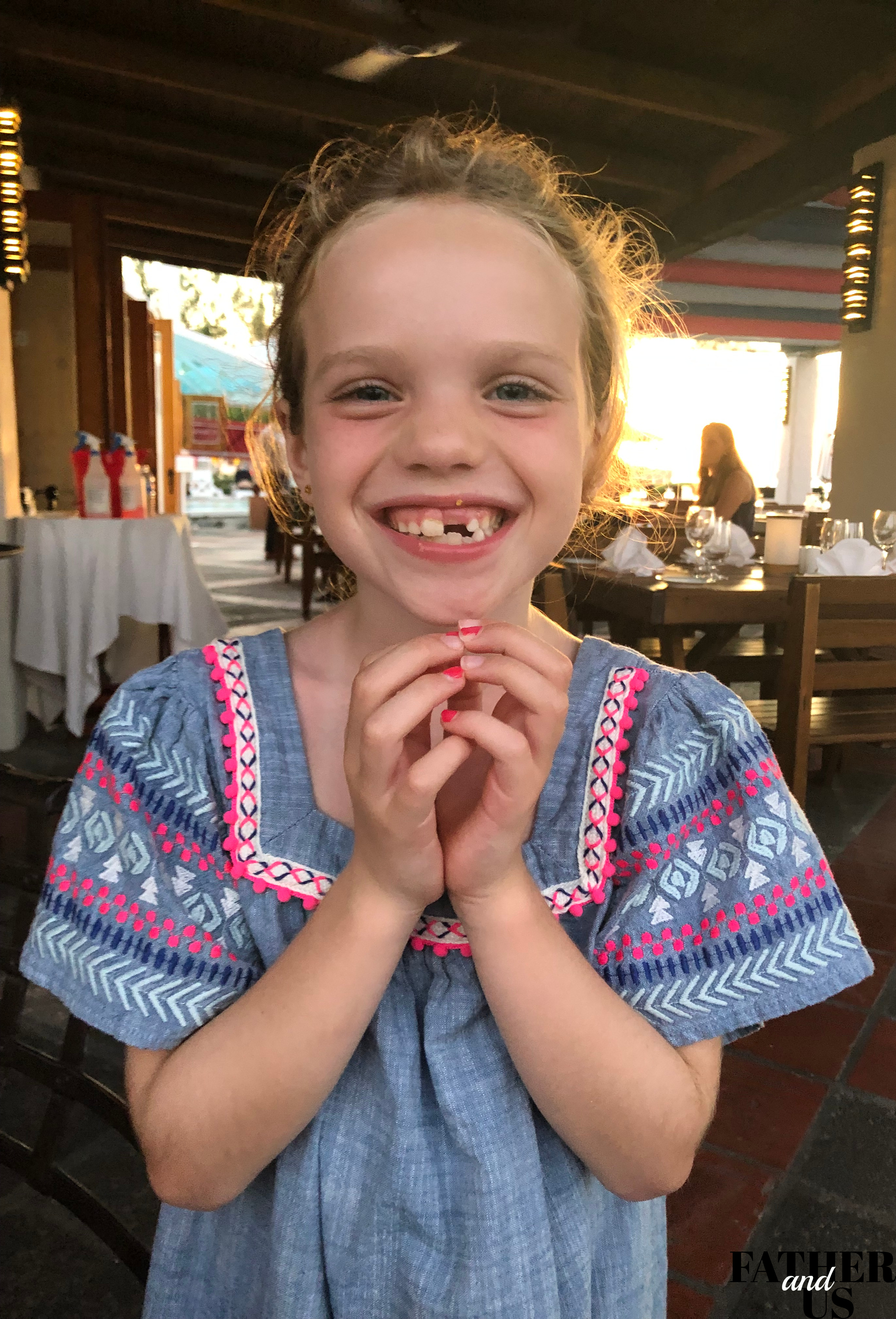 Where is the Best Place To Eat At Beaches Resort Turks & Caicos?
I am, by no means, a food snob or a culinary expert. So take all of this with a grain of salt (pun intended). The food at this resort is hit or miss. Mostly miss. But, I give them a pass. Just the logistics that it takes to get all of the ingredients onto this island and into these kitchens must be staggering. I found that the lower they aimed, the better the food was. I had a great hamburger at Bobby Dee's, some really good buffalo wings at The Cricketers Pub and the pizzas at Bella Napoli were fantastic. But, I also had a "ribeye" that I'm pretty sure wasn't actually a ribeye cut of meat. The lunch buffet at Guiseppe's was pretty awful. And our special "date night" at Sky was pretty underwhelming. I can't even remember what I had and it was only about 10 days ago.
***One exception was the sushi at Soy. It was phenomenal! And we talked to some other couples that had a similar experience***
But, in general, I'd aim for ordering fun, tasty things that are easier to make than "high end" fare. The presentation was always great, but the taste usually didn't match.
**TIP**  Again, if you want to eat at Kimono's, be sure to make a reservation. And if your eating at Sky, get there about 10 minutes before they begin seating to get a table with a view.
The Bars At Beaches Turks & Caicos
They say there are 15 bars at the resort. I didn't count but that sounds about right. I spent most of my time at the pool bars. We were there in October and it was HOT and HUMID. I live in a pretty humid part of the country, but this humidity was on a different level. So, I'd suggest spending as much time drinking in the water as possible. The pool bars can get a little crowded and a little hard to get a drink. By far, the pool bar at the Italian Village was the most crowded. Unless you really want to mingle with all of the other guests, I'd avoid this one. The pool bar at the Caribbean Village was less crowded. But both the pool and the bar were pretty small. I didn't ever make it to the Key West Village Pool…
Because we were staying in the French Village, we spent a lot of our time in this pool and at the bar there. This was, by far, the least crowded. This is because the pool and the bar are both huge and the fact that the French Village is sort of off the beaten path. So, if you are looking for a pool to hang out and drink, I'd head to the French Village. Again, you won't be seeing the ocean, but you can get a drink pretty easy.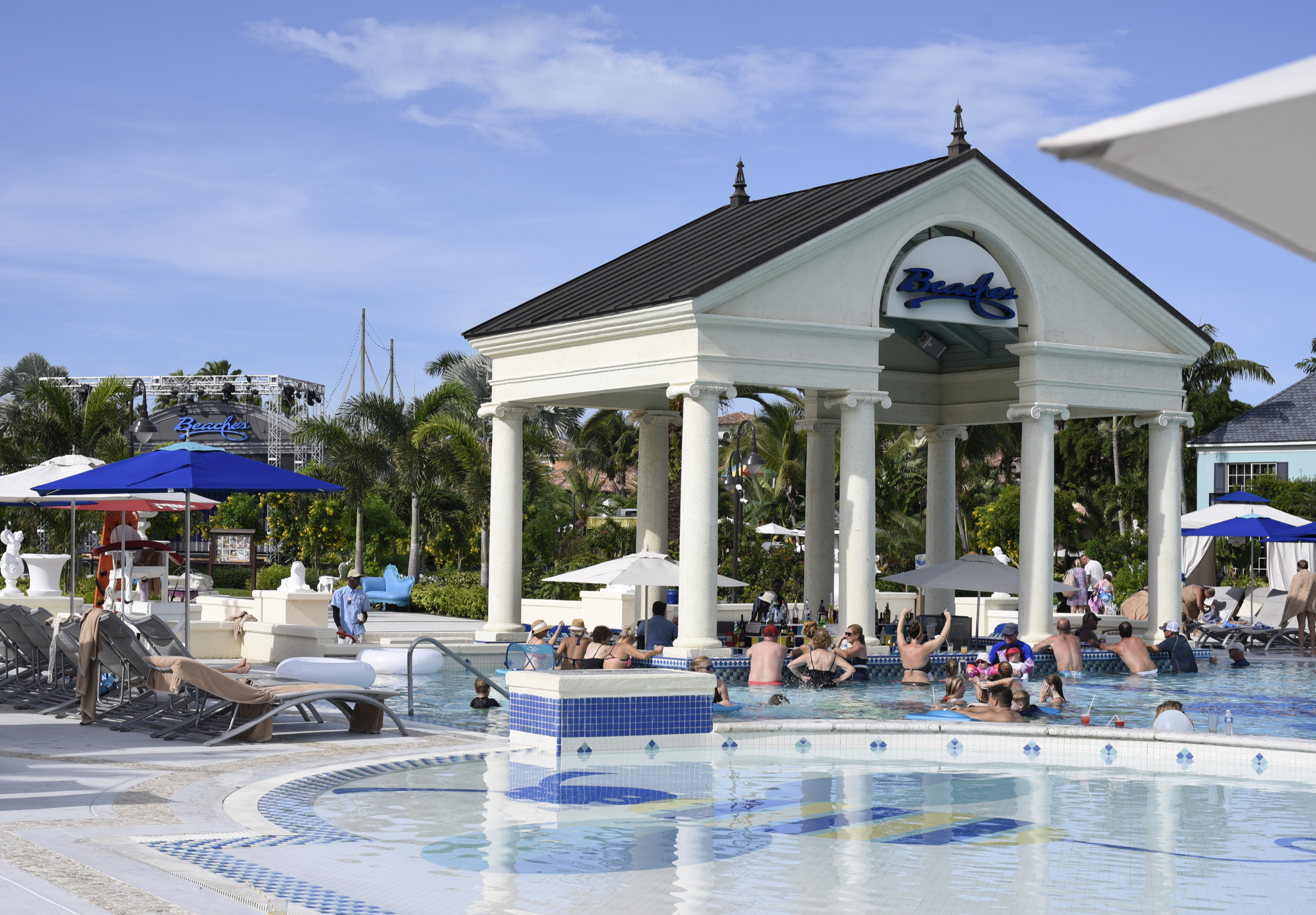 As far as just sitting at a bar and drinking, I would often either go to the Cricketers Pub or Turtle's Bar. This would be after the kids were in bed and my wife was on her iPad in the room. I'd go down by myself and hang out at the bar. I could always get a seat and the bartenders kept my Johnny Walker flowing.
The Water Park at Beaches Resort Turks and Caicos
If I'm not mistaken, I believe the water park opens at 10am. If you plan on spending some time there, it is probably a good idea to get there right at 10 to grab some lounge chairs. After a little hesitation the first day, I really didn't mind leaving my belongings laying around on a chair. I kept everything in my backpack and then threw a towel over it. I'm sure theft happens here, it happens everywhere, but I don't think it happens much. And, again, you wallet, cash and passports should be locked up in your safe. The only thing you may be worried about is your phone/camera/GoPro/etc…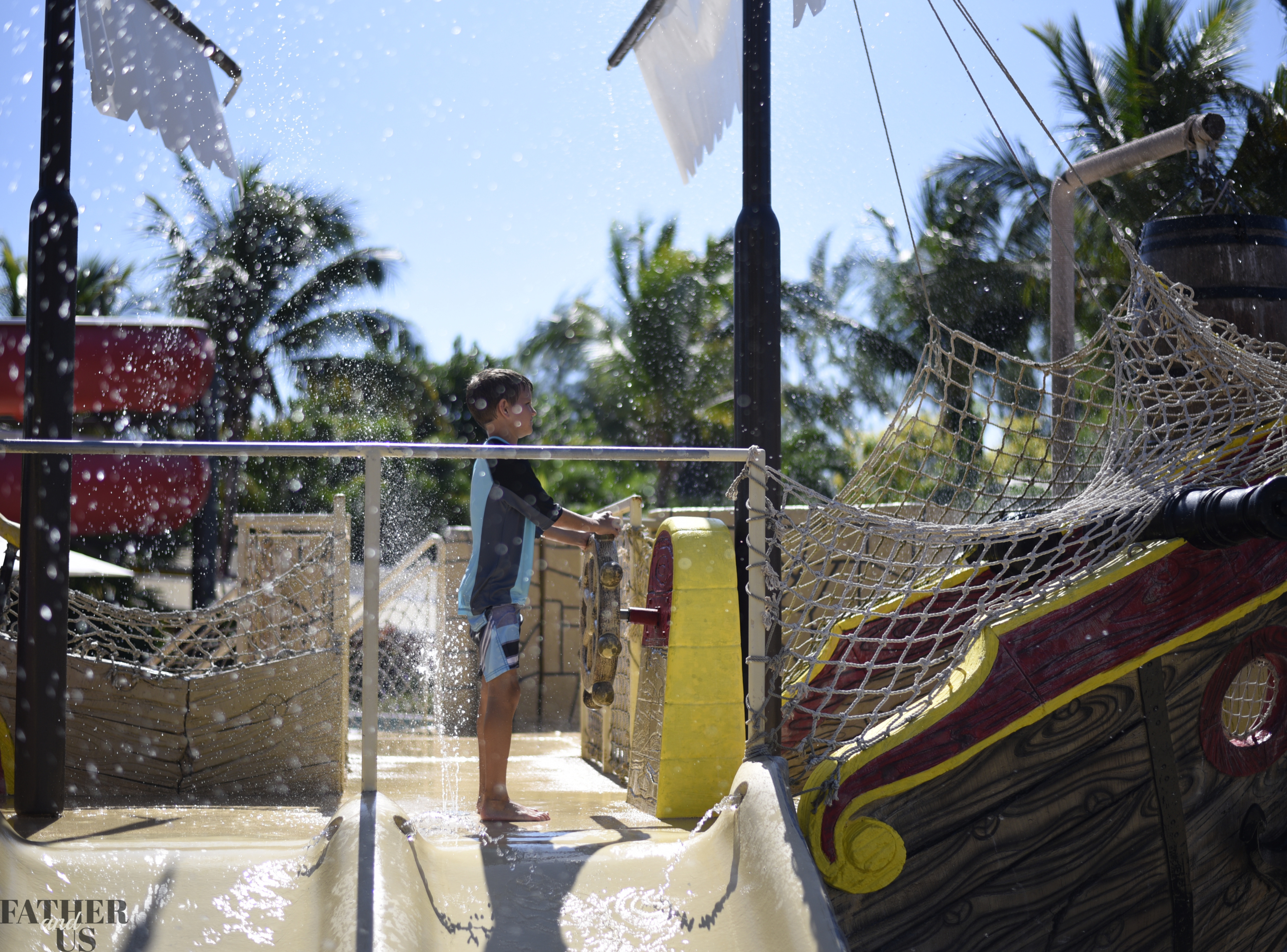 The water park is a nice touch to the resort, but certainly not the reason you would come to Beaches. It has a couple of slides of varying lengths, a lazy river, a kiddie playground and a surfing machine. My son loved the slides. My daughter loved the lazy river. But, all-in-all, you can probably spend about 2 hours here and get your fill of it. There are water parks all across the world, I'd suggest you head back to those beautiful beaches ASAP!
**TIP** The line for the surfing machine can also get long. So, if you want to do that, show up at 10am when they turn it on and be the first in line.
Checking Out
Yep. That day you thought that would never come has actually arrived. It is time to check out of Beaches Resort Turks and Caicos. Luckily, Beaches makes this painful reality as painless as possible. The fact that there are so few flights out of Providenciales actually makes everything pretty simple. In our experience, there was chatter among the other guests about exactly when to leave the resort to get on which flight. You'll get your checkout paperwork the evening before and you can just leave your luggage outside your door and they will be brought down to the departure lounge and will be ready for you to jump on your shuttle to head to the airport.
I'm sure I left some stuff out of this guide, please leave a question in the comments if there is anything else that I can clarify. There are a ton of other things going on in the resort throughout the week, such as shows and beach parties. Obviously, there is only so much you can do and we didn't do everything so I can't comment on it. We did go to the beach party on Friday night but it kinda looked lame and touristy, so we left. But that's just us!
The bottom line is that this is the best family resort I've ever been to. If your considering a vacation here, do it! We will be back as soon as possible. Maybe I'll see you at the French Village Pool Bar and we can toast a Pina Colada!