THIS POST MAY CONTAIN AFFILIATE LINKS WHICH MEANS WE EARN A SMALL COMMISSION.
There is more to campfire cuisine than a hot dog on a stick. Raise the bar on your next fireside meal with these 20 easy camping dinner ideas!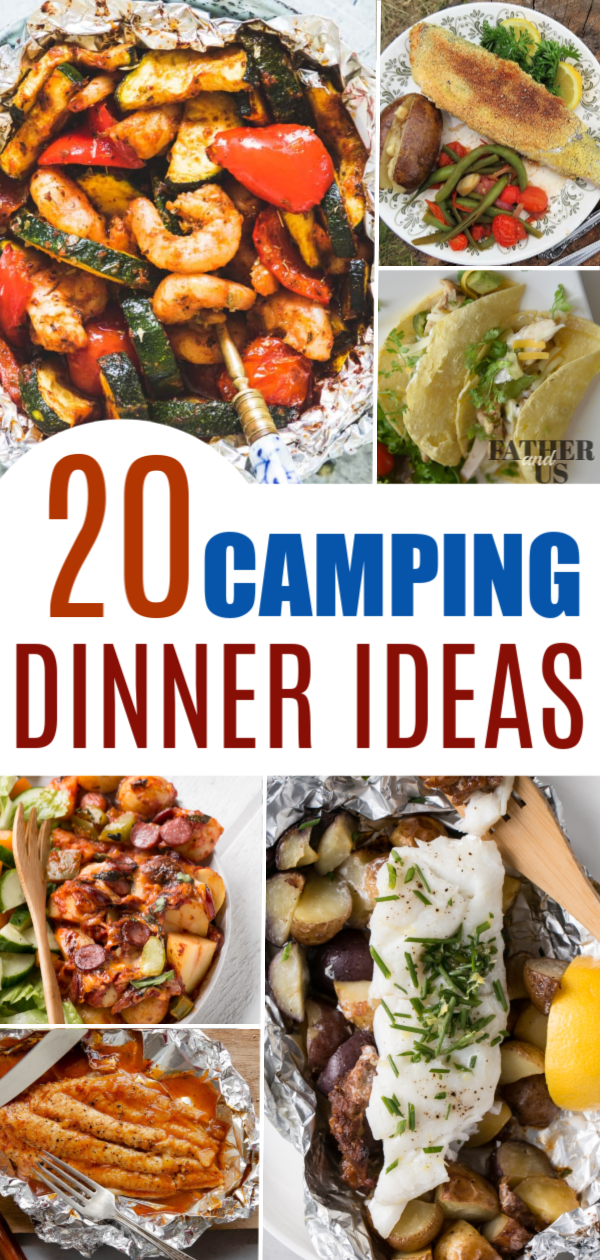 LOOKING FOR MORE CAMPING POSTS? CHECK OUT:
I'm not a SUPER outdoorsy person, I probably only camp a couple of times per year. I used to do it a lot more when I was younger and just don't have the time these days. But I still believe there really isn't anything quite like cooking a meal over an open fire under the cool night sky. My wife is from the Northwest part of the country and we often go camping when we visit. I love introducing my children to the outdoor living that we don't really get a full dose of living here in the Midwest.
One of the most common things people think about when planning a camping trip is what food to take camping. I grew up thinking that there were really only two foods that you ate on a camping trip: hot dogs and S'mores. But, in reality you have so many options of really fun, cool and tasty meals that you can make over an open fire. I took some time round up some camping dinner ideas that jumped out at me and that I thought you might enjoy.
I really these 20 different camping dinner recipes because there is something for everything. A couple of them are make ahead camping meals that are super easy because you can prepare them at home and just throw them on the campfire. A lot of these recipes are foil packet meals, where you just throw all the ingredients into a foil packet and they all cook together over a campfire. Some of these are one pot camping meals, where you can bring a large skillet or cast iron pot with you and dump all of the ingredients in together. These are great camping meals for large groups! I've even found some options for special diets: just as vegetarian camping food, and keto, gluten-free and dairy-free dinner recipes!
It's all here! Take a look below and plan out your next fun camping trip! But, please, don't forget to also bring stuff for S'mores.
20 Easy Camping Dinner Ideas