THIS POST MAY CONTAIN AFFILIATE LINKS WHICH MEANS WE EARN A SMALL COMMISSION.
There is more to campfire cuisine than a hot dog on a stick. Raise the bar on your next fireside meal with these 20 easy camping dinner ideas!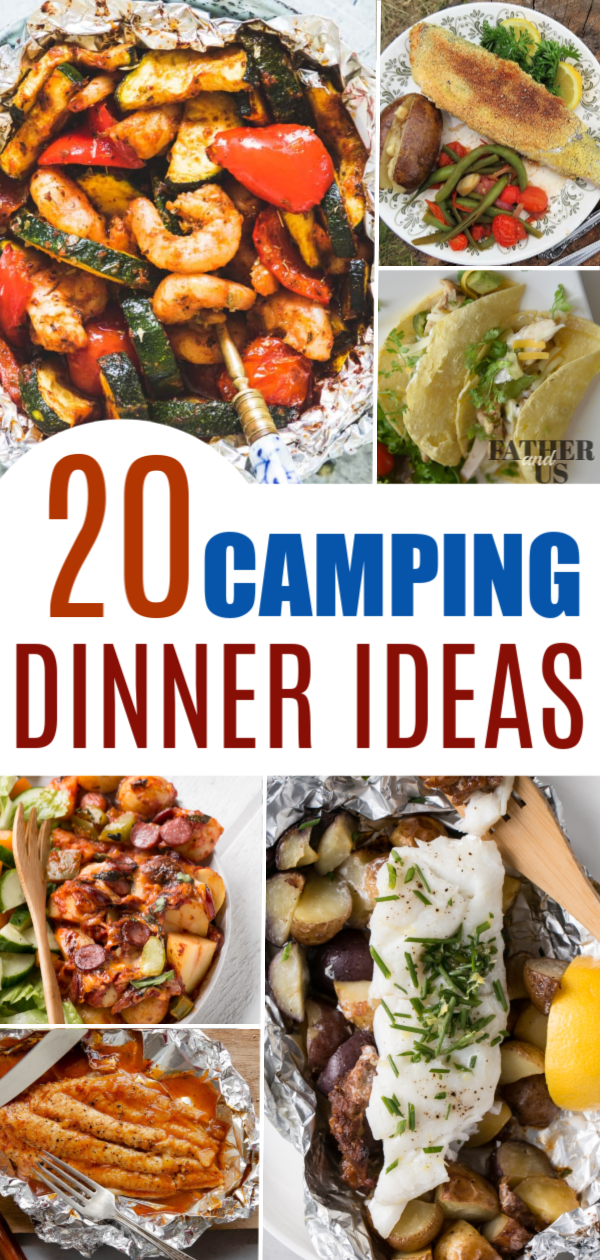 LOOKING FOR MORE CAMPING RECIPES AND TUTORIALS? CHECK OUT:
Easy Camping Meals
One of the most common things people think about when planning a camping trip is what food to take camping. I grew up thinking that there were really only two foods that you ate on a camping trip: hot dogs and S'mores. But, in reality you have so many options of really fun, cool and tasty meals that you can make over an open fire.
I took some time round up some camping dinner ideas that jumped out at me and that I thought you might enjoy.
What Food Should You Bring Camping?
I really these 20 different camping dinner recipes because there is something for every occasion and everyone. From fish to chicken to vegetarian options. When deciding what food to bring on a camping trip, there are a couple of things to consider:
WILL YOU BE ABLE TO KEEP IT COLD? – Is there access to a refrigerator? Will you have a cooler? How big is your cooler and how long will you need to keep your food cold?
WILL YOU NEED TO MAKE THE RECIPE AHEAD OF TIME? – Do you have the cookware and tools necessary to prepare your food on site? Will you need a countertop? If so, you may want to consider a make-ahead meal that you can prepare ahead of time. Foil pack meals are a great option for this!
ARE THERE ANY PICKY EATERS OR DIETARY CONSIDERATIONS? – Make sure you know who will be there and/or if there are any special diets. Being in the middle of the woods isn't a time for anyone to consume foods they are allergic too. Or for a child to refuse to eat the dish prepared. Make sure you have offerings that everyone can eat. 
BRING LOTS OF SNACKS – While it's great to make sure you have all your meals covered. Make sure you bring lots of munchies to eat while hiking, traveling or if you can't have access to the tools/fire/heat you'd need to prepare a cooked meal. 
Different Types Of Camping Meals
A couple of these are make ahead camping meals that are super easy because you can prepare them at home and just throw them on the campfire. A lot of these recipes are foil packet meals, where you just wrap all the ingredients into a foil packet at home and keep them chilled.  When ready to cook, you can put them over a campfire or a grill! Some of these are one pot camping meals, where you can bring a large skillet or cast iron pot with you and dump all of the ingredients in together. These are great camping meals for large groups!
I've even found some options for special diets: just as vegetarian camping food, and keto, gluten-free and dairy-free dinner recipes! It's all here! Take a look below and plan out your next fun camping trip! But, please, don't forget to also bring stuff for S'mores.
20 Easy Camping Dinner Ideas
Foil Packet Grilled Vegetables | Drug Store Divas – Foil-Packet Grilled Vegetables are so great and really easy to make, especially if you already have the grill going.
Sausage and Pierogie Campfire Foil Packets | Midlife Healthy Living – One of our favorite ways to cook is campfire foil packets. It's nice to be able to cook your whole meal in one little package. Chicken Sausage, Peppers, snap peas and Pierogies!
Campfire Pork Chops | Happiest Camper Homestead – Simple yet Mouth-watering Campfire pork Chops. Once you make them your family will be asking for them again. Just a few ingredients the pork chops and a nice fire. 
Foil Pack Salmon | Reuse Grow Enjoy – If you like salmon and are looking for meal ideas while you are camping, here is one for you. It is a recipe for foil pack campfire cooked salmon. A super simple recipe that you cook right in the campfire.
Pie Iron Pepperoni Grilled Cheese | Reuse Grow Enjoy – When camping have you ever wanted a pizza? Good news, you can make something like it, try this Pie Iron Recipe For Camping – Pepperoni Grilled Cheese! 
Campfire Street Tacos | Father and Us – Tender chicken on corn tortillas! This zesty Chicken Street Taco Recipe is the perfect summer grilling or campfire adventure that the whole family will love.
Skillet Bannock | Kitchen Frau – This simple skillet bannock is made for the lazy man (or woman). Stir it up like a pancake batter and in no time you can have a slab of warm, tender bannock to slather with butter. 
Honey Bourbon Campfire Catfish | Grandbaby Cakes – A simple yet flavorful summer grilled fish recipe made with just a few ingredients including a honey bourbon marinade. It is perfect for work days or weekend entertaining!
Keto Shrimp Campfire Foil Packs | Recipes From a Pantry – These make-ahead Shrimp Foil Packs are full of juicy shrimp, quick-cook veggies, and everyday spices. Tomato, zucchini and bell peppers!  The bonus is that they require minimal prep and no cleanup.
Gluten Free Skillet Plantain Nachos | Strength & Sunshine – A delicious, messy, plant-based skillet of nachos! Gluten-Free Skillet Plantain Nachos that are vegan, grain-free, and top 8 allergy-free! Loaded with veggies and plantain chips, topped with salsa and an easy homemade vegan cheese sauce recipe, these nachos make for a fun Mexican meal any night of the week!
Sausage Foil Packets | Five Minutes For Mom – When it comes to camping or meal prep, foil packet meals are definitely the way to go. Today, we're sharing our oh-so-easy recipe for Sausage Foil Packets. Sausage, peppers, onions and potatoes. So easy and yummy. 
Pizza Potato Packs | My Kitchen Love – Pizza Potato Packs are the ultimate campfire recipe with a wholesome potato base and topped with pizza flavours you won't be able to resist. Grab this almost effortless foil pack meal that will become a new family favourite.
Gluten Free Skillet Chicken Fajitas | Strength & Sunshine – Delicious and easy Gluten-Free Skillet Chicken Fajitas, healthy and cooked over a campfire. Just sliced spiced rubbed chicken, bell peppers, and onions! An allergy-free and paleo Tex-Mex recipe you can prep ahead of time.
Cod, Chorizo and Potato Campfire Dinner | My Kitchen Love – This easy foil packet meal is perfect for a hands-off dinner done in either the oven, on the grill, or over a campfire. Combining Cod, Chorizo, and Potatoes for a savoury and zesty baked fish meal that is irresistible.
Toy Story Inspired Campfire Slinky Dogs | Exploring Domesticity – Toy Story 4 has our favorite characters on a road trip. This Toy Story Lunch is perfect for over a campfire or in the oven. Kids will love Campfire Slinky Dogs! 
Sausage and Gravy Hobo Dinner | Totally The Bomb – It makes for the perfect camping dinner. Just throw everything together in tin foil, grill, and eat. Then toss the foil away when you are done. Easy peasy! 
Campfire Cast Iron Dutch Oven Beef Stew | Cook Eat Go – This Dutch Oven Beef Stew Recipe is perfect to make either in the oven or on a campsite! Easy ingredients slow cooking adds amazing flavor and comfort food.
Skillet Bannock | Kitchen Frau – This simple skillet bannock is made for the lazy man (or woman). Stir it up like a pancake batter and in no time you can have a slab of warm, tender bannock to slather with butter.

Cornmeal Crusted Trout | Kitchn Frau – A little bit of heaven; fresh-caught trout, cornmeal-crusted and fried to crunchy crispness just hours after it was swimming in the lake, and a steaming baked potato, buttery and rich with sweet roasted garlic.
Campfire Juniper Berry Stuffed Pork Chops | Kitchen Frau – Juniper berries add a woodsy note to sweet raisins in these stuffed pork chops. They can be grilled, pan-fried, or cooked over a campfire for smoky flavor.