THIS POST MAY CONTAIN AFFILIATE LINKS WHICH MEANS WE EARN A SMALL COMMISSION.
These Banana Chocolate Chip Cookies are SO delicious! Putting fun "banana bread" spin on the classic cookie recipe, they have nice, chewy edges and a soft, moist center.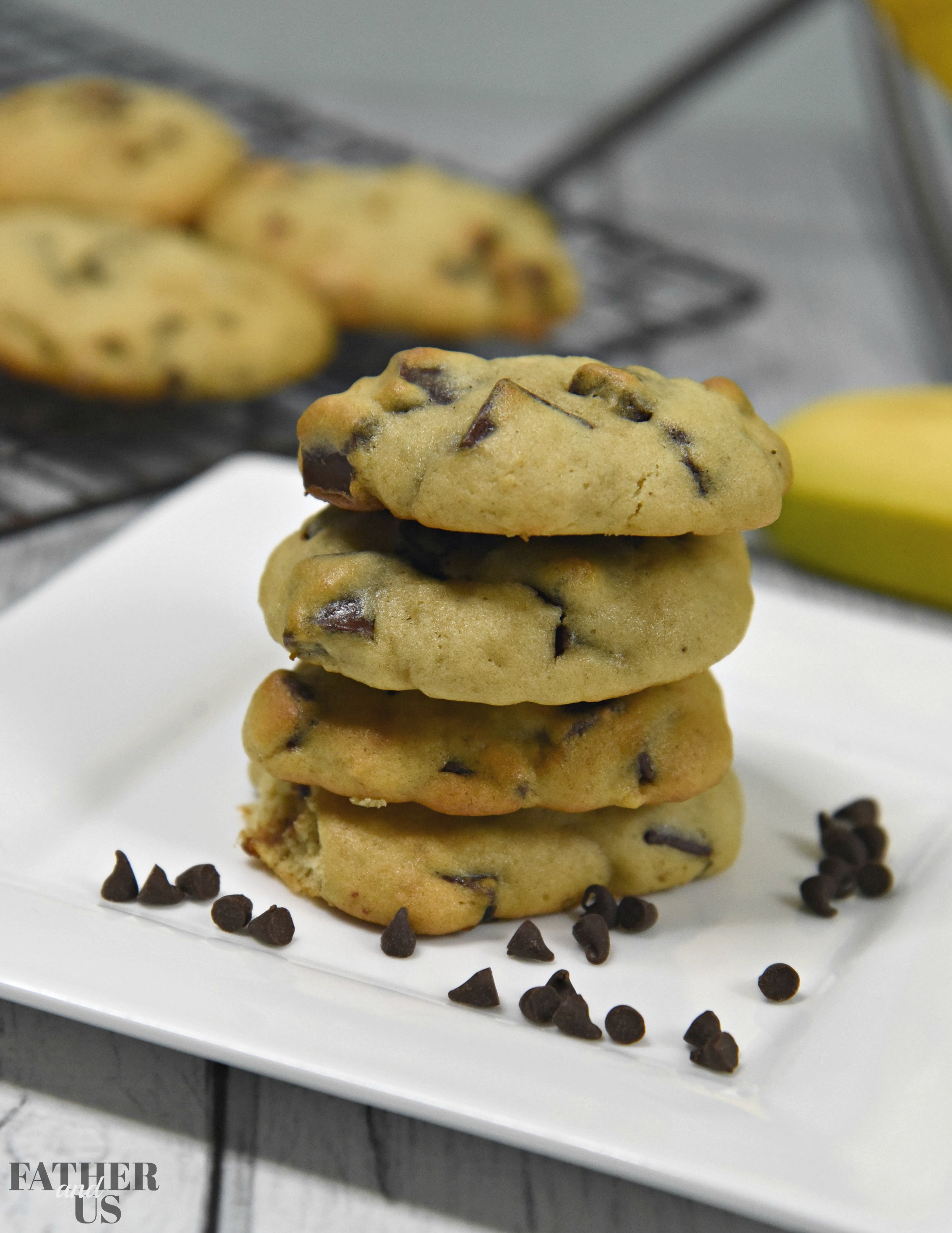 One of my favorite combinations is Chocolate and Banana.   I also love Chocolate and Peanut Butter.  I've even made some recipes including all three of these things, such as my Peanut Butter Banana Pancakes with Chocolate Chips.  But my all time favorite dessert is the simple, classic Chocolate Chip Cookie.  I consider myself a Chocolate Chip Cookie connoisseur of sorts.  I've spent a lot of time looking for the world's best cookie and also perfecting my own recipe.  So, what I've done is taken my normal Chocolate Chip Cookie recipe and tweaked it a bit to include the bananas.  Really, the only major change I've made in my recipe is that I cut the butter that I use in half and subbed in two very ripe bananas.  The result is a very chewy and moist cookie that I can feel great about eating because it has half the butter in it!  So, behold the recipe for my Banana Chocolate Chip Cookies!
How To Make Banana Chocolate Chip Cookies
It's super easy, using some very common ingredients you probably already have in your house. For step-by-step instructions, check out the printable recipe card below.  Here is what you'll need to get started:
BANANAS – I used two, medium sized VERY RIPE bananas. You'll want the ones with those ugly dark spots on them! Those are perfect for this recipe. If you have a large banana, one would probably be ok. And it all depends on the amount of banana flavor you want in these cookies.
FLOUR – All Purpose Flour. Or, you can sub for Whole Wheat Flour at a 1:1 ration if you'd like. Make these cookies gluten free by substituting Gluten Free Flour as well!
WHITE SUGAR – We use both white granulated sugar and brown sugar in this recipe. 1 cup of white and 3/4 cup of brown. The total of 1 3/4 cup of total sugar works well. But if you'd like to adjust the comparative measurements to your liking, you can. Just keep it at 1 3/4 cup of total sugar.
BROWN SUGAR – See above.
VANILLA EXTRACT – Gives these cookies an elegant, rich taste!
ALMOND EXTRACT – Just a half teaspoon of almond extract. A splash of Almond Extract is my "secret ingredient" in all my cookies. But you can omit it if you'd like or if someone has an allergy.
SALT – A dash of salt balances nicely with the sweetness of these cookies.
BAKING SODA – Helps these cookies rise to their soft, chewy texture!
EGGS – Get your eggs to room temperature before adding them to this recipe.
BUTTER – I use butter in all my cookies. Some people use vegetable oil, which really does help keep a cookie moist. But I just really LOVE that buttery taste you get when you use softened butter.
CHOCOLATE CHIPS/CHUNKS – I swear by using 1 bag of semi-sweet chocolate chunks and 1/2 bag of milk chocolate chips. But you can use whatever you'd like.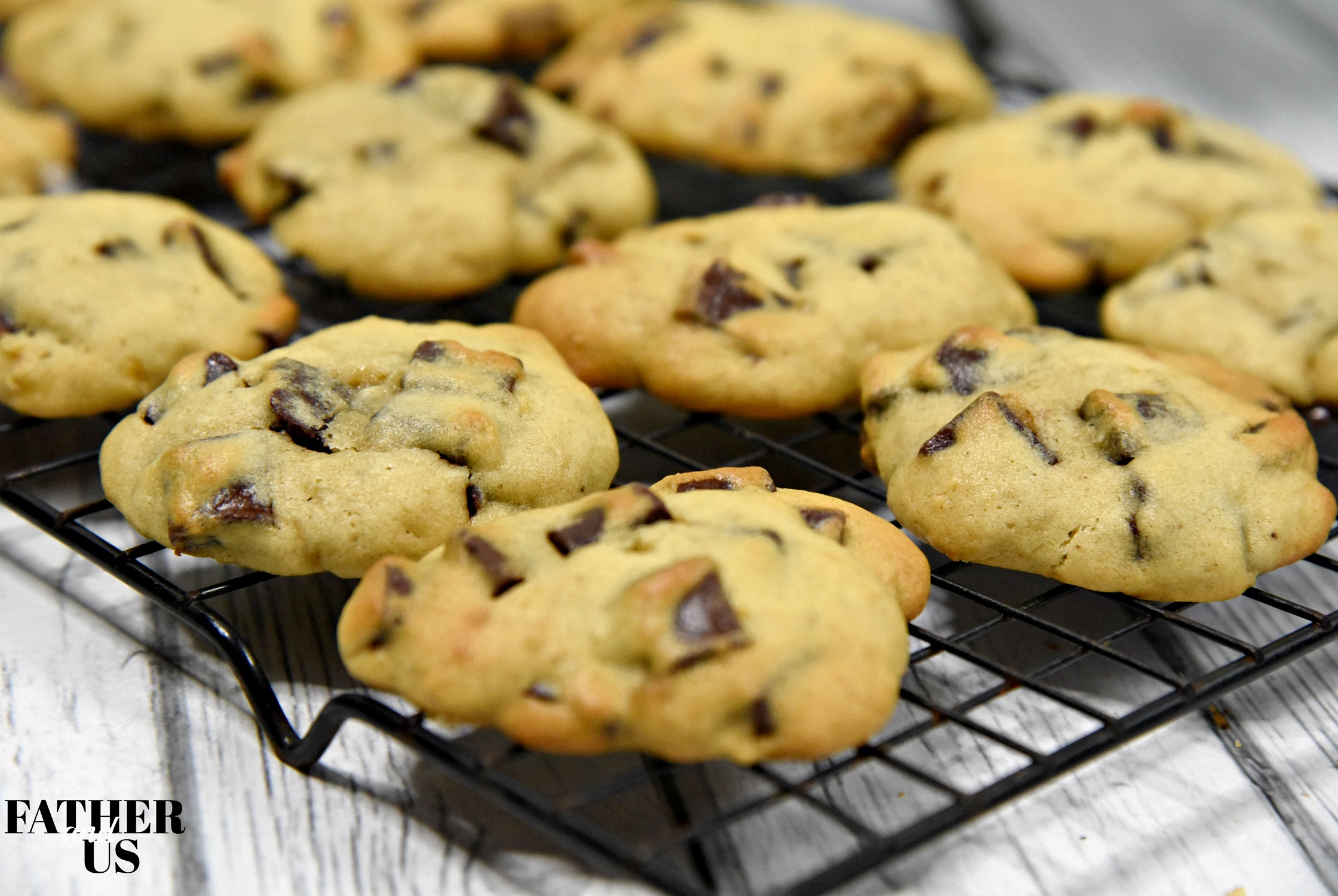 Storage and Freezing
Store your cookies at room temperature in an airtight container. They should keep for about 5 days. If you want to keep them soft and moist, you can use the age-old trick of sticking a slice of bread in the container with them.
You can freeze this cookie dough before you bake it. I'd roll the dough into a log and wrap it with freezer paper and aluminum foil. It will keep in your freezer for up to 4 months. Thaw out in the refrigerator before baking.
Notes, Tips and Variations
ADD NUTS – Add cashews, almonds, pecans or walnuts to this recipe. This will give it some extra flavor and crunch.
HOW RIPE DOES MY BANANA NEED TO BE? – You really don't need a super ripe (totally brown) banana for this recipe. These cookies taste best with a mashed banana that still has some yellow to it, but is nice and soft. Just look for a couple of those brown spots on the peel.
ADD CINNAMON – Bananas  and cinnamon go really well together. Add just a dash of cinnamon to this recipe and these cookies will taste a little more like chocolate chip banana bread. And there is nothing wrong with that!
DON'T OVERMIX THE DOUGH – A common mistake when mixing dough is to overmix it. When incorporating the wet and dry ingredients, stir until they are JUST combined and then stop immediately. Continuing to mix can result in a dry cookie!
REFRIGERATE DOUGH – Make sure you put the dough in the fridge before you scoop it out into the cookie sheet. That helps these cookies not bake too flat.
USE A SILICONE MAT OR PARCHMENT PAPER – This recipe is much easier, and these cookie bake much better, if you can line your baking sheet with something.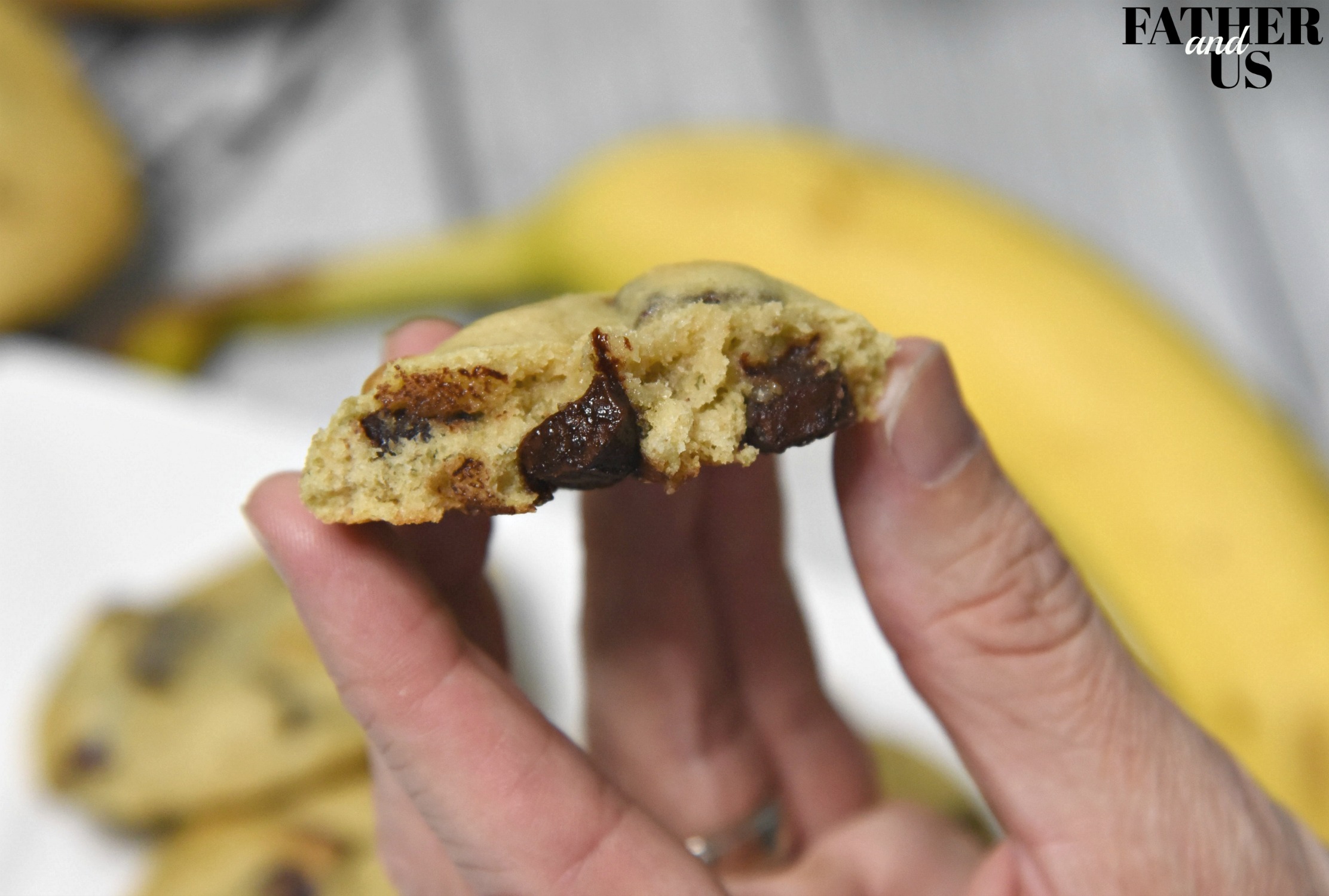 If you like this chocolate chip banana cookies, check out my recipe for Chocolate Chip Banana Bread.
Banana Chocolate Chip Cookies
Try these Banana Chocolate Chip Cookies to put a little different spin on your favorite recipe. They're quick and easy to make and come out soft and moist. Subbing bananas for half the butter I usually use makes them healthier as well. If one of your favorite combos is bananas and chocolate you've got to taste these!
Ingredients
2

very ripe bananas

2 

cups

of Flour

3/4

cup

of white sugar

1

cup

of brown sugar

1.5 

tsp

vanilla extract

.5 tsp of almond extract

1

tsp

salt

1

tsp

baking soda

2

eggs

1/2

cup

1 stick of butter

1

bag of semi-sweet chocolate chunks

1/2

bag of  milk chocolate chips
Instructions
Preheat the oven to 325 degrees.

Mix the flour, salt and baking soda together. 

In a separate bowl, mix together the bananas, white sugar, brown sugar, butter, vanilla extract and almond extract. Add the eggs and mix very thoroughly until well blended.

Add the dry ingredients and mix until just combined. Do NOT over mix!

Finally, add the chocolate chunks and chips.  I like to use this combination of semi-sweet chocolate chunks and milk chocolate chips. But you can improvise this however you want. Again, mix them in until just incorporated into the batter.

Don't immediately bake the cookies.  I put the cookie batter into the the refrigerator for 10 minutes. You can also preheat oven during this time if you haven't already!  One the the cookie dough is chilled, bake for 10-11 minutes.  Immediately take off of the cookie sheet and put onto a cooling rack.  Enjoy!