THIS POST MAY CONTAIN AFFILIATE LINKS WHICH MEANS WE EARN A SMALL COMMISSION.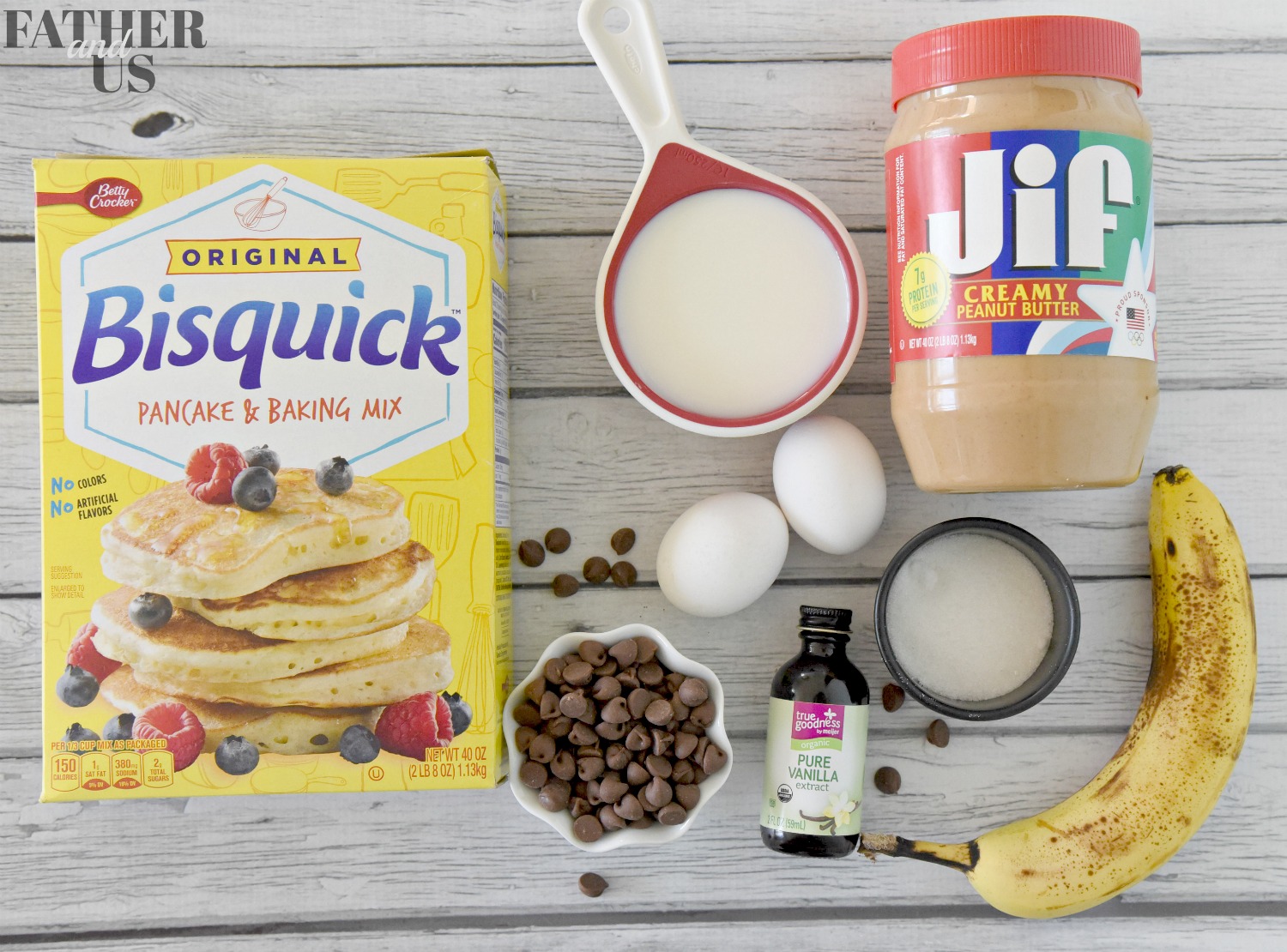 I make pancakes every Sunday morning with my daughter.  She loves to put "surprises" in them. Sometimes they are M&Ms, sometimes or other pieces of candy.  We have made chocolate chip pancakes on numerous occasions.  You can never go wrong with Chocolate Chip Pancakes.  Once, she even talked me into putting little pieces of Little Debbie Oatmeal Cream Pies in our pancakes.  They actually turned out pretty delicious!  Earlier this week, she came up to me with her best idea yet: she wanted to make Peanut Butter Banana Pancakes with Chocolate Chips in them.
This was, in my opinion, I solid idea.  We love chocolate in this family.  And we love pairing chocolate with both bananas and peanut butter separately.  But we have never married all three of them together at the same time.  And we certainly haven't put that concoction into a pancake batter.
So, we needed a plan.
We usually just use the Bisquick recipe for our pancake batter.  This is 2 cups of the Bisquick, two eggs, and 1 cup of milk.  This makes our pancakes light and fluffy and we saw no reason to deviate from this recipe.  We had one very ripe banana left from grocery shopping earlier this week.  So that takes care of the banana.  Also, we have made Chocolate Chip Banana Bread before, so we definitely have some experience from that!  For the peanut butter, I felt we needed to doctor it up a bit.  So I decided to take 1/3 cup of peanut butter and mix with with 1 tablespoon of white sugar and 1 teaspoon of vanilla extract.  So, here is what you will need for your own Peanut Better Banana Pancakes with Chocolate Chips.
Peanut Butter Banana Pancakes With Chocolate Chips-Ingredients:
2 cups Bisquick
1 Cup Milk
2 Eggs
1 ripe Banana
1/3 Cup Peanut Butter
1 Tablespoon Sugar
1 Teaspoon Vanilla Extract
1/2 Cup of Chocolate Chips.  I like to use Milk Chocolate but you can use whatever sounds good.
Peanut Butter Banana Pancakes With Chocolate Chips-Instructions
Preheat a griddle to a medium low temperature.  Coat with a cooking spray.
Follow the directions on the Bisquick Box to make your batter.  Just mix together two cups of Bisquick, two eggs and 1 Cup of Milk.
Mash up the Banana into a pulp.  Set aside.
Mix the Peanut Butter, Sugar and Vanilla Extract into a bowl.
Dump the mushed Banana and the Peanut Butter mixture into the batter.  Mix together.
Dump the Chocolate Chips into the batter.  Mix together.
Pour the batter on the griddle.  Wait for them to start to bubble and then flip.
Once they are done, top with butter and syrup and enjoy!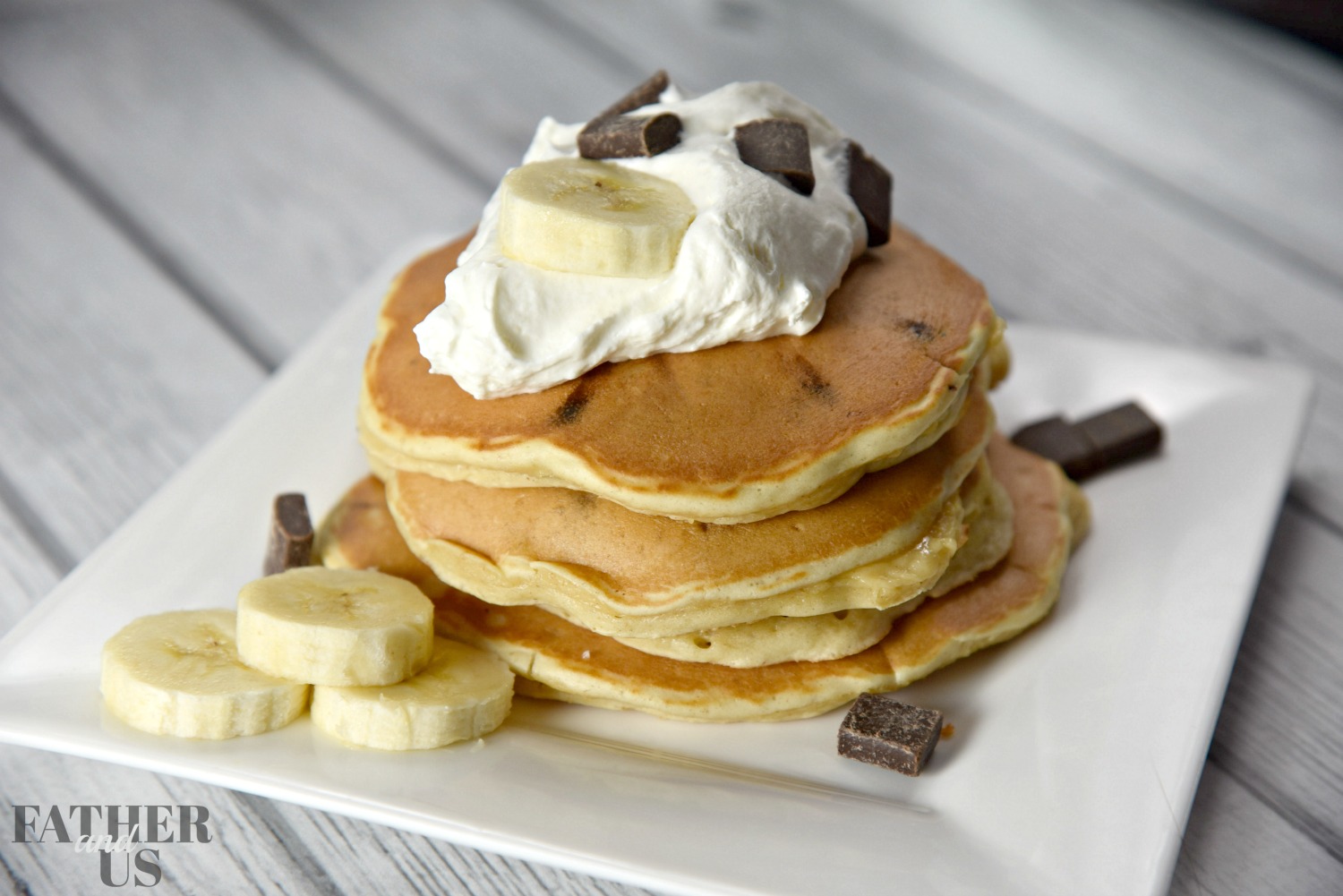 These were a HUGE hit for breakfast this morning.  They were nice and crispy on the outside but super creamy and soft on the inside.  We could certainly taste the peanut butter and banana but it was not overpowering at all.  We will definitely make these again!
Also, try out my recipe for Banana Chocolate Chip Cookies and Banana Chocolate Chip Bread!
Pin For Later-