THIS POST MAY CONTAIN AFFILIATE LINKS WHICH MEANS WE EARN A SMALL COMMISSION.

Chocolate Chip Banana Bread
I have created this recipe for banana chocolate chip bread that you have GOT to try.
Banana bread is a recipe that takes me back to my childhood.  My grandmother had a wonderful recipe for banana bread and would bring it with her every time she visited.  I still remember the sweet smell of bananas, the subtle scent of cinnamon and the moistness of the bread.  My brother was a HUGE fan of her banana bread and would get so excited every time she visited.
It's weird, but I haven't really had banana bread in years.  Once my grandmother passed away, no one really made it anymore.  I don't know if anyone still has her recipe or not.
Well, that all changes now!  I decided, in memory of my grandmother, that I would research the internet for some of the best banana bread recipes.  As a result of all of this searching, I have mixed and matched my favorite parts of these recipes into a new legacy of banana bread that will hopefully make my own grandchildren eagerly await my visits.
This recipe for banana chocolate chip bread is super quick and easy.  I made this with my 5-year-old daughter and we had a blast!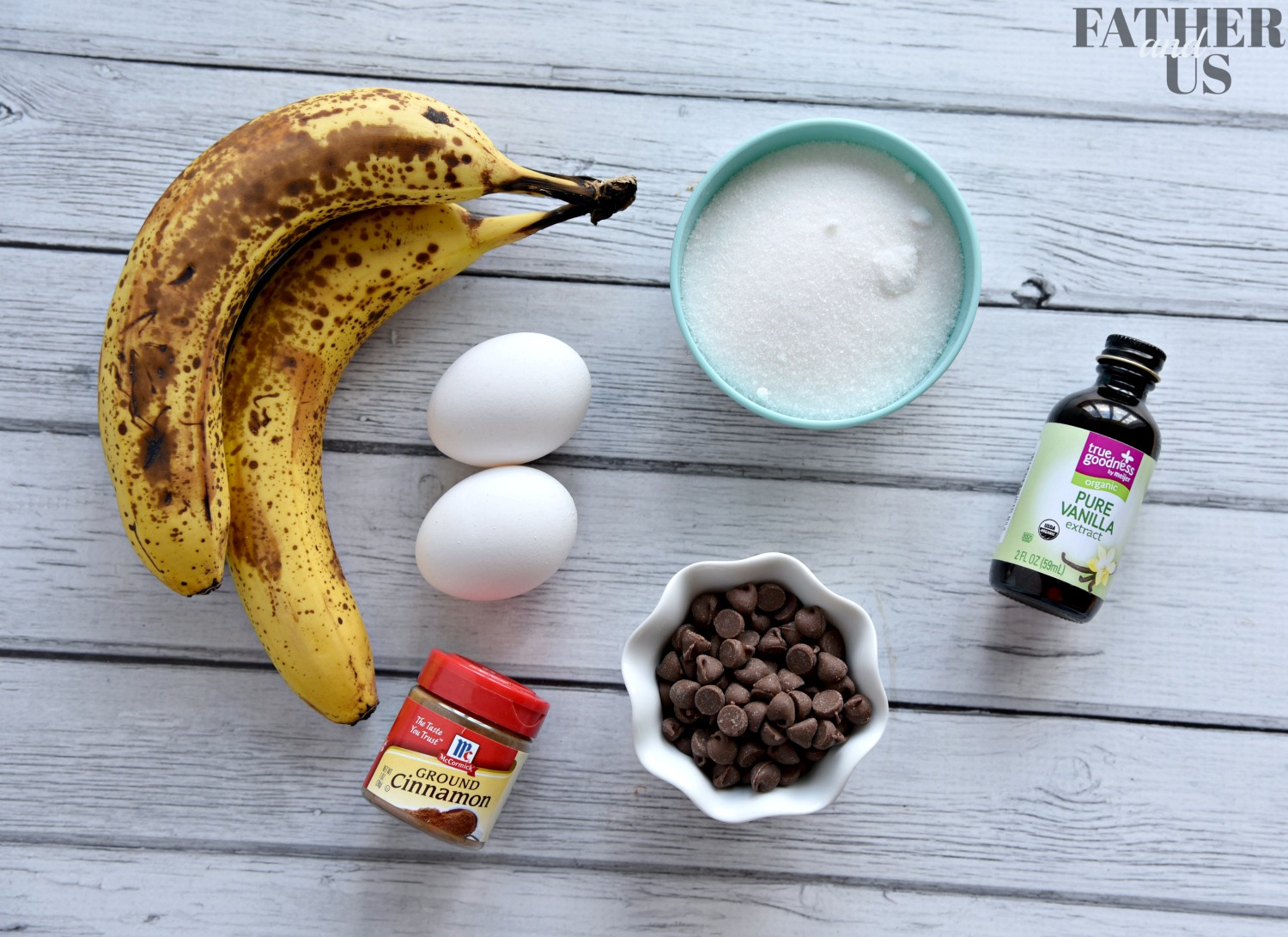 Banana Chocolate Chip Bread Ingredients
1 Cup Suger
1 Stick of Butter (softened to room temperature)
2 Eggs
2 Cups of Flour
3/4 Cup of Milk Chocolate Chips
3 Very Ripe Bananas
1/4 Cup Milk
1 tsp Baking Soda
1 tsp Salt
1 tsp Cinnamon
1 tsp Vanilla
Chocolate Chip Banana Bread Recipe
Preheat the oven to 375 degrees.
Take the Butter out and let it soften and get to room temperature.
Butter a 9X5X3 baking pan.
Using an electric mixer, blend the softened butter and the sugar together until it is fluffy and creamy.
Add the Vanilla, Milk and Cinnamon.
Add the eggs, one at a time and mix until blended in.
Put the ripened bananas into a separate bowl and mash them with a spoon.  You can keep them lumpy or mash them smooth, however you want your bread to be!
In a separate bowl, mix together the flour, baking soda and salt.  Mix this into your creamy mixture just enough so that the flour disappears.
Gently fold your Chocolate Chips into the mixture.
Pour the batter into your pan and smooth the top.
Bake for 50-65 minutes.  Stick a toothpick into the middle of the bread to make sure that it is done.
Enjoy!
I love to reheat mine in the microwave with a little bit of butter on it.  It is pretty fantastic!  My daughter likes to just eat hers room temperature right out of the pan!
If this sounds good, please check out my recipe for Banana Chocolate Chip Cookies and Peanut Butter Banana Chocolate Chip Pancakes!
For an alternate take on this classic dessert, try making it in an Instant Pot!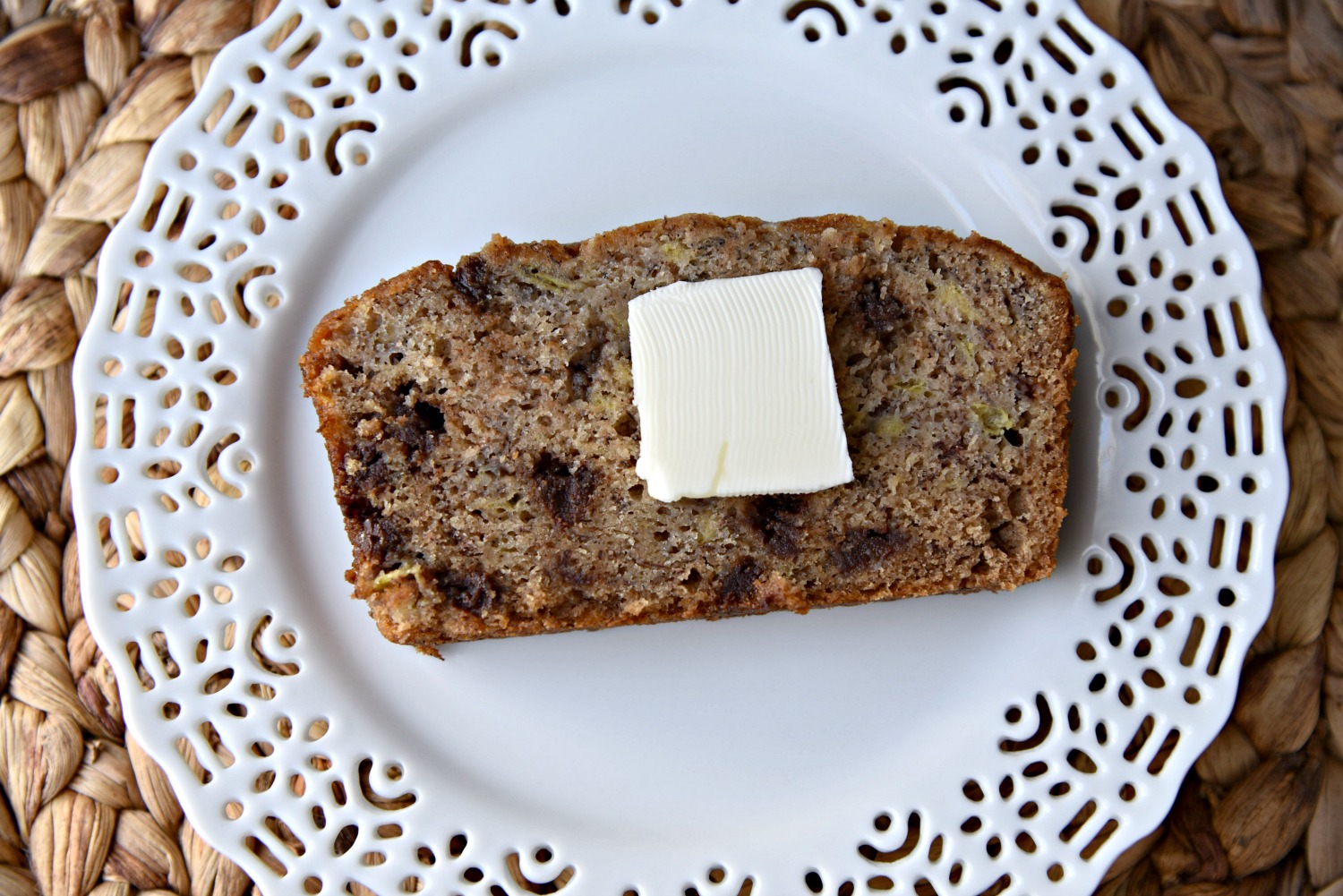 Pin for Later-