THIS POST MAY CONTAIN AFFILIATE LINKS WHICH MEANS WE EARN A SMALL COMMISSION.

I had one of the best meals of my life when I went on vacation to Hilton Head, South Carolina.  My family had rented a large condo and we were all staying together.  We decided to take turns cooking each other dinner.  When it was my brother's turn, he told us he was going to make us something called a Low Country Boil.  This consisted of sausage, crawfish and corn all boiled together.  He got some butcher's paper, put it in the middle of the table, and dumped it all on there.  We sprinkled some Old Bay Seasoning on it and dived right in.  It was such a great meal.  It is one of those meals that I will always remember.
Now that we have an Instant Pot, it quickly occurred to me that we could make a very tasty version of a cajun crawfish recipe that would usually be traditionally boiled.  There are a lot of options out there Instant Pot Seafood boil recipes, but I think this one strikes pretty close to the mark my brother set down in South Carolina.  This is cheap, quick and easy and it is the perfect dinner to serve a large crowd or to save leftovers for the next day!  So, here is my Instant Pot Crawfish Boil Recipe!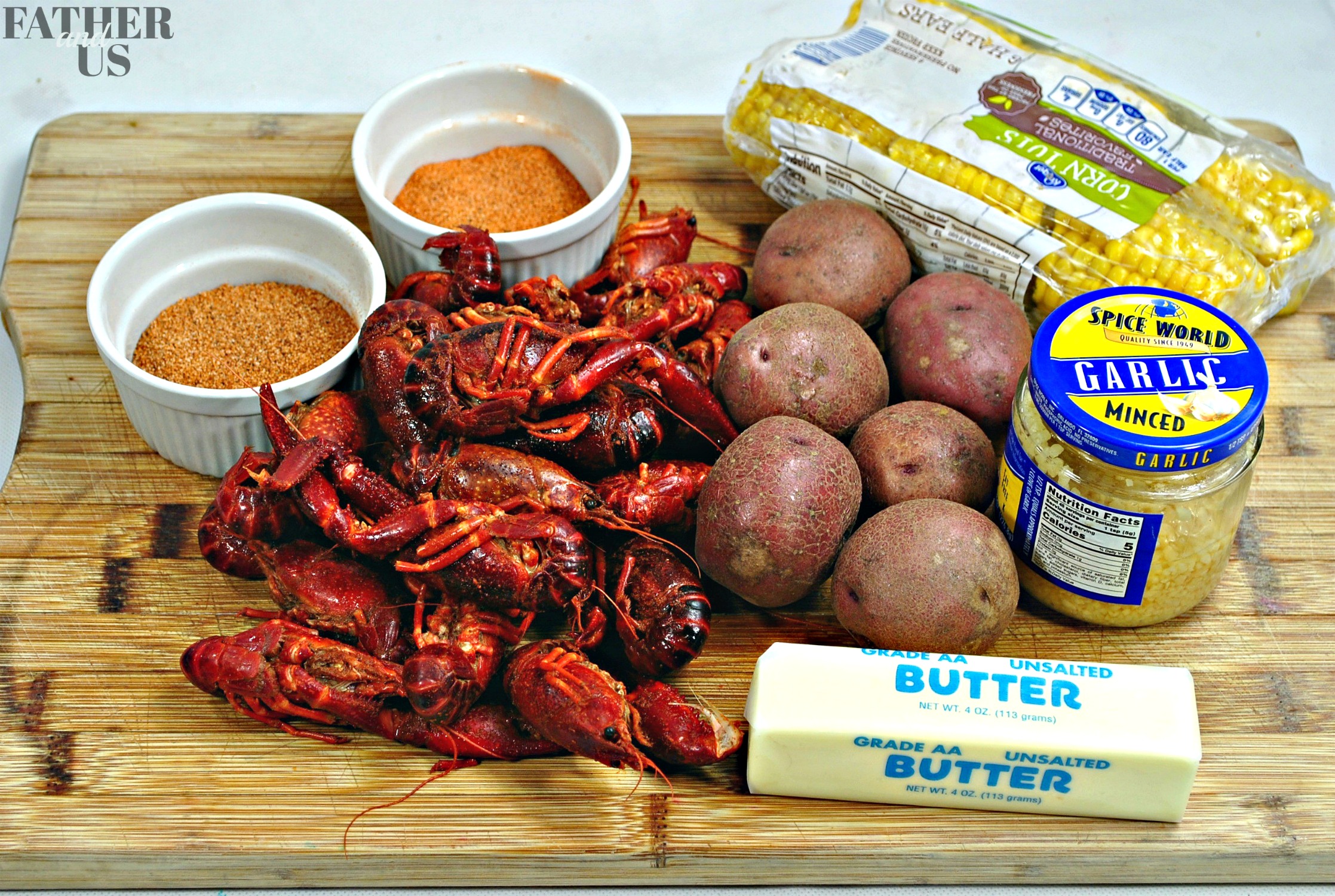 Instant Pot Crawfish Boil Recipe-Ingredients
4 ears corn cut in half
6 red mini potatoes
3 tbsp. Louisiana crawfish Boil
1 cup Water
4 pds. crawfish
Instant Pot Crawfish Boil Recipe-Sauce
6 tbsp. butter
1 tbsp. garlic, minced
1/8 tsp. cajun seasoning
1/4 tsp. Old Bay seasoning
5 drops of hot sauce.
Instant Pot Crawfish Boil Recipe-Directions
Place your crawfish in a ziploc bag with cajun spices and seal.
Place in your refrigerator for 4-5 hours.
In your Instant Pot set to saute' add the butter, and minced garlic and stirring often.
Add all other spices mix to combine.
Saute for 5 min.
Remove from pan and set to the side.
Put the corn, and red potatoes in the pot and cover with water.
Add in Crawfish Boil Mix.
Set your Instant Pot to High pressure for 5 minutes.
Once your Instant Pot is done, perform a Quick Pressure Release and open the lid carefully.
Check to ensure the potatoes are cooked.
Throw in your Crawfish and stir.
Re-seal the Instant Pot and set to high pressure for 3 minutes.
Once your Instant Pot is done, perform a Quick Pressure Release and open the lid carefully.
Add in your garlic butter spice mix to the Instant Pot and stir to combine.
Serve immediately.
Pin For Later-