THIS POST MAY CONTAIN AFFILIATE LINKS WHICH MEANS WE EARN A SMALL COMMISSION.
This post has been compensated by Inmar Intelligence and its advertiser. All opinions are mine alone. #MyMazolaMarinade
This Mediterranean Salmon Foil Packet Recipe is so easy, healthy and delicious! Cooked completely in a foil packet on your grill, just load all of the ingredients on a square of aluminum foil and your dinner will be ready in minutes. I make my Mediterranean Marinade with Mazola® Corn Oil, which makes this a heart healthy recipe as well! A clinical study showed Mazola Corn Oil reduces cholesterol 2x more than extra virgin olive oil. To learn more about this claim, visit Mazola.com.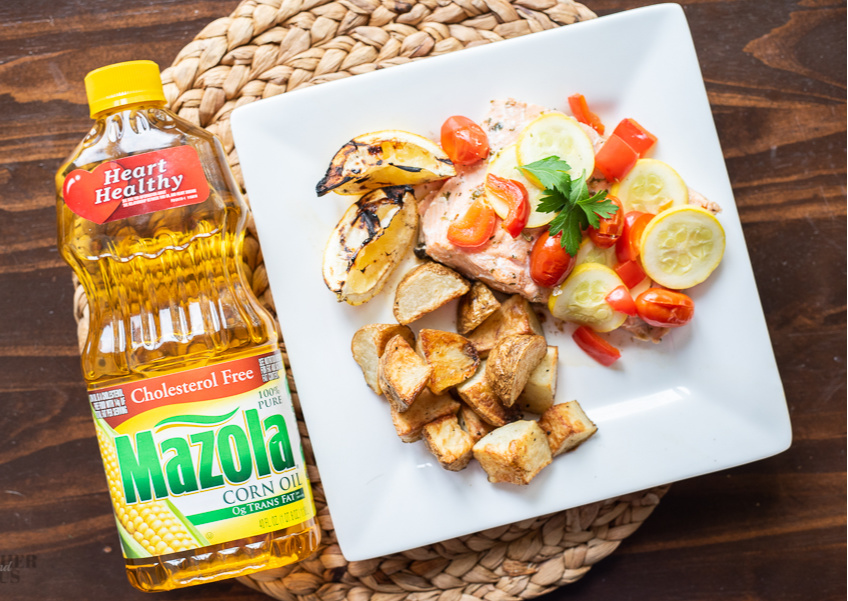 I'm a 43 year-old man, so you might think that it's a little bit weird that I'm just NOW getting into grilling. Sure, I've grilled tons of things before, but with no real craftsmanship or knowledge. I would just introduce some meat to an open flame and wait until it looked done to me. But, lately, I've decided to dive a little deeper and spend more time getting to know my grill. I've learned that there are lots of different ways to grill, from harder smoking recipes over indirect heat, to easier recipes like a hotdog. My new favorite way to grill has been to use foil packets. It is super easy and just about impossible to mess up, even for me!
What Is A Foil Packet?
All you need to do is get a square piece of aluminum foil (about 12 inches X 12 inches depending on what your cooking), place all your ingredients into it, and then fold it up into a packet.
These are a great idea not only because they are easy, but because they are great to make ahead of time too. If you are entertaining a crowd, you can make these before your guests come over. Once the grill is hot and everyone is ready to eat, just take them out of the fridge and put them on. Or, even better, everyone could make up their own packet to their own specifications.
They are also great for tailgating, make them at home, put them in a cooler and then bring them to the stadium. You can eat the dish right out of the foil packet too! No need for plates!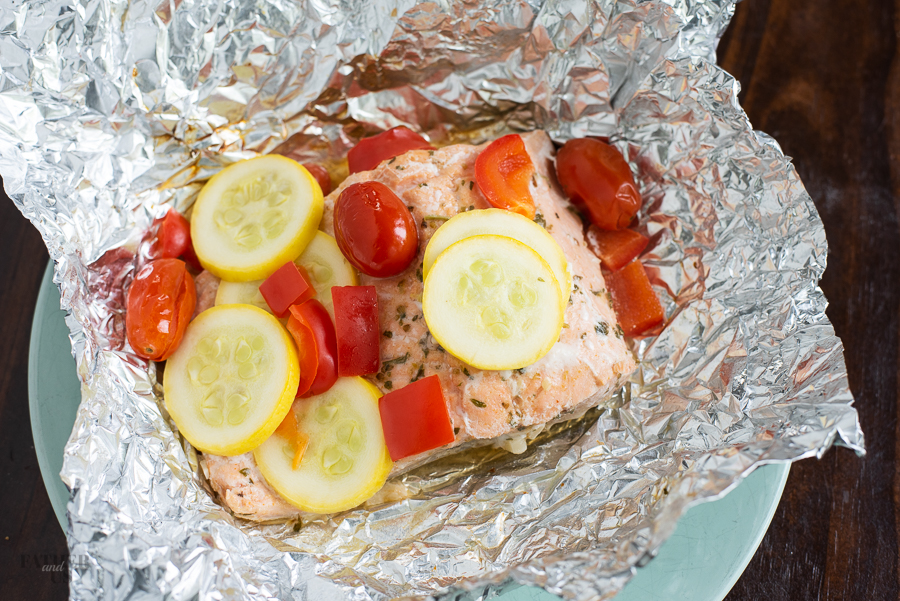 Mediterranean Salmon Foil Packets
Grilled Salmon is delicious. So I thought I'd come up with this foil packet version. I prepare the salmon in a Mediterranean marinade made with Mazola Corn Oil. Then bake it in a foil packet with yellow squash, cherry tomatoes and red peppers. We served ours with some homemade roasted potatoes and it was spectacular!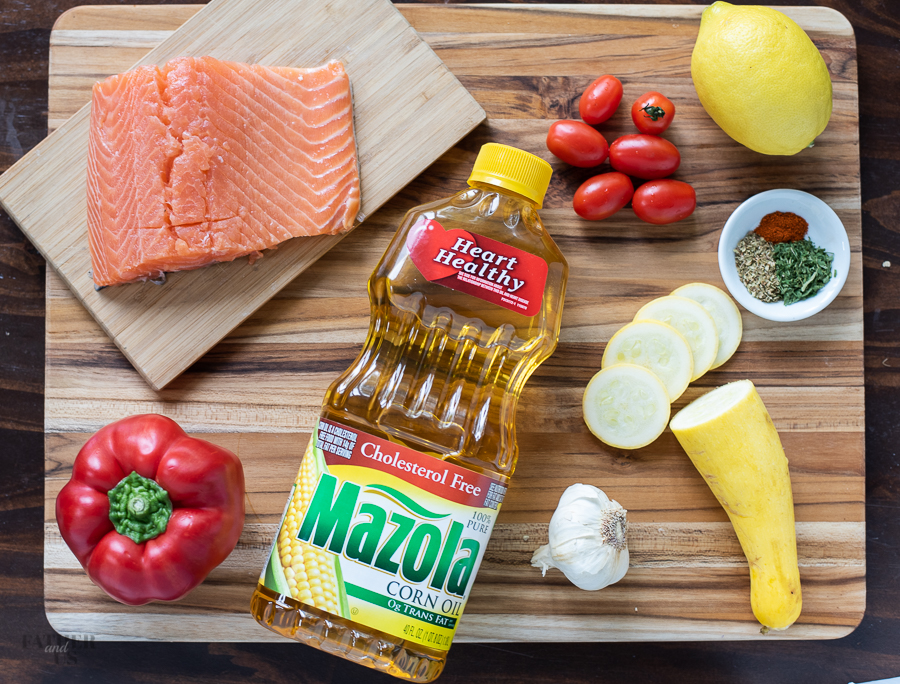 Ingredients You Will Need For Mediterranean Salmon
Salmon
Red Bell Pepper
Yellow Squash
Cherry Tomtatos
Mazola Corn Oil
Garlic
Oregano
Parsley
Lemon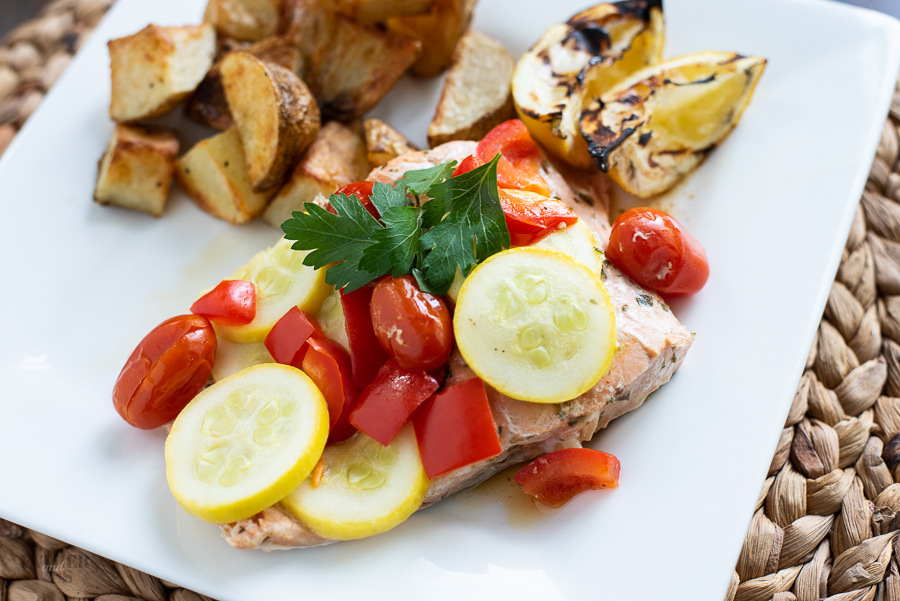 Making The Marinade
The star of this recipe is the Mediterranean Marinade. I make it with a mixture of Mazola Corn Oil, Garlic, Oregano, Lemon and Parsley. It's simple and delicious. I love to use Mazola Corn Oil in my marinades. Mazola Corn Oil is a heart-healthy* cooking oil and creates marinades that make great-tasting food because it has a neutral taste that lets the natural flavor of your food stand out. In addition, I've found that when making marinades for the grill, you need to pay special attention to the smoke point of the oil that you use. Mazola Corn Oil has a high smoke point of 450 degrees, so it works awesome in just about any grilling setting.
Notes, Tips and Variations
Brush the inside of your foil with a small amount of Mazola Corn Oil before putting the ingredients in. It will help to prevent sticking.
I love to leave the skin on my salmon when cooking. I find it results in a more tender, juicy final product and it doesn't stick to the foil as much. But if you need to, you can take the skin off.
Be careful when handling the packets on the grill with a metal spatula or metal tongs. You can easily tear the foil.
You can make this even more mediterranean by adding green olives, kalamata olives or capers to this recipe. Or add a mixture of all three! I don't like any of these ingredients so I didn't include them!
Top with Feta Cheese if desired.
I hope you enjoy this recipe for Mediterranean Foil Pack Salmon. Remember to use Mazola Corn Oil for the marinade! Mazola Corn Oil is an all-purpose, cholesterol free cooking oil that is smart heart-healthy* choice for your family. Variety of uses include baking, grilling, sautéing, stir frying, or mixing up a marinade or dressing. Give it a try!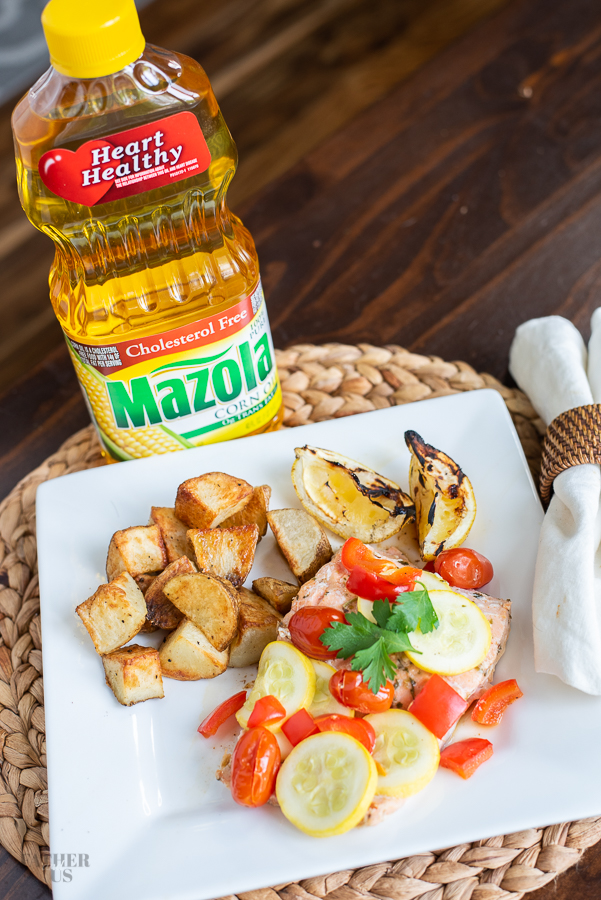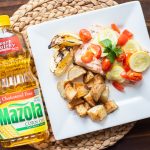 Mediterranean Salmon Foil Packet
Marinating Time
30
minutes
Ingredients
2

lbs

Salmon (cut into 4 equal pieces)

1

Red Bell Pepper (Diced)

1

Yellow Squash (Sliced)

1

package

Cherry Tomatoes

3

tbsp

Mazola Corn Oil

3

cloves

Garlic (pressed and diced)

1

tsp

Oregano

1

tsp

Parsley

1

Lemon (Juiced)
Instructions
Mix together Mazola Corn Oil, Garlic, Oregano, Lemon and Parsley in a small bowl.

Marinate the Salmon in this mixture for anywhere between 30 minutes-4 hours.

Slice Squash and Dice Red Bell Pepper.

Preheat Grill to medium high heat.

Tear out four square sheets of aluminum foil about 12 inches X 12 Inches. Brush Mazola Corn Oil on the foil.

Place 1 piece of Salmon on the foil, top with Squash, Bell Peppers and Tomatoes. Do this for all 4 pieces of Salmon. Then fold the packets up tightly.

Cook on the grill for 11-13 minutes. Be careful of the steam when opening the packets up.
*see Mazola.com for more information on the relationship between corn oil and heart health.