THIS POST MAY CONTAIN AFFILIATE LINKS WHICH MEANS WE EARN A SMALL COMMISSION.
This post is sponsored by BabbleBoxx.com on behalf of Candlewick Press. 
These days, my life as a parent has never felt busier. But, no matter how hectic my schedule is, I believe that all dads should find time to read with their kids. It is one of the most important things we can do with our children.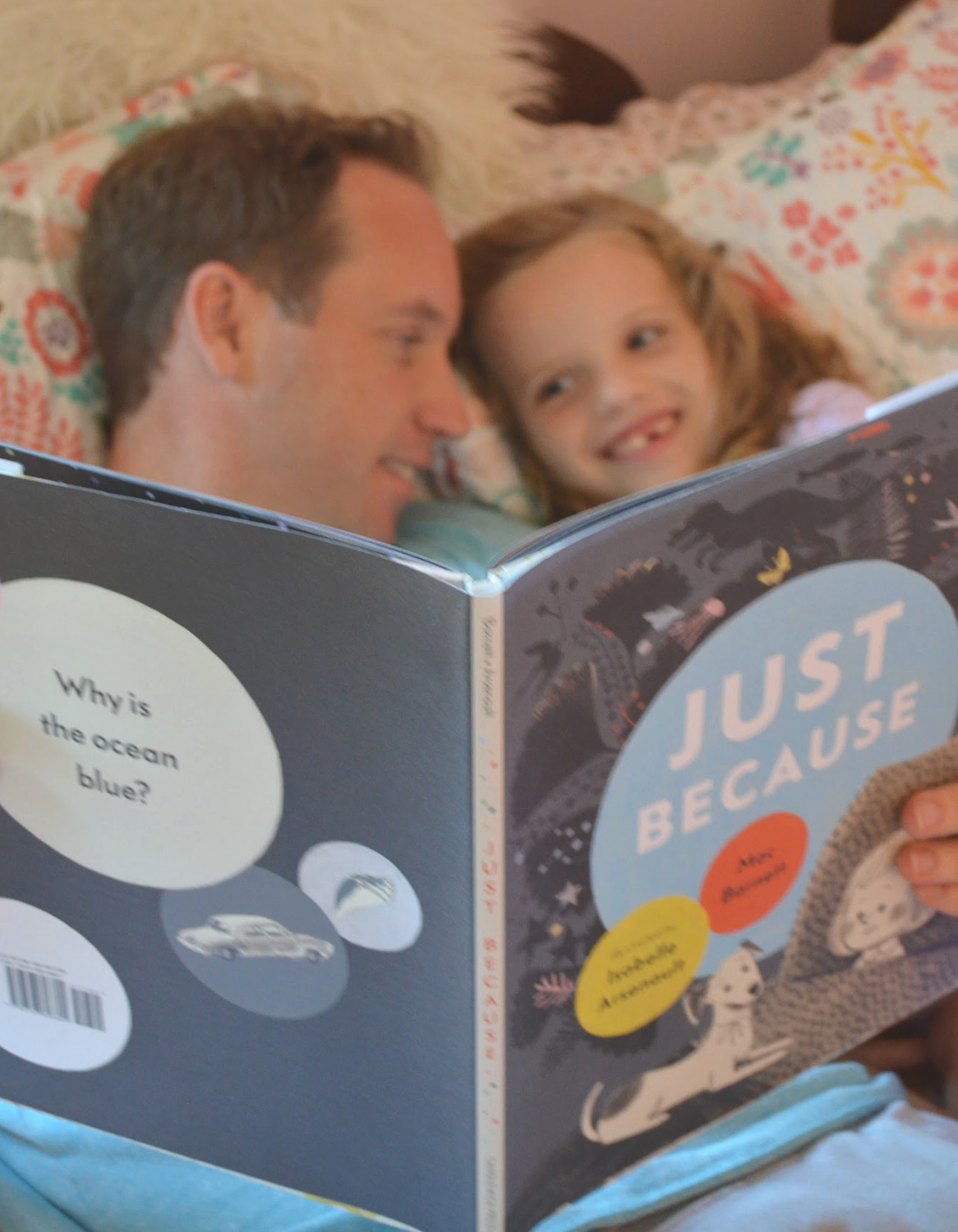 I've Always Loved Reading
Growing up, I was a pretty good kid. I generally followed the rules and mostly stayed out of trouble. But, there was one rule that I would break every single night.
When it was time to go to bed, I'd put my pajamas on and brush my teeth without protest.  My parents would tuck me in, tell me that they loved me and that they'd see me in the morning. Then they would turn out my lights and go back downstairs. But once they were gone, I'd immediately get out of bed, turn the lights back on and grab a book.
Of course, my parents knew that I wasn't going to sleep right away. But I don't remember them ever confronting me about it. They let me do my thing. There wasn't much harm in it. I would never stay up too late. Within 20 minutes of opening my book, my eyes would inevitably get heavier until I drifted off to sleep. Later in the night, my mom would check on me and find me passed out with the book laying on my chest.
This habit of reading before bedtime kept up all through my childhood, into college and persists in my adulthood. Ever since I can remember, I've been a voracious reader. I read EVERYTHING. Sure, my taste in reading has changed over the years, my love of it has never dwindled.
Why All Dads Should Read with Their Kids
Now, I am a parent with two kids of my own. One of the many amazing things about being a parent is the glimpses of yourself that you see in your children. It looks like my 10-year-old son has the reading bug too. Ever since he could begin to sound out words on a page, he has been an avid reader. Just like me, he stays up after his bedtime reading until he falls asleep. And, just like my parents, I let him do it.  It's hard to express the magic I feel at coming in to check on him and seeing him sleeping peacefully with a book on his chest. Occasionally, it is the same book I read when I was his age.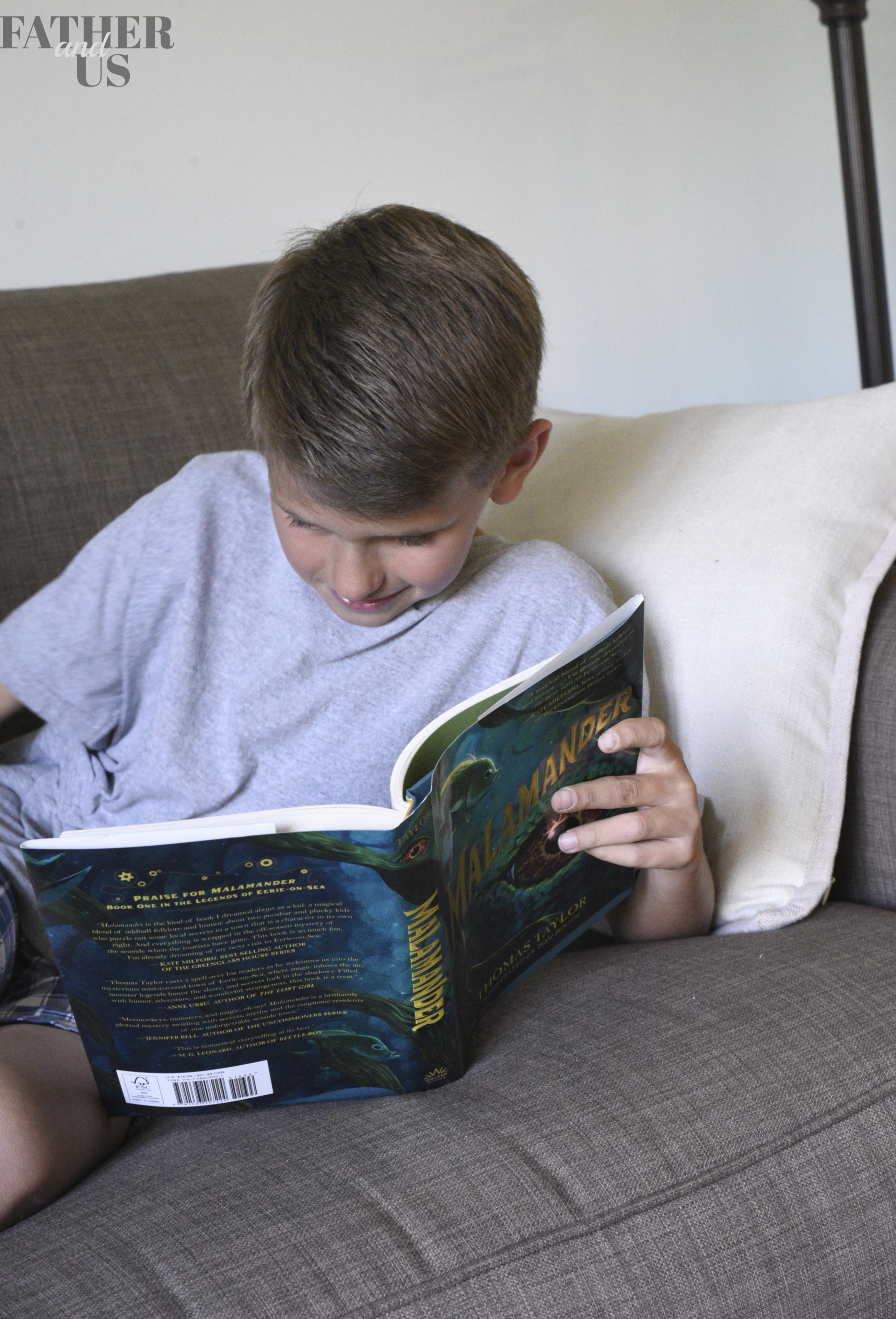 It is no secret that instilling a healthy reading habit in your children can pay dividends in many different areas of their lives. And, although I've probably made some goofs as a parent, I'd like to take a little bit of credit for my son's interest in reading. I remember, even before he could talk, sitting with him in a rocking chair at bedtime every night. He'd point at the pictures and make delighted noises at his favorite parts of the book. Then he progressed from reading WITH me to reading TO me.  Now, he mostly likes to read alone, but still loves to tell me all the things he read about during breakfast the next morning.
My 7-year-old daughter didn't jump on the reading train quite as early or enthusiastically as my son did. She had a little more trouble early on than her brother did and would get a bit frustrated. But, I kept reading with her every night. In the last 6 months, her ability has really accelerated. I love watching her gain confidence and take pride in her accomplishments. My favorite time of the day is jumping into bed and letting her pick out a book to read together. And, just like my son, she is starting to read to me more than I am reading to her. I know that pretty soon she will tell me that she'd rather read alone. So I hold onto these moments the best I can.
Reading with your kids gives them confidence, promotes their imagination and teaches them about the world. Picking up a book and developing the patience to delve into the story (no matter how simple or complex it may be) is so important these days. With all of these smart phones, tablets, video games, apps and streaming services, our kids are inundated with endless stimulation all at their fingertips. Knowing that my children can sit quietly and let their brain do most of the heavy lifting definitely lets me sleep better at night!
Some of Our Favorite New Books
But getting your children to develop an interest in reading isn't the only important thing. As a parent, it is also important to introduce fun and engaging new material to them. So, I am always on the lookout for new books that we can all read together. As much as my son loves to read, he would probably read the same 10 books over and over again if I didn't nudge him to try some new stories. I've had the opportunity to try out these 3 new titles from Candlewick Press and they have been a huge hit in our home. If you are looking for some fun new reading material to read with your children, check these out!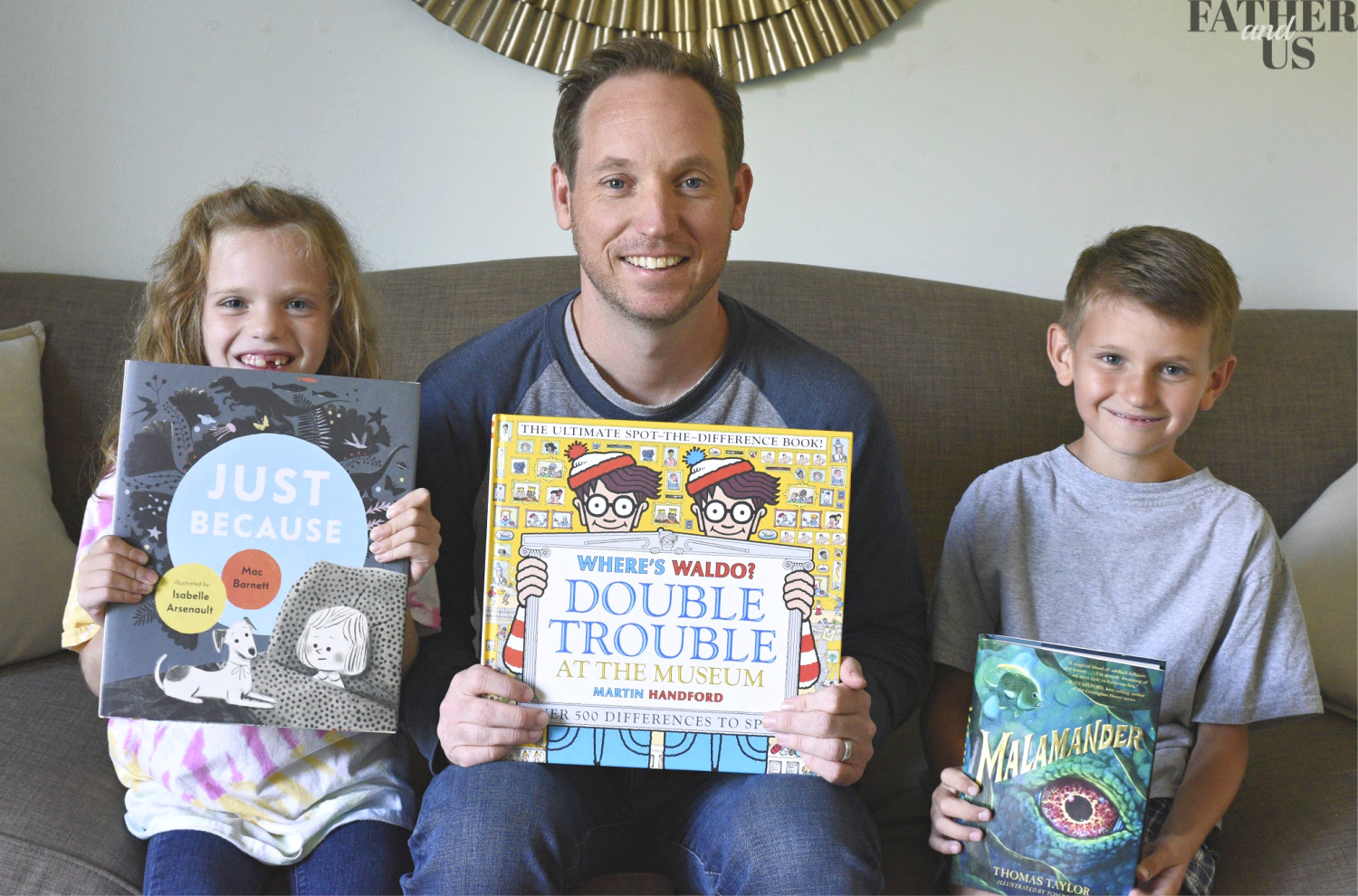 This quirky novel, perfect for ages 8-12, is set in the cold, wintery town of Eerie-on-Sea. It stars two young protagonists (Herbert and Violet) as they pursue the legend of the Malamander. The Malamander is a mysterious part-fish, part-human creature that may be the secret to providing them with the ultimate treasure. The story is perfectly creepy for this age range and contains adventure, mythology, fantasy and shadowy villains. Sprinkled with black and white illustrations throughout the book, this story will stimulate your child's imagination and wonder. If they are fans of the Lemony Snicket or Greenglass House series, this novel would be perfect for them. The first book in a trilogy series, Malamander kicks of this unique, fun adventure for the whole family. To learn more, go the their homepage or check out this fun trailer for the book!
At this point in my daughter's reading progression, we love to take turns reading to each other. She doesn't quite have the confidence to read a whole book by herself, so she loves sharing the duties with me. For this reason, we read books were there are two characters that can trade off dialogue. The next book we received from Candlewick Press is perfect for this.  The plot of Just Because features a young girl that has endless questions for her dad at bedtime.  My daughter loves to be the girl in the book and I play the dad. It's a great way for us to read together.
This is a wonderful bedtime book for ages 4-8. Hardcover with vibrant, colorful full-page pictures, this book gives fantastical answers to curious questions. Every parent has been trying to get their kids to fall asleep, only to be bombarded with endless questions about just about everything. Instead of giving the age-old response "just because", the dad gives fun and creative answers to these questions that are accompanied by beautiful, retro-style illustrations by Isabelle Arsenault. Written by bestselling and award-winning author Mac Barnett, this book will become a favorite at bedtime every night.
For more information, watch the creative trailer for this fun new book.
Remember Where's Waldo? I certainly do! I can tell you exactly where I was when I saw my first Where's Waldo book. I was 11-years-old and sitting in the library with my friends. That is just about the same age my son is now. I was mesmerized by the fun of trying to find that striped-shirt and bespectacled character in the mass of people on the page. My friends and I would always race to see who could find him first.
With the new Where's Waldo Double Trouble at the Museum, the fun continues with a clever twist. Now, not only do you have to find Waldo, you have to spot the difference between two illustrations that are side-by-side. My daughter LOVES this one. It is perfect for long car rides or rainy days. Once your kids open up the magical world that Waldo loves to hide in, it will be difficult for them to put it down. With over 500 differences to be found in the illustrations, this "non-tech" activity will keep the whole family entertained for hours!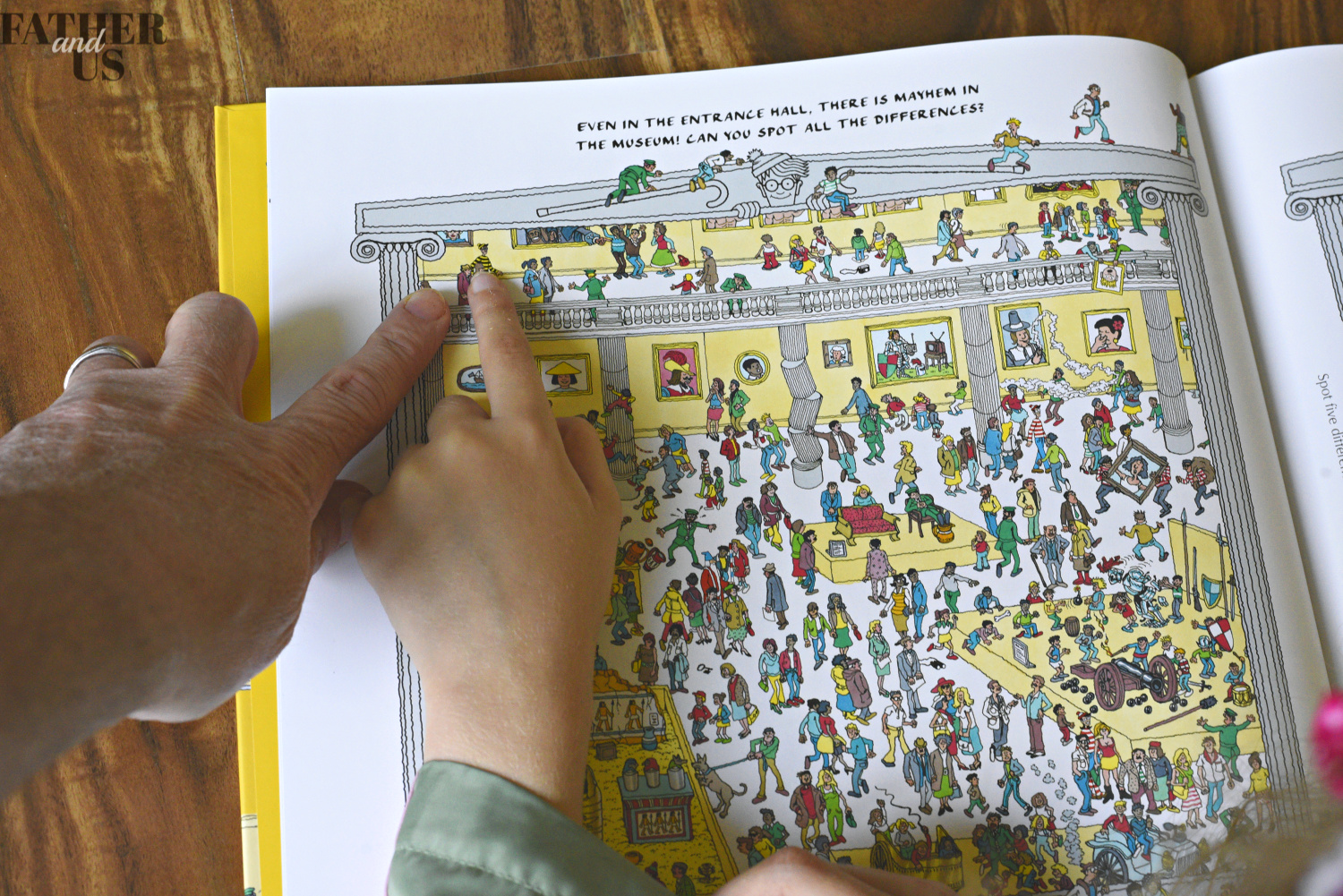 I think that all dads should make it a priority to read with their kids as much as possible. Reading with my children is my favorite time of the day. If I'm being honest, there are many times throughout the day that I'm not giving them my FULL undivided attention. There is usually just so much going on! But, at the end of the evening, we get to snuggle up and spend this special time together. I am encouraging them to learn about the world around them and use their imagination, these are things that have served me well as an adult. And I feel lucky to be able to pass these gifts on to my own children.