THIS POST MAY CONTAIN AFFILIATE LINKS WHICH MEANS WE EARN A SMALL COMMISSION.
Bring a galaxy far, far away to your next party with these 15 Fun and Easy Star Wars Desserts. From Light Saber Pretzel Rods to Darth Vader Cupcakes, everything is here to make your next Star Wars themed party out of this world.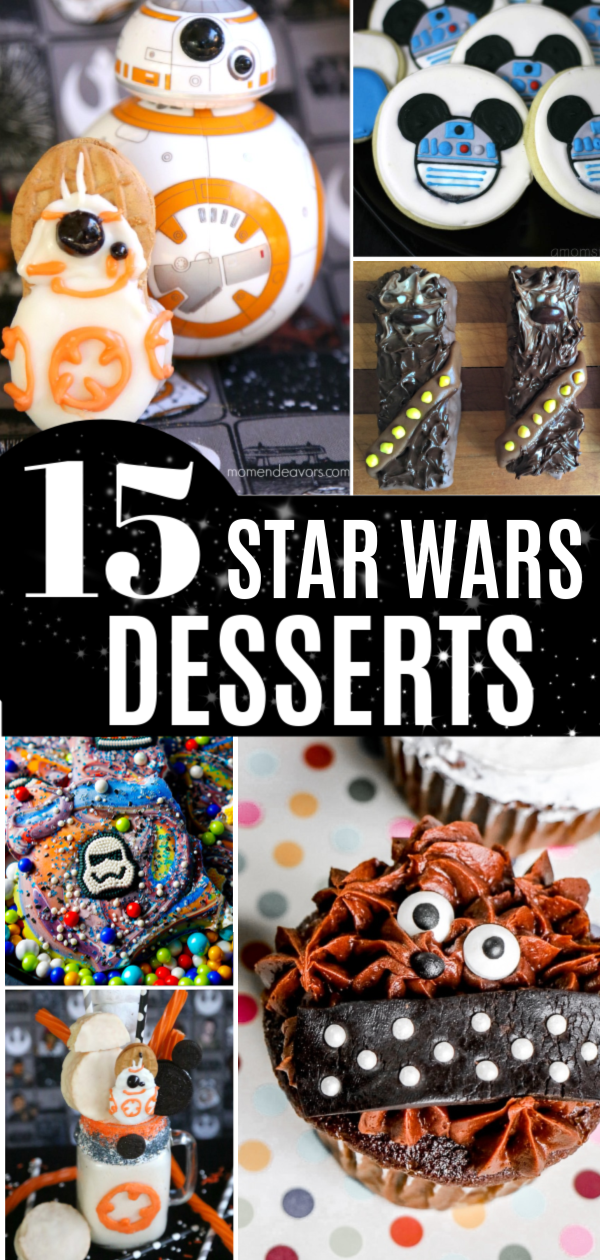 I Was Born In A Galaxy Far, Far Away
I was born in the late 70's, so I had the opportunity to literally grow up with the Star Wars Franchise.  The first movie I ever saw in the movie theater was Return of the Jedi when I was 7-year-old. I still remember that they had someone dressed up as Darth Vader in the lobby of the theater to promote the movie. Of course, I was too young to know that it was just some dude in a costume and thought it was ACTUALLY Darth Vader. I walked right up to him and told him I wasn't scared of him and started giving him a piece of my mind. Everyone started laughing and I couldn't understand what was so funny. It's crazy that I still remember that all these years later.
So, Star Wars has been a huge part of my life. And, for a large part of it, I thought that I would just have those movies from my childhood to look back on and to someday share with my own children. But, when I was in college, they released the prequels. Then, after a moment of quiet and peace in the universe, "the force awakened" when Disney bought the franchize and now we have a whole new batch of Star Wars action to immerse ourselves in.
Passing On "The Force" To My Children
The timing couldn't have been better, because now my own kids are about the exact same age that I was when the original movies came out. So we get to experience the excitement and wonder of each movie together! A couple years ago, my son wanted a Star Wars themed birthday party. So I went online to find fun treats and desserts that I could make to give his party just the right touch. Of course, there are a ton of great Star Wars Desserts recipes out there. So, I thought I'd round up some of my favorite recipes for a fun Star Wars Themed Party and share them here. Have fun!
15 Star Wars Desserts