THIS POST MAY CONTAIN AFFILIATE LINKS WHICH MEANS WE EARN A SMALL COMMISSION.
These Air Fryer Avocado Fries are crispy on the outside while tender and creamy on the inside. I coat them with my Panko/Parmesan Bread Crumbs that gives them a burst of flavor. Loaded with good fat and flavor, these are a great health snack, appetizer or side dish. I love to dip mine in Sriracha Ranch!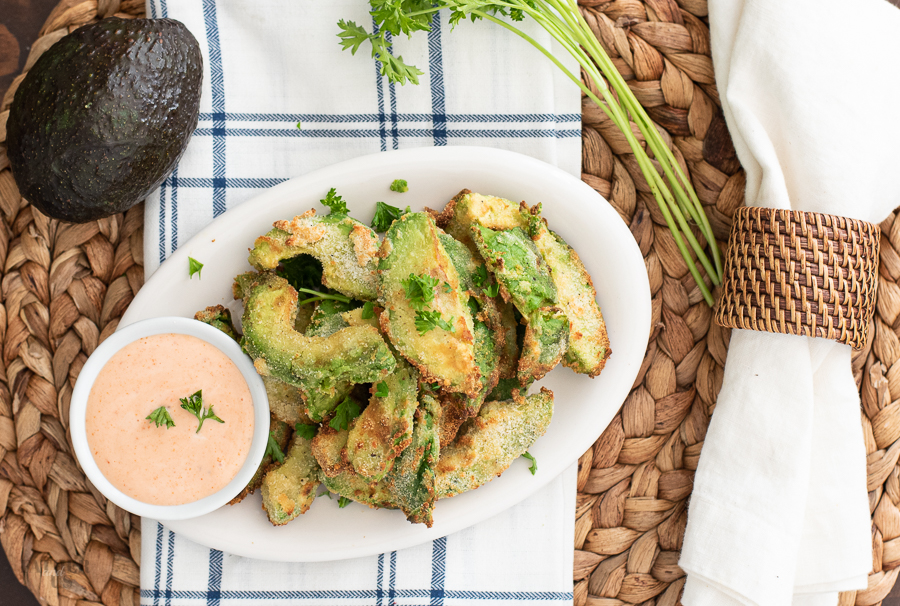 Healthy Air Fryer Snacks!
Now that we are well on our way into the new year, I am really trying to find some healthy treats to try to lose those extra pounds I gained during the holidays. Lately, I've been Air Frying just about everything. I now have two Air Fryers so that I can cook twice as much food at a time! With the NFL Playoffs in full swing, I've been obsessed with finding healthy game day recipes to enjoy. Even though my favorite team hasn't made it into the post season, I still love watching all of action with some delicious appetizers in front of me! This is where my Air Fryer has really come in handy. I've made these Air Fryer Honey Sriracha Wings, Air Fryer Buffalo Chicken Potato Skins and Air Fryer Onion Rings. But that is just the tip of the iceberg on all the cool things that you can Air Fry!
What Is An Air Fryer?
An Air Fryer is a small electronic kitchen appliance that cooks with super hot air that moves all around your food. By utilizing this method, you can get crispy results just like you would if you deep fried your food in oil. Using an Air Fryer usually DOES use a small amount of oil, but just a fraction compared to what you would need to deep fry. So you get a healthier meal that still tastes like it came straight from the State Fair. There are all sorts of brands and sizes of Air Fryers. Lately, I've been using this Ninja Foodi that can Air Fry, Pressure Cook and more! I'm loving it!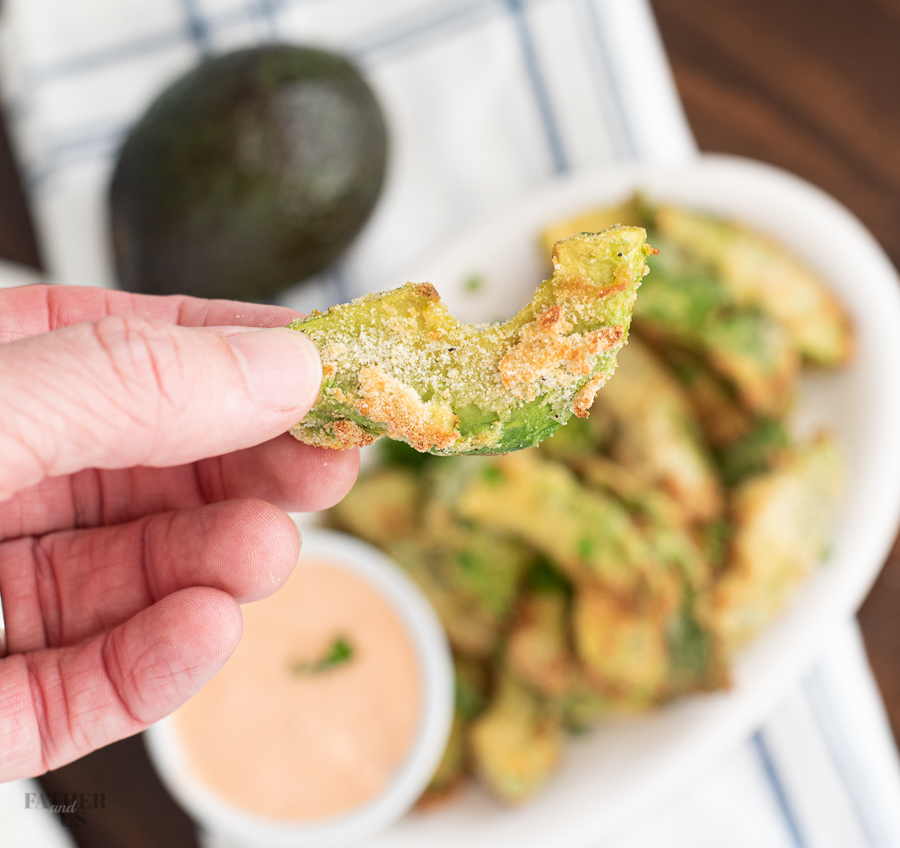 Air Fryer Avocado Fries
This is such a super simple and easy recipe. The ingredients are so simple:
AVOCADO: You don't want them too soft or they will be too tough to handle. If they are too ripe, go ahead and use them for Guacamole! 
PANKO BREAD CRUMBS: Gives the Avocado Fries an extra crisp. You can use Panko Breadcrumbs or Italian Breadcrumbs for a slightly different result. 
GARLIC SALT: We all know that Avocados don't have a lot of taste by themselves, neither do the bread crumbs. And because… Garlic.. Right!??!
ONION SALT: See Above.
CORN STARCH: This adds a little more crisp to the end result. You don't absolutely HAVE to use Corn Starch. But I coat many of my Air Fryer recipe with Corn Starch AND Panko bread crumbs.
COOKING SPRAY – I like to spray my air fryer basket with cooking spray to help guard against sticking. Avocado spray or olive oil spray works great. You can also give your avocado fries a quick spray before cooking! 
The Best Way To Peel An Avocado
Get a nice, sharp knife and cut all the way around the avocado lengthwise. Then, gently twist the avocado to separate it. The pit of the avocado will be stuck in one of the halves. I like to use my knife to gently "hack" into the pit. Don't do this with too much force or you'll smush the avocado! The knife should be lodged into the this pit. Now you should be able to rotate the knife a little and use the leverage to break the pit free. This shouldn't be a problem as long as the avocado isn't too ripe. And, again, if it is, you shouldn't be using them for Avocado Fries. 
I like to then use a large spoon to get between the avocado and the skin to peel it all off.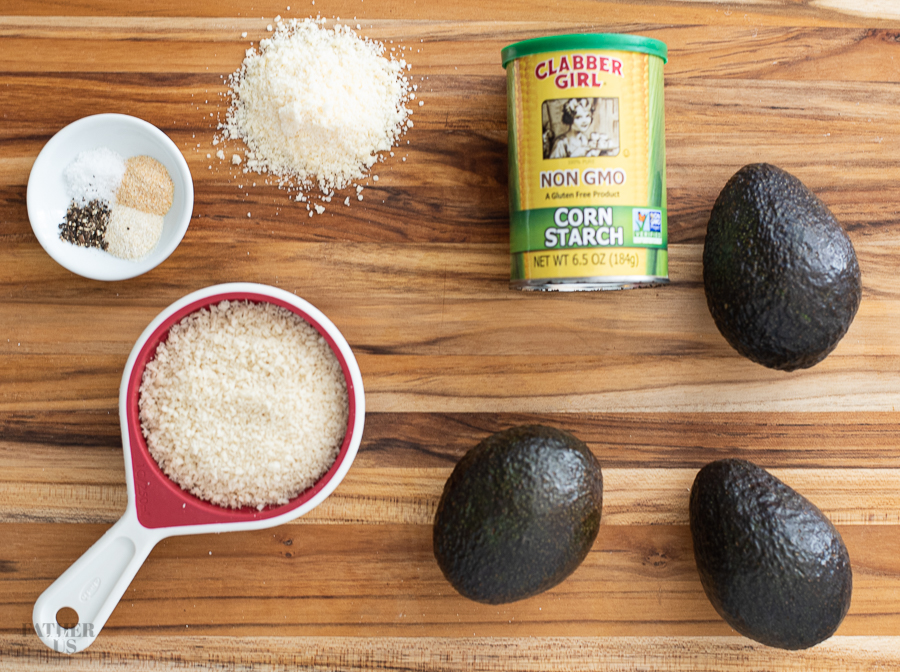 Health Benefits of Avocados
Avocados are packed full of nutrients and vitamins that your body needs, including vitamins C, E, K, and B-6. It' other benefits include monounsaturated (healthy fats) that lower your appetite, promotes skin health and boosts your immune system. Avocados are packed with a B-9, also called Folate that is thought to lower the risk of certain cancers and promote healthy pregnancies. They also give you the right amount of fiber to help with your digestion system!
How To Serve Air Fryer Avocados
You can serve these in slices like "fries" or wedges" just like in my pictures. While I did up the flavor of the fries themselves with the garlic and the onion salt. These fries are certainly made to served with a dipping sauce. They can get a little bland by themselves. For my recipe, I made a Sriracha Ranch dressing that works perfectly. I just mix 3 parts ranch to 1 part Sriracha sauce and I'm ready to go! A cilantro lime sauce would be pretty awesome, as would buffalo sauce or a Big Mac sauce!
I've also seen people just slice the avocados in half and then bread and air fry them like that. Using an avocado half gives you a sort of "bowl" that you can fill up with all sorts of delicious things. From chicken salad to pulled pork to taco fixings! Yum!
Can You Make Avocado Fries In The Oven?
Yep! You sure can. If you don't have an Air Fryer, you can still make this delicious recipe. Just prepare your avocados as described through step 5. Preheat an oven to 325 degrees and bake on a baking sheet for 13-15 minutes or until golden brown. 
I hope you enjoy these Air Fryer Avocado Fries! Let me know what you think of the recipe in the comments and post if you found any other great sauces to dip them in! Enjoy!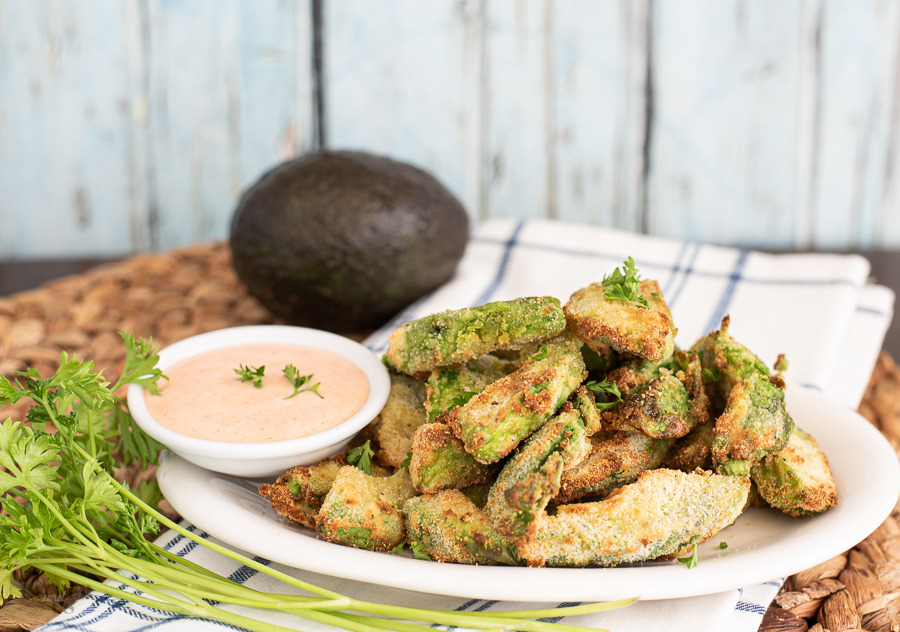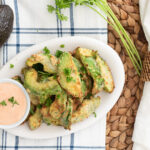 Air Fryer Avocado Fries
These Air Fryer Avocado Fries are crispy on the outside and tender on the inside. I love coating my with some Panko Bread Crumbs for some extra crunch! This is a great, healthy idea for a game day recipe or tailgating food.
Ingredients
3

Large, Slightly Under-Ripe Avocado s

1

Cup

Panko Bread Crumbs

1/2

tsp

Garlic Salt

1/2

tsp

Onion Salt

1/2

tsp

Salt

1/4

tsp

Pepper

1/2

Cup

Corn Starch

2

Eggs
Instructions
Preheat the Air Fryer to 375 degrees.

Cut the Avocado in half and then cut each half into about 6 slices.

Mix the garlic, onion salt, salt and pepper in with the Panko bread crumbs.

Set up three bowls: one with corn starch, one with bread crumbs and one with the eggs (scrambled).

Dip the Avocado Slices into the flour, then coat with egg and then coat with bread crumbs.

Cook in the Air Fryer for 6 minutes, or until crispy on the outside.