THIS POST MAY CONTAIN AFFILIATE LINKS WHICH MEANS WE EARN A SMALL COMMISSION.
These Air Fryer Onion Rings are extra crispy and perfectly seasoned. With the Air Fryer, they use very little oil and are much healthier than using a deep fryer. Dip them in ranch or ketchup for a great appetizer, side dish or game day snack.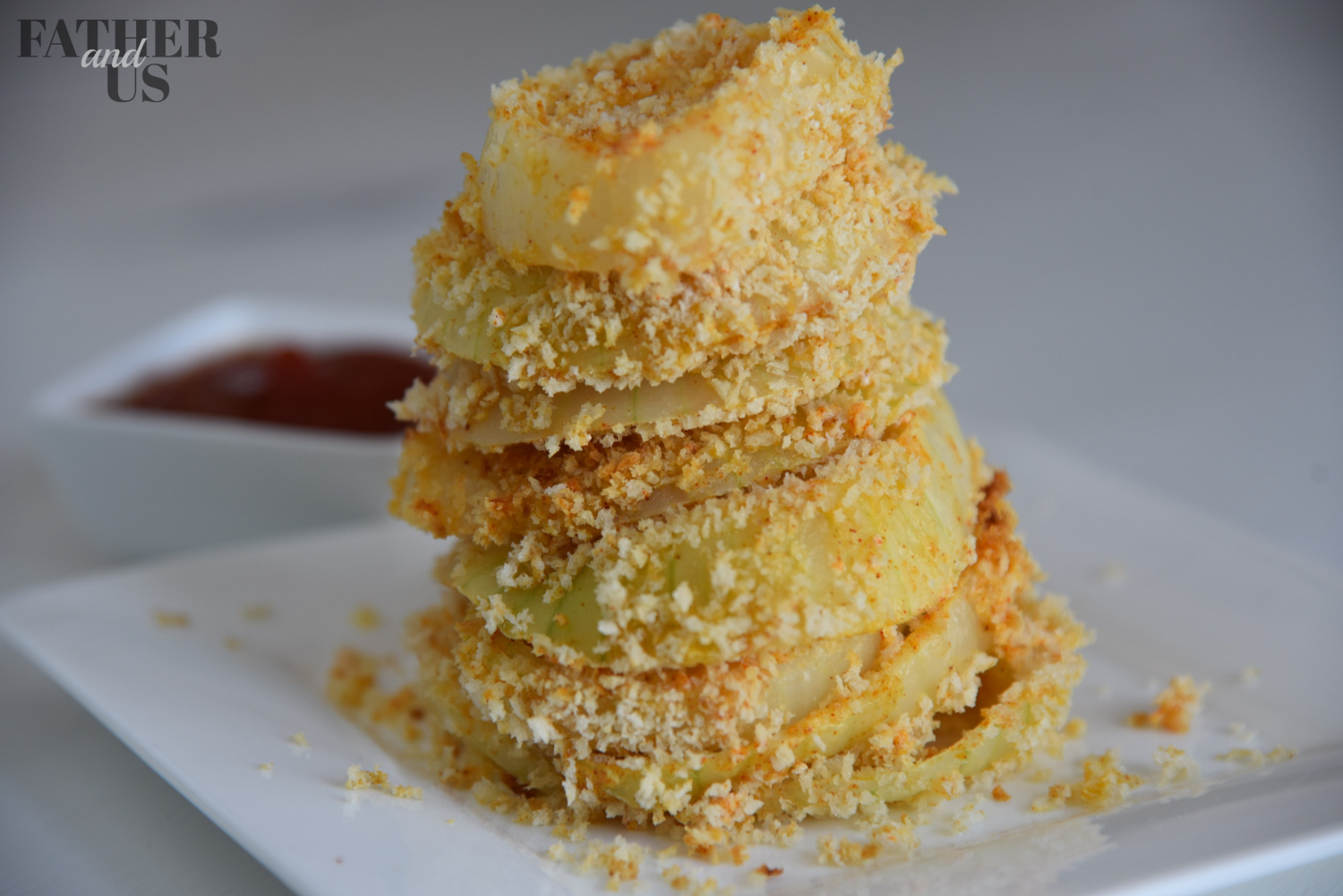 LOOKING FOR MORE AIR FRYER RECIPES?  CHECK OUT MY:
I've always loved Onion Rings.  With that crispy outside and tender inside, there is just something addictive about them.  Every time that I see them on the menu, I'm tempted to order them.  Onion Rings are awesome because you can often order them as an appetizer or you can sub them in for one of your sides.  They taste great dipped into about anything and you can either share them or hog them all to yourself.  Onion Rings are awesome!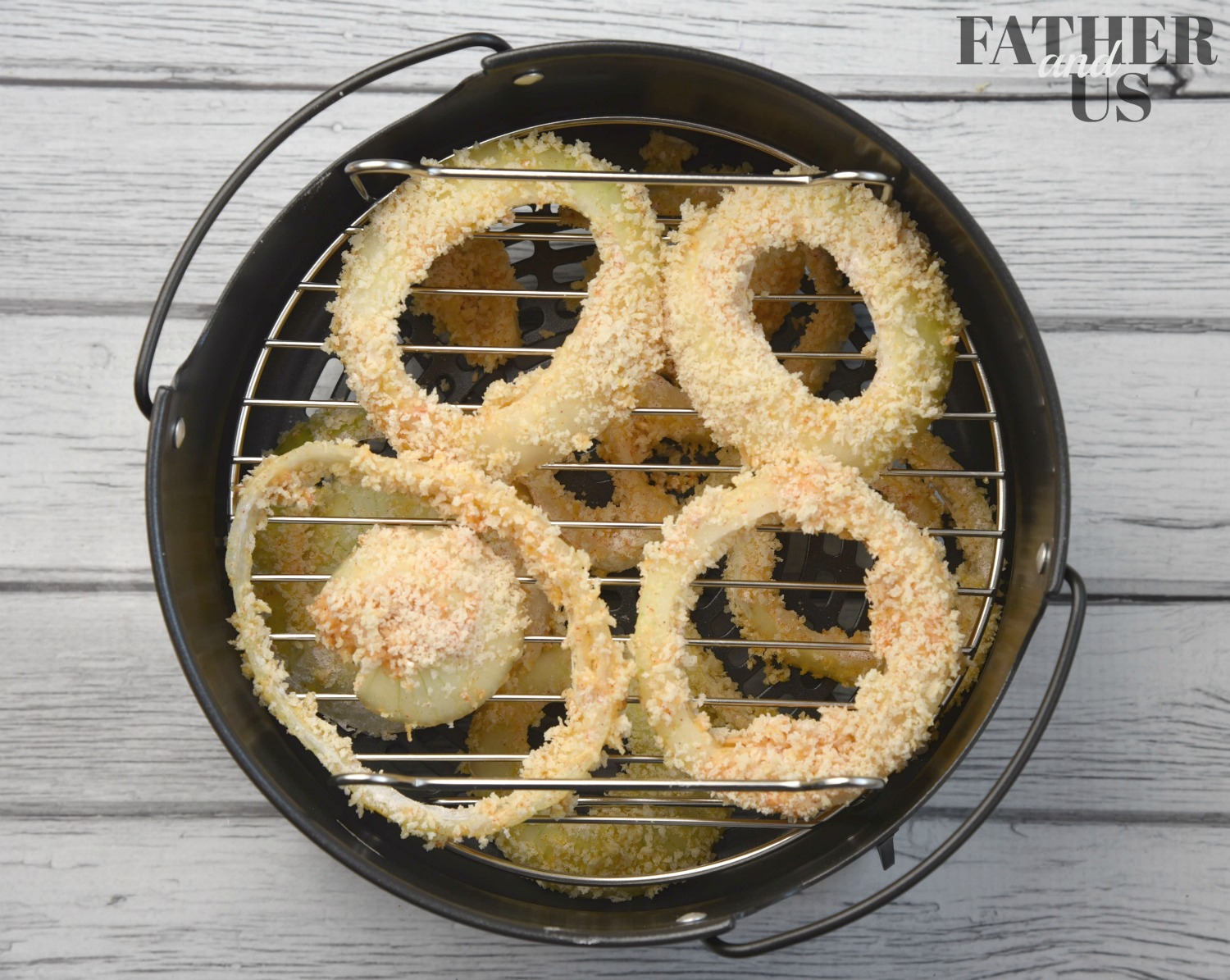 But I do like my Onion Rings a certain way.  I really don't like too much breading on them.  When there is about 80% breading and 20% onion, its just too much. I like a nice, crispy coating over a fairly plump onion ring. Also, why are they so expensive at restaurants?  If you want to sub your fries for Onion Rings, it often costs around $1.50 more.  Why is this?  What is so expensive about some onions and breading?  Often, this prevents me from getting them at the restaurant, I'm afraid to fork over the extra money unless I'm sure they are made the way I like them.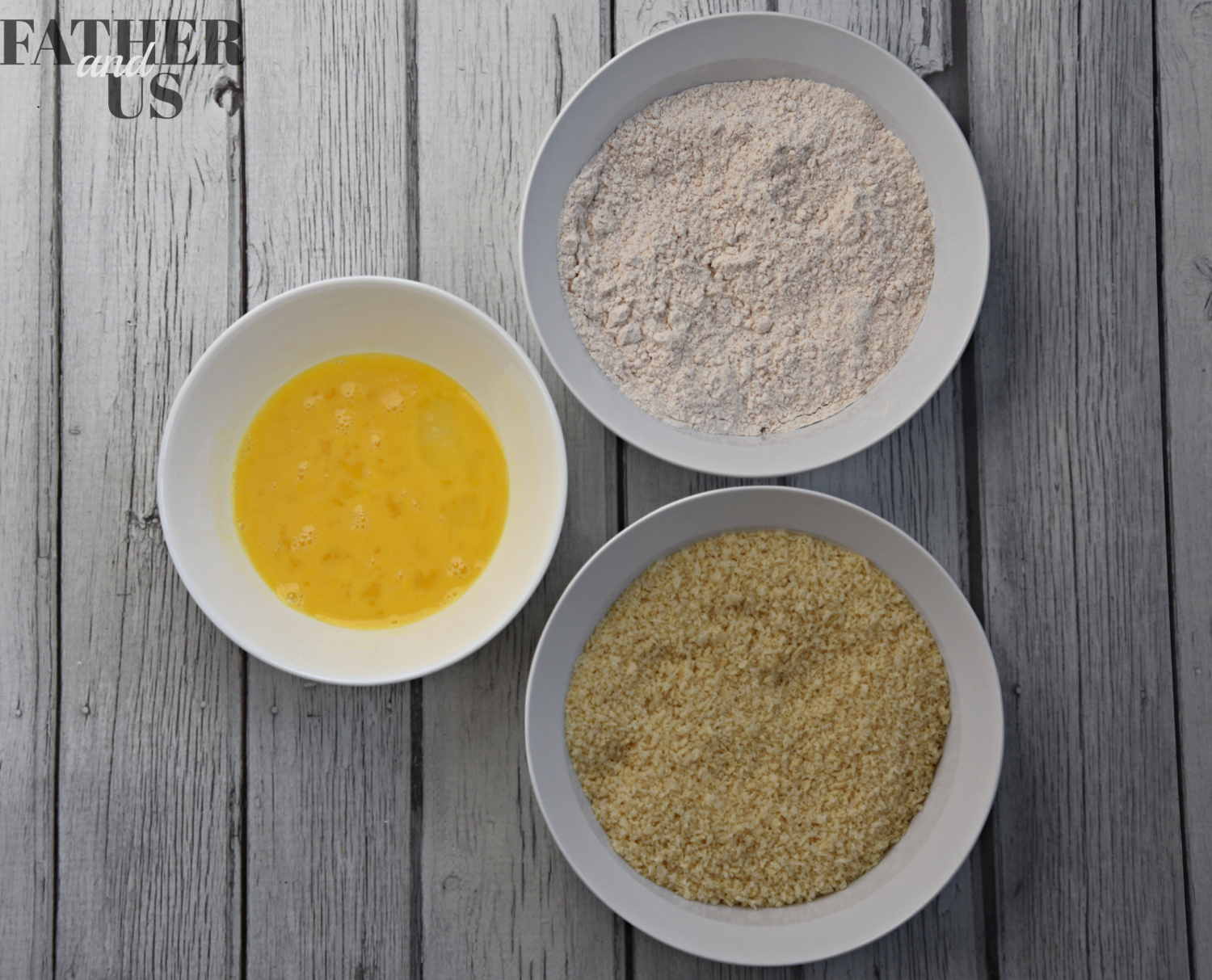 What Is An Air Fryer?
About one year ago, my wife gave me an Air Fryer.  If you haven't hopped on board the Air Fryer Bus, you better buy a ticket because I am loving my Air Fryer.  What is an Air Fryer?  An Air Fryer is a small electrical kitchen appliance.  They do come in various sizes but most (if not all) of them can fit comfortably on any kitchen counter.   How does an air fryer work?  It uses "rapid air technology" to cook your food.  This is quickly moving hot air that, paired with the metal basket that most of them use, gives your food a crispy outside and an evenly cooked inside.  So, you can get that "fried food" result without using any oil at all!  The bottom line is your dish with be healthier, with less saturated fat, than traditional deep frying.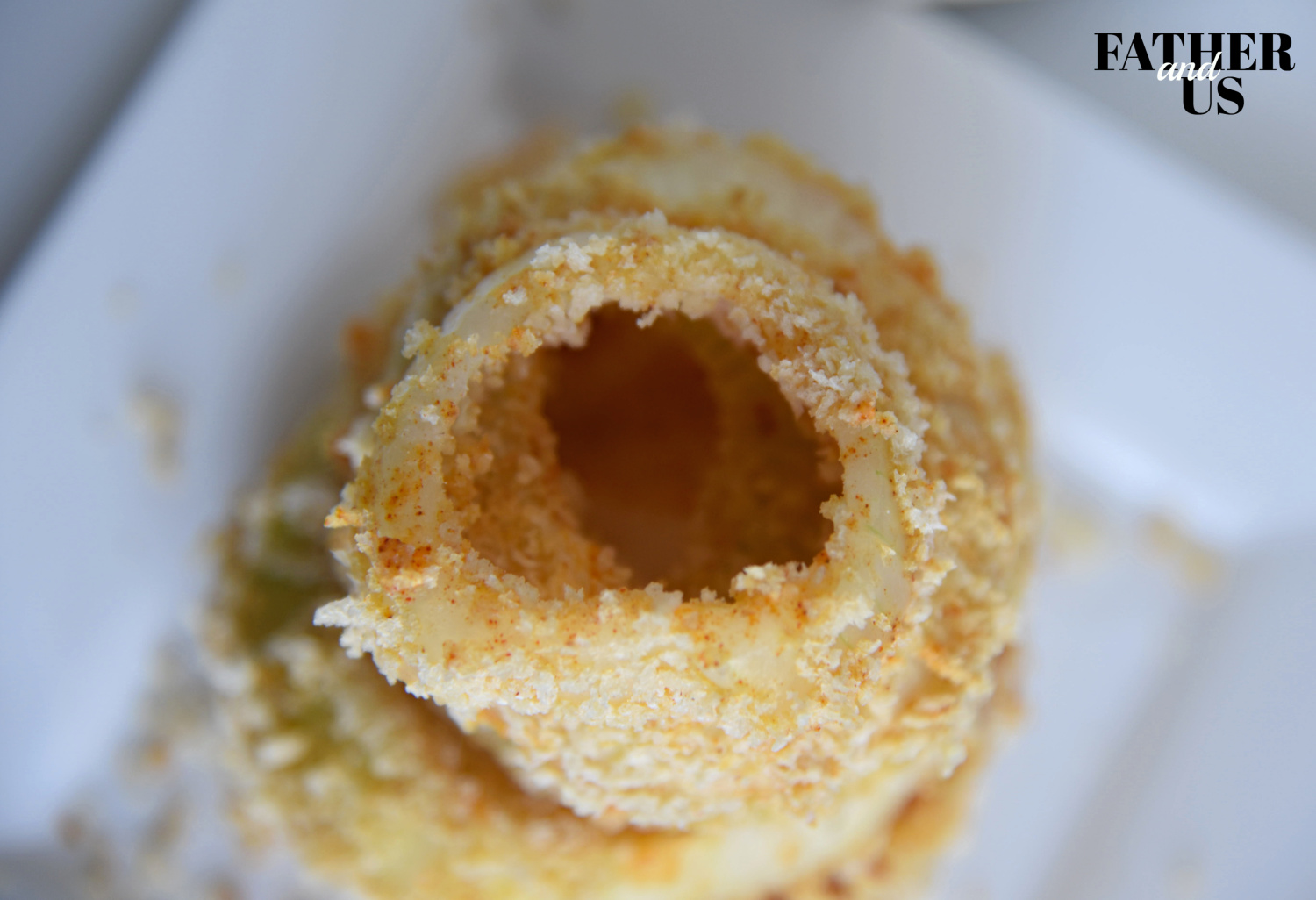 I've made all sorts of things in my Air Fryer, like Air Fryer Beef Fried Rice and Air Fried Vegetables.  It was only a matter of time before I decided to make my own Homemade Air Fryer Onion Rings Recipe.
Air Fryer Onion Rings Recipe
It only makes sense that I would develop my own recipe for Onion Rings in an Air Fryer.  They are super easy to make, the ingredients don't cost much money (in fact, you probably already have them laying around your kitchen) and now I can make them just the way that I want them.  All you need to get started is: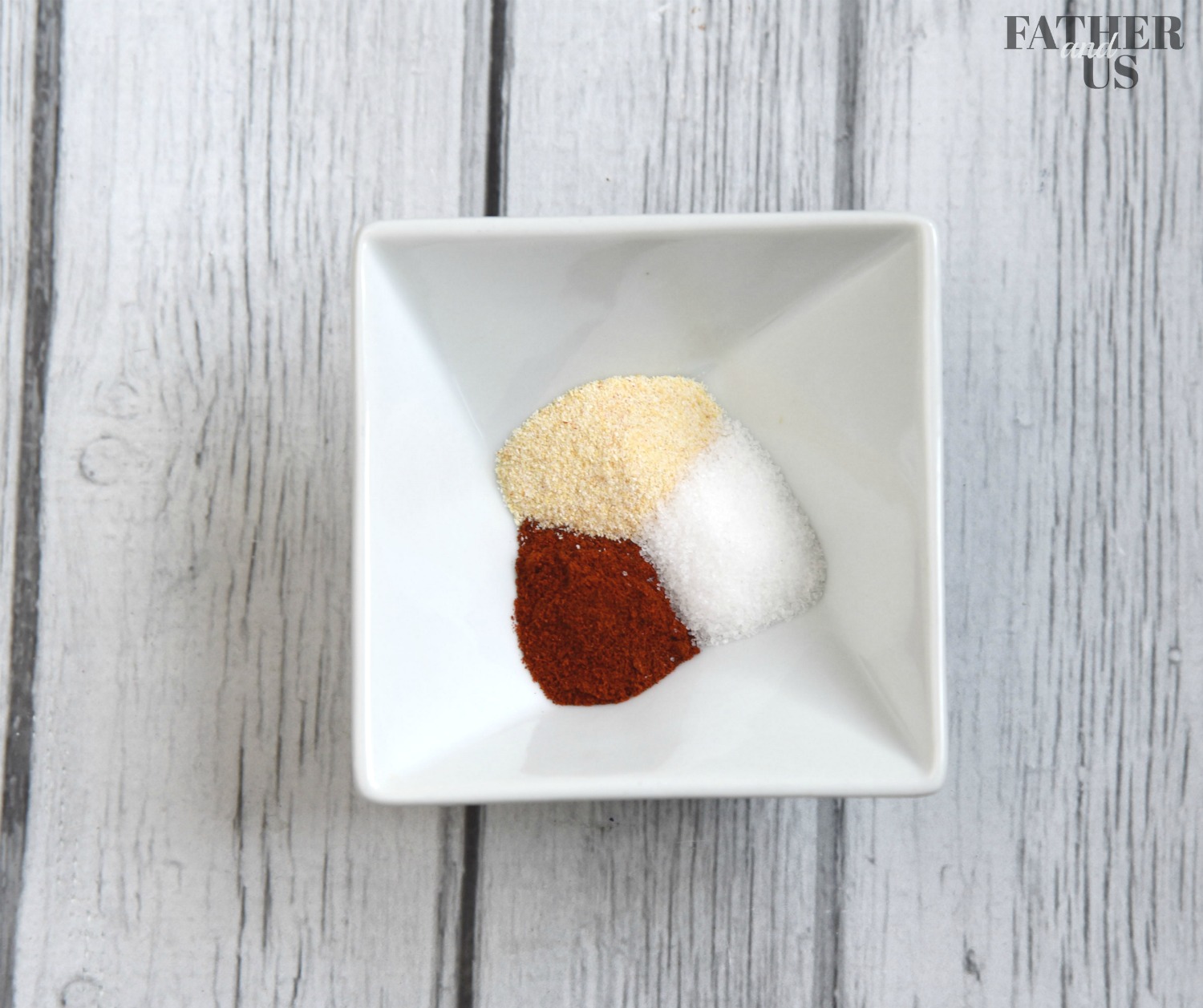 What Ingredients Do You Need For Air Fryer Onion Rings?
Paprika
Cup of Flour
Salt
Egg
Panko Bread Crumbs
Onion Powder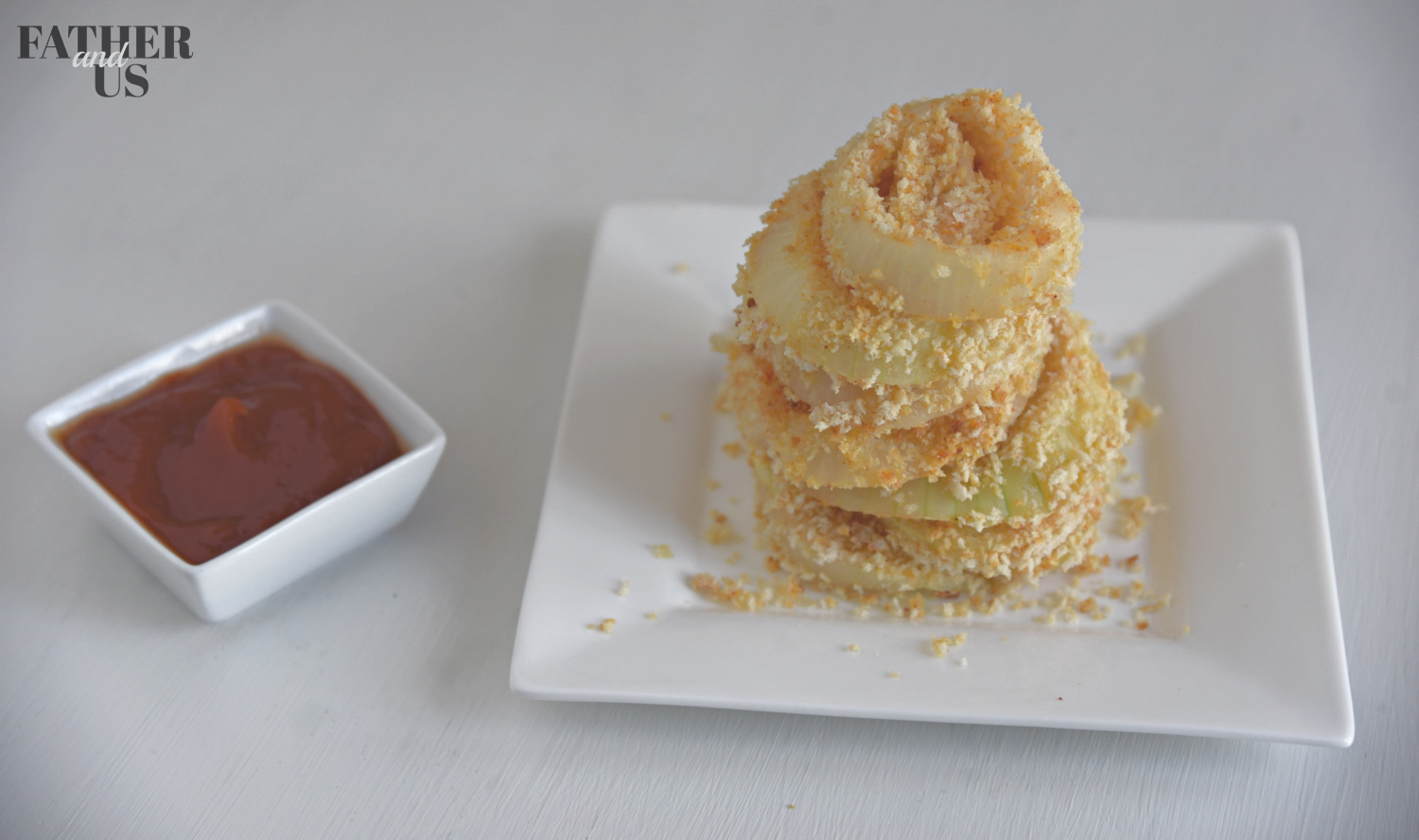 Tips For Making Onion Rings In The Air Fryer
As always, just make sure that you preheat your Air Fryer.  I didn't do this with my first batch and they just didn't seem to cook right.  They got nice and crispy on the outside, but the onion was still a bit crisp inside.  Also, I made these before I learned that using corn or potato starch instead of flour makes them extra crispy. I haven't tried that yet with this particular recipe, but I've used corn starch on some of my other Air Fryer Recipes like these Buffalo Cauliflower Bites and these Chicken Wings with Honey Sriracha and they turned out fantastic. These are a great idea for your next party, an appetizer for dinner or some excellent game day food.  But, honestly, I don't need any particular reason to eat Onion Rings!
Enjoy!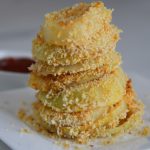 Air Fryer Onion Rings
These Air Fryer Onion Rings are homemade in an Air Fryer. Using very little oil, they are battered in Panko bread crumbs for that extra crispiness.
Ingredients
1

tsp

Paprika

1/2

Cup

of Flour

1

tsp

salt

1

egg

1

cup

Panko Bread Crumbs

1

tsp

Onion Powder
Instructions
Get three shallow bowls.  In one bowl, put the flour, salt, paprika and onion powder, the the bread crumbs in another bowl and the egg in the last bowl.

Cut your onion into nice, thick rings.

Dip the onion in the flour, then the egg, then the panko bread crumbs.

Put them in your Air Fryer Basket and cook for 14 minutes.  Spray with a cooking spray (preferably olive oil) ever couple minutes to make them extra crispy.

Serve with ketchup or your favorite sauce and enjoy!