THIS POST MAY CONTAIN AFFILIATE LINKS WHICH MEANS WE EARN A SMALL COMMISSION.
These Air Fryer Buffalo Cauliflower Bites are the perfect healthy game day snack. Crispy on the outside and tender on the inside, just serve them with your favorite ranch sauce and you can't stop eating them!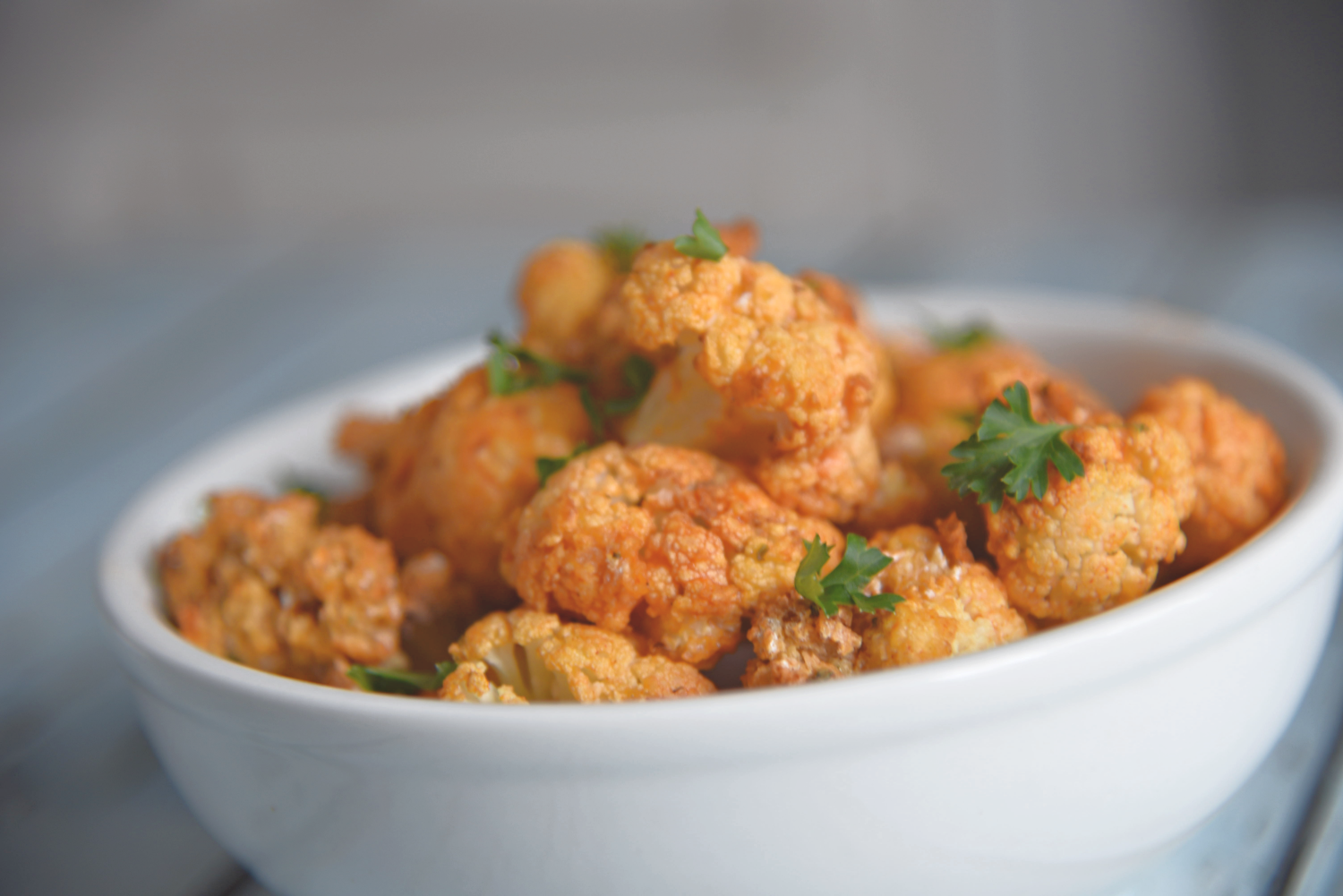 LOOKING FOR MORE HEALTHY AIR FRYER RECIPES?  CHECK OUT MY:
More Football=More Game Day Food!
Now that we are well into football season, every game is starting to have playoff implications.  Every single game means something.  Generally, I usually only watch my hometown team, but now that we are getting later into the season, I am interested in more games.  So, this means watching more football.  I honestly am not a huge sport nut, but I do like lounging on the couch with my wife and 9-year-old son on a Sunday.  It is a big family day for us and there really is no where else I would rather be.
Of course, watching more football means eating more game day foods.  I love snacking while I am watching all of the action on the television.  But, as I've gotten older, those calories just don't burn off like they used to.  So, I have tried to find some healthier alternatives to my favorite treats on game day.   A new recipe I have just discovered is this Air Fryer Buffalo Cauliflower recipe. About one year ago, my wife got me an Air Fryer.  Ever since then, my whole culinary world has been turned upside down, but in a good way.
What Is An Air Fryer?
An Air Fryer is a small electrical kitchen appliance that cooks your food by circulating fast moving, hot air around it.  It works a lot like a convection oven.  But the design of the "fryer" and the movement of the air results in a "crispier" outside much like you would get if you traditionally fried something in oil.  The great thing about the Air Fryer is that they usually use very little or no oil at all!  For instance, you can make some dry rub chicken wings or honey sriracha chicken wings in an Air Fryer.  They come out super tender on the inside and nice and crispy on the outside.  They taste just like they have been deep fried, but they weren't and your waistline will thank you!  You can also make all sorts of desserts in the Air Fryer as well.
If you don't already have one, you can easily order one from Amazon and it will be at your door in a couple of days! Check out this one!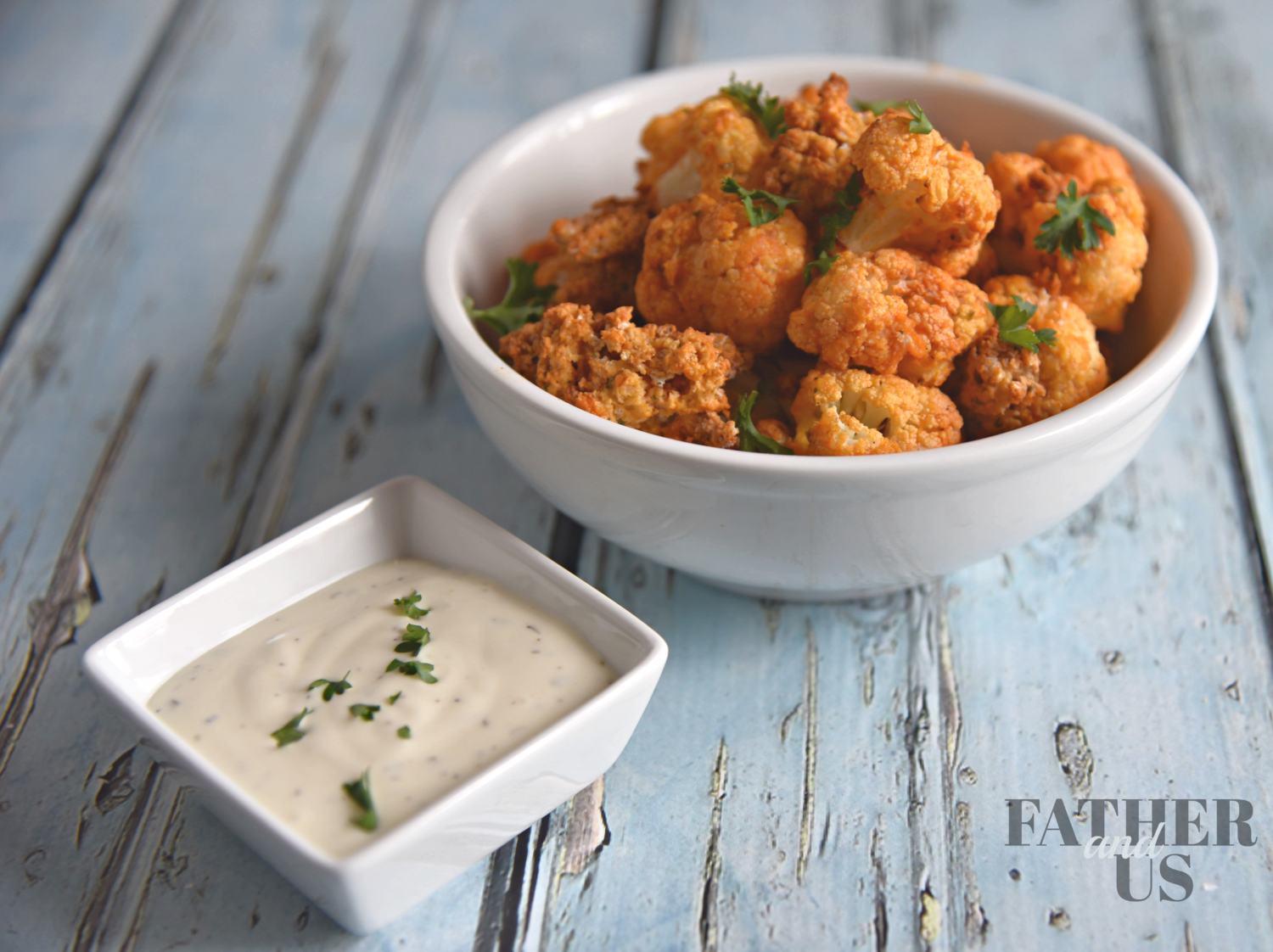 Air Fryer Buffalo Cauliflower Bites
While I absolutely love my recipe for Air Fried Chicken wings, I have decided to try to make something for Sunday Football that is even healthier but just as fun.  I've heard a lot of people talking about Buffalo Cauliflower Bites, but hadn't had a chance to try them.  I occurred to me that this would make a fantastic Air Fryer Recipe.  So, I decided to try to make my own Buffalo Cauliflower Recipe.  I looked around the internet for some inspiration.  I found out that there are a ton of  Air Fried Buffalo Cauliflower Recipes out there!  A lot of people are making Vegan versions of this, and Buffalo Cauliflower can be a wonderful Vegan option for those that lean that way.  But, fair warning, this will not be a vegan or gluten free version of this recipe.
Air Fryer Buffalo Cauliflower Recipe
After doing some research online, I decided the next step would be to try some things out on my own.  I like to keep recipes pretty simple on this site.  I never want to throw anything too complicated on here.  This is, after all, supposed to just be something to snack on during a lazy Saturday or Sunday.  I saw some Buffalo Cauliflower Recipes for the Air Fryer that had a TON of ingredients.  No thanks. For me, just 7 ingredients are all you will need:
Buffalo Cauliflower Ingredients:
Cauliflower Florets
1 Cup Hot Sauce
1 Tsp Garlic Powder
1 Tsp Onion Powder
2 Cups Panko Bread Crumbs
1/4 Cup Corn Starch
2 Eggs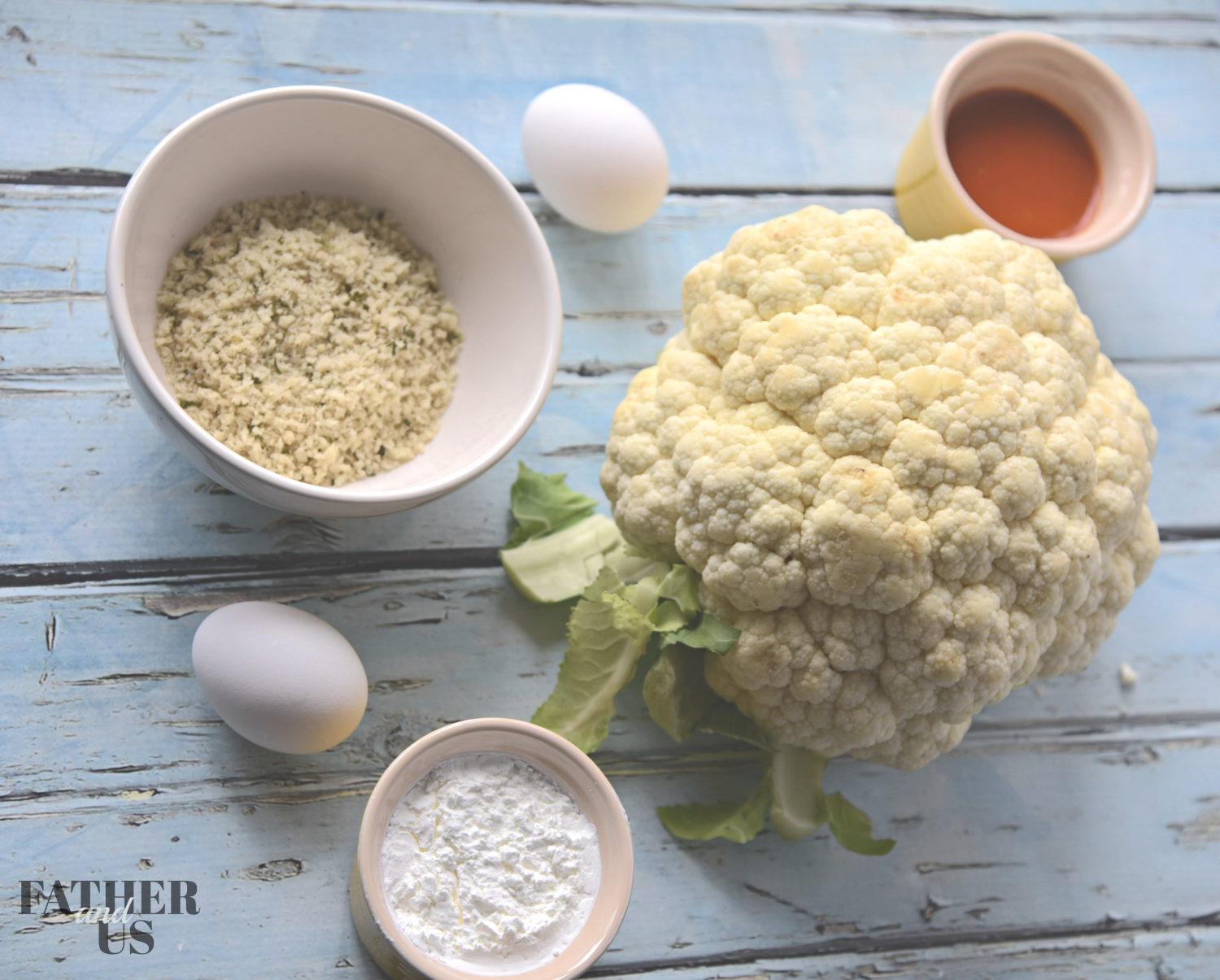 The process is pretty easy:
 Cut up the Cauliflower into even sized pieces. 
Mix all dry ingredients together into a large bowl.  
Dip the Cauliflower into the egg.
Toss to coat the cauliflower in the dry mix.
Heat in Air Fryer for 12-14 minutes at 375 degrees, tossing the cauliflower every so often.
Once fully cooked, toss in the desired amount of Hot Sauce.
How Did My Air Fryer Buffalo Cauliflower Turn Out?
They were fantastic!  Like I mentioned above, I had never had Buffalo Cauliflower before, so I wasn't sure what to expect.  But, just like a lot of my favorite Air Fryer Recipes, these were really crispy on the outside but very tender inside. I think that the corn starch mixed in the with Panko is the key.  When you use corn starch in the Air Fryer, it always gives everything a nice extra crisp!  I use it all of the time.  I've heard that Potato Starch is even better, but I can never find it at the store.  If you can, give it a try!  For the second batch, I also tried dipping the cauliflower in egg, then dipping it in the buffalo sauce, then coating it them.  These gave them a more subtle hotness due to the buffalo sauce being under the crispy coating.  They were super tasty, but honestly, not quite a appetizing to look at.  One thing you could do is lightly toss them in a little more hot sauce when the come out of the Air  Fryer.  I think I will try that next time.
But, either way that you make them, there are pretty addicting.  I love how they are full of flavor but just not too filling.  So you can eat them well into the fourth quarter!  Enjoy!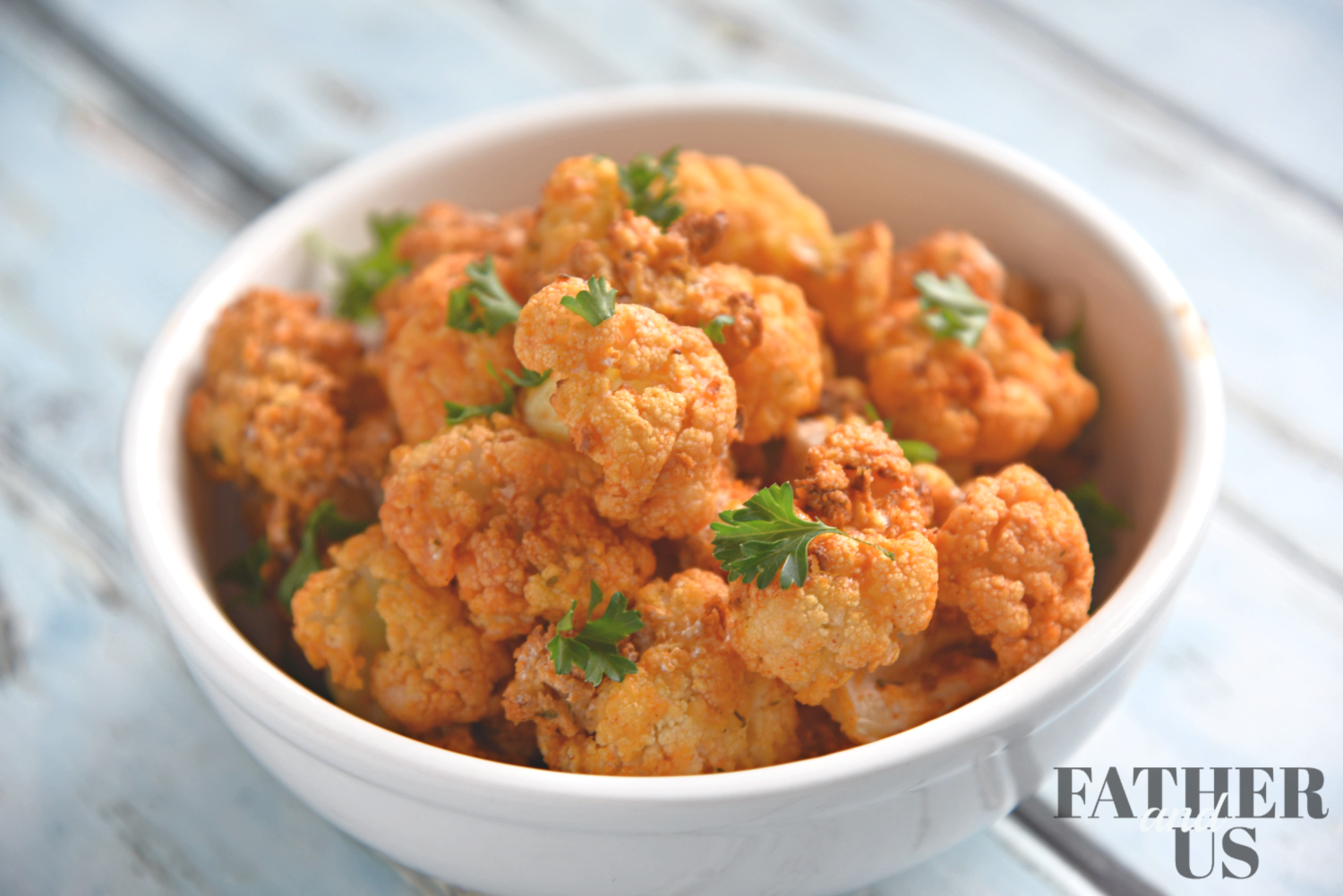 Air Fryer Buffalo Cauliflower Bites
These Air Fryer Buffalo Cauliflower Bites are the perfect healthy game day snack. Crispy on the outside and tender on the inside, just serve them with your favorite ranch sauce and you can't stop eating them!
Ingredients
Cauliflower Florets

1

Cup

Hot Sauce

1

Tsp

Garlic Powder

1

Tsp

Onion Powder

2

Cups

Panko Bread Crumbs

1/4

Cup

Corn Starch

2

Eggs
Instructions
Cut up the Cauliflower into even sized pieces.

Mix all dry ingredients together into a large bowl.

Dip the Cauliflower into the egg.

Toss to coat the cauliflower in the dry mix.

Heat in Air Fryer for 12-14 minutes, tossing the cauliflower every so often.

Once fully cooked, toss in the desired amount of Hot Sauce.

Preheat Air Fryer to 375 degrees