THIS POST MAY CONTAIN AFFILIATE LINKS WHICH MEANS WE EARN A SMALL COMMISSION.
This Air Fryer Buffalo Cauliflower is the perfect healthy snack, appetizer or game day recipe. Crispy on the outside and tender on the inside, just serve them with your favorite ranch sauce and you can't stop eating them!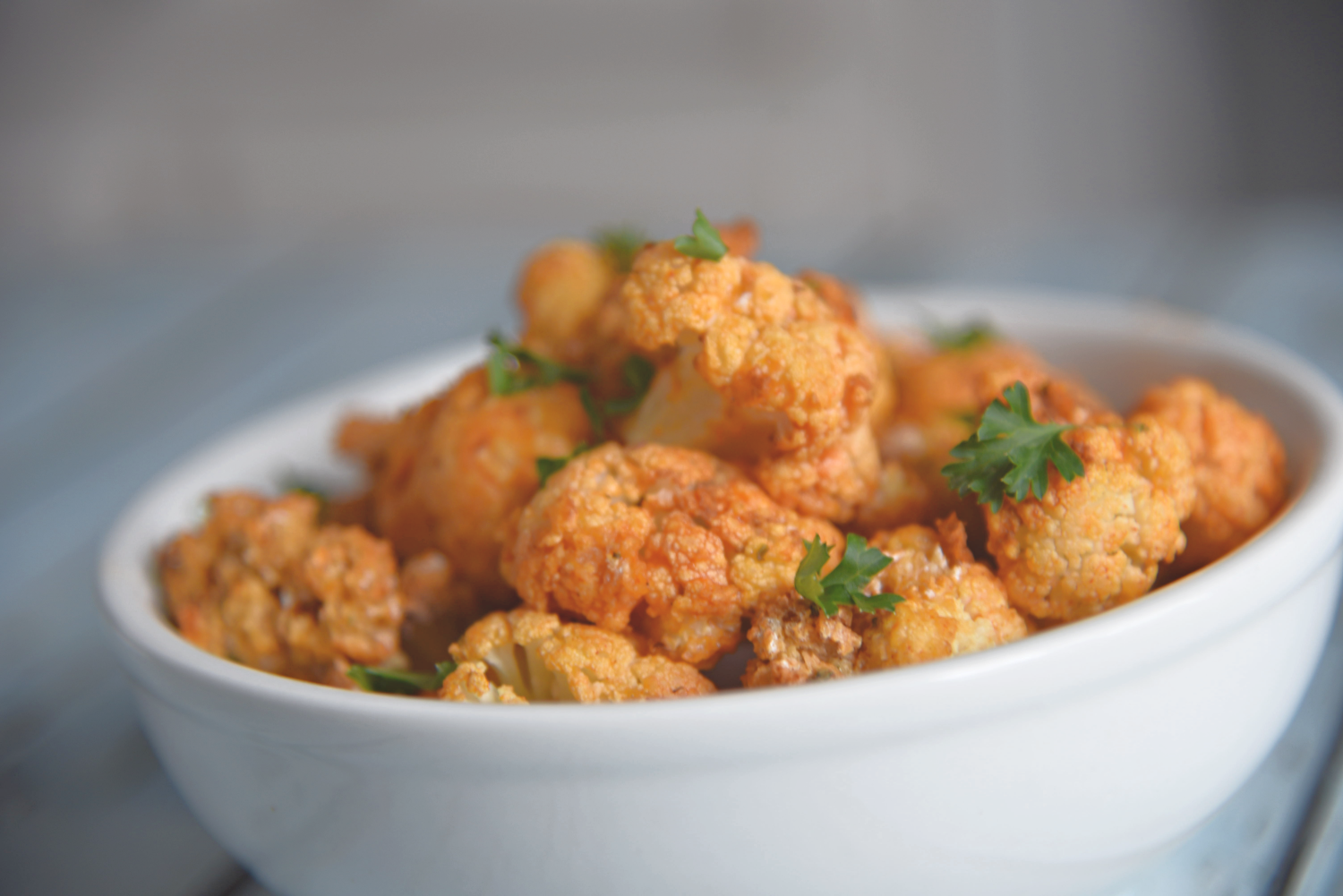 Why You'll Love This Recipe
Buffalo Wings have been a staple on the menus of just about any American Restaurant. I've always been partial to the boneless wings. This is why I'm so pumped about these Air Fryer Buffalo Cauliflower Bites. 
They are like a plant based version of boneless chicken wings. And when you Air-Fry them, it requires a LOT less oil than traditional frying. If you've never had buffalo cauliflower, you've gotta try it! The cauliflower comes out so tender, and they have all the flavor of traditional wings that I swear you won't even miss the meat! 
These are a great vegetarian recipe. And they are simple to make gluten-free, paleo and Whole30 compliant as well. 
What Is An Air Fryer?
An Air Fryer is a small electrical kitchen appliance that cooks your food by circulating fast moving, hot air around it.  It works a lot like a convection oven.  But the design of the "fryer" and the movement of the air results in a "crispier" outside much like you would get if you traditionally fried something in oil.  The great thing about the Air Fryer is that they usually use very little or no oil at all!  For instance, you can make some dry rub chicken wings or honey sriracha chicken wings in an Air Fryer.  They come out super tender on the inside and nice and crispy on the outside.  They taste just like they have been deep fried, but they weren't and your waistline will thank you!  You can also make all sorts of desserts in the Air Fryer as well. If you don't already have one, you can easily order one from Amazon and it will be at your door in a couple of days! Check out this one!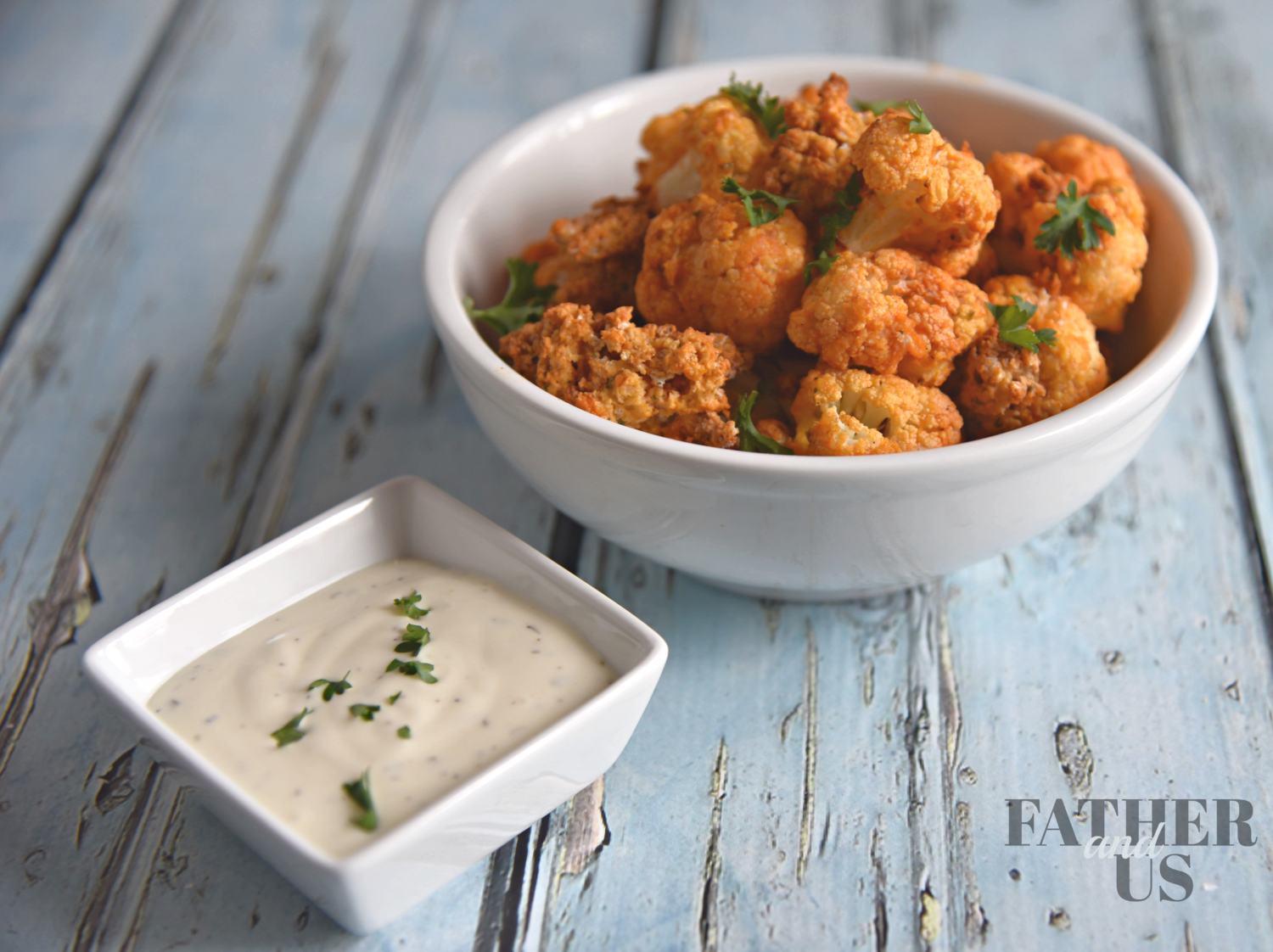 Air Fryer Buffalo Cauliflower Recipe
Just 7 ingredients are all you will need.  Read below for step-by-step instructions. But here is what you'll need to get started .
CAULIFLOWER FLORETS – You will want to find a nice, fresh, strong head of cauliflower for this recipe. From there, cut your florets any size you'd like. Just note that he bigger they are, the more time it may take to cook. I like to keep mine about 1.5 inches in diameter. 
HOT SAUCE – Use any brand of hot sauce that you'd like. Or make your own. This is where you can really tailor this recipe. Just a sweet, asian hot sauce, a hot BBQ sauce or any sort of milder sauce. Your choice!
SEASONINGS – We combine a mixture of Garlic Powder and Onion Powder with our Panko Bread Crumbs for a breading that is out of this world! I just whisk them all together in a large mixing bowl. 
PANKO BREAD CRUMBS – We feel that Panko Breadcrumbs really give this recipe that crispy outer layer when air fried. 
CORN STARCH – We also add a little corn starch. This is a great ingredient in all breaded, air fried recipes! If you have or can find potato starch in the store, use that. I've heard that it's even better but I can never find it!
EGGS – Used to dredge our cauliflower. 
HERE IS HOW TO MAKE BUFFALO CAULIFLOWER IN THE AIR FRYER:
 Cut up the Cauliflower into even sized pieces. 
Mix all dry ingredients together into a large bowl.  
Dip the Cauliflower into the egg.
Toss to coat the cauliflower in the dry mix.
Heat in Air Fryer for 12-14 minutes at 375 degrees, tossing the cauliflower every so often.
Once fully cooked, toss in the desired amount of Hot Sauce.
Can You Make This Gluten Free?
It's pretty easy to make this recipe completely Gluten Free and low carb. You can substitute the Panko Bread Crumbs for Almond Flour. You can keep the corn starch because that is naturally gluten free. To make these Keto and Whole30 compliant, use the almond flour and just make sure your Buffalo Sauce is gluten free. I like to buy Primal Kitchen's Buffalo Sauce that is made with Almond Butter. 
Air Fryer Buffalo Cauliflower Serving Suggestions
Air Fryer Buffalo Cauliflower is best served fresh right out of the Air Fryer. You can try to keep leftovers in an Airtight Container in your refrigerator but they just won't even be nearly as crispy and tasty as they were when they were first made. 
You can serve with with your favorite dipping sauce. Ranch Dressing and Blue Cheese Dressing are obvious choices. 
It can be an appetizer OR can be used as a side dish! Serve with a side of carrots and/or celery sticks just like regular buffalo wings!
You can also make Buffalo Cauliflower into more of a meal by:
ADDING THEM TO A SALAD
PUTTING THEM IN TACOS OR ON TOP OF NACHOS
MAKING THEM INTO A SANDWICH OR A PO' BOY. 
Notes and Tips
SPRAY YOUR BASKET WITH COOKING SPRAY – Make sure to spray your Air Fryer Basket with olive oil or avocado oil to prevent sticking. Some people like to use parchment paper liners to help keep the all the ingredients in the basket while cooking. This will also help to avoid sticking. 
USE TONGS – I've found that it's easiest to dredge my cauliflower with some tongs. If you have larger, healthy cauliflower, you can also try sticking a fork or a skewer into them as well. 
DON'T OVERCROWD YOUR AIR FRYER – The buffalo cauliflower cooks best when their is room in the basket for the air to circulate. So don't over crowd them and they all need to be in a single layer. This means you may have to cook them in batches. You can be dredging the second batch while you are cooking the first. 

LOOKING FOR MORE HEALTHY AIR FRYER RECIPES?  CHECK OUT MY:
Air Fryer Buffalo Cauliflower Bites
These Air Fryer Buffalo Cauliflower Bites are the perfect healthy game day snack. Crispy on the outside and tender on the inside, just serve them with your favorite ranch sauce and you can't stop eating them!
Ingredients
Cauliflower Florets

1

Cup

Hot Sauce

1

Tsp

Garlic Powder

1

Tsp

Onion Powder

2

Cups

Panko Bread Crumbs

1/4

Cup

Corn Starch

2

Eggs
Instructions
Cut up the Cauliflower into even sized pieces.

Mix all dry ingredients together into a large bowl.

Dip the Cauliflower into the egg.

Toss to coat the cauliflower in the dry mix.

Heat in Air Fryer for 12-14 minutes, tossing the cauliflower every so often.

Once fully cooked, toss in the desired amount of Hot Sauce.

Preheat Air Fryer to 375 degrees