THIS POST MAY CONTAIN AFFILIATE LINKS WHICH MEANS WE EARN A SMALL COMMISSION.
Now that I am knee deep into the Holiday spirit, I'm not really worrying too much about what to put into my body.  But the New Year is just around the corner and it will be time to face the music.  These 10 Healthy Air Fryer Recipes will be just the thing to keep me focused and eating right as I dive into the next year.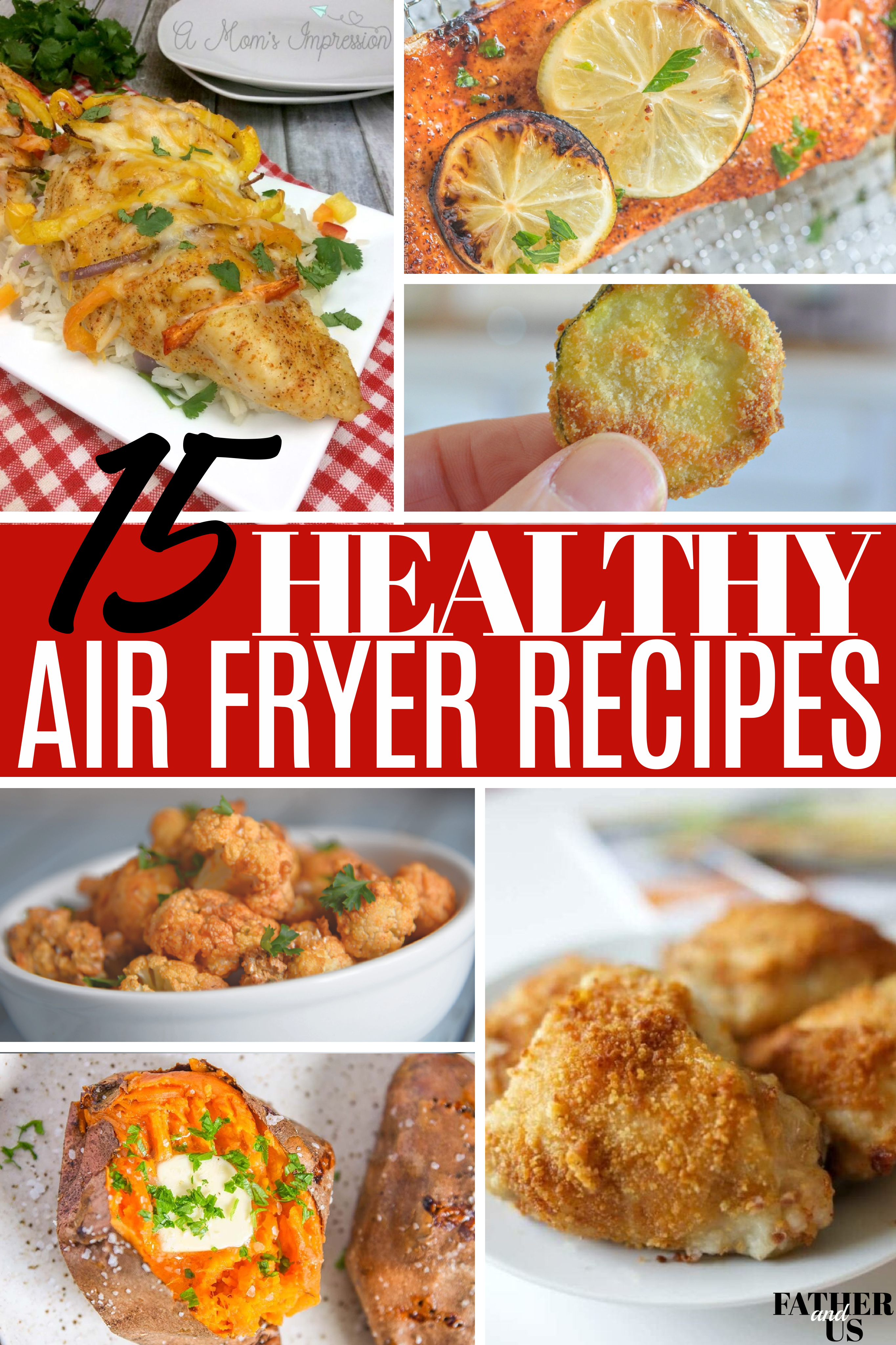 Finding Healthy Recipes
This always happens in December.  I come around the corner from a gluttonous Thanksgiving, straight into my birthday and then two very festive Holidays.  I've gained about 8 pounds in the last month.  By the end of December, my body is just begging me to make some changes.  But, right now, I am full free fall mode. Two days ago, I made Christmas Cookies with the kids.  Yesterday we made some "Christmas Crack" to give out to friend's and neighbors.  Of course, I had a healthy amount of both of these things myself.  I'm not going to worry about it too much right now, I believe in enjoying the moment and allowing yourself a little room to do the things that make you happy.  Right now, in my case, that means eating lots of cookies and drinking too much bourbon.
The Air Fryer
But, with January 1st coming up quick, I know that I am going to have to make some serious changes to my diet.  I'm not too concerned about it.  I always do this in January.  I have a feeling a lot of us dial it back at the beginning of the year.  But this year is a little different.  This year, I have an Air Fryer.  I finally talked my wife into buying me an Air Fryer about 6 months ago and I have been on quite an adventure finding all of the things that I can make it with it.
What Is An Air Fryer?
If you haven't already gotten on board the "Air Fryer Train", you need to asap.  An Air Fryer is a small, simple kitchen appliance that cooks food by quickly moving very hot air over it.  The result you get is just like traditionally frying your food in oil.  But an Air Fryer uses very little or no oil at all so it is much healthier!  I have made a ton of healthy Air Fryer Recipes.  I've made chicken wings, fried rice and crispy fried vegetables.  Everything turns out great!
So, I decided to look around on the internet and find some more healthy recipes that will keep me focused, engaged and committed to eating healthier in the new year.  Enjoy!
10 Healthy Air Fryer Recipes