THIS POST MAY CONTAIN AFFILIATE LINKS WHICH MEANS WE EARN A SMALL COMMISSION.
These Air Fryer Eggplant Fries are loaded with fun but trimmed of the fat and calories of regular fries. Crispy seasoned Panko Bread Crumbs on the outside give way to tender Eggplant on the inside. They are cooked to perfection in your Air Fryer in just minutes! Easy, simple, delicious and healthy! Perfect as a side dish, snack or appetizer! We've even included a Gluten-Free version!
A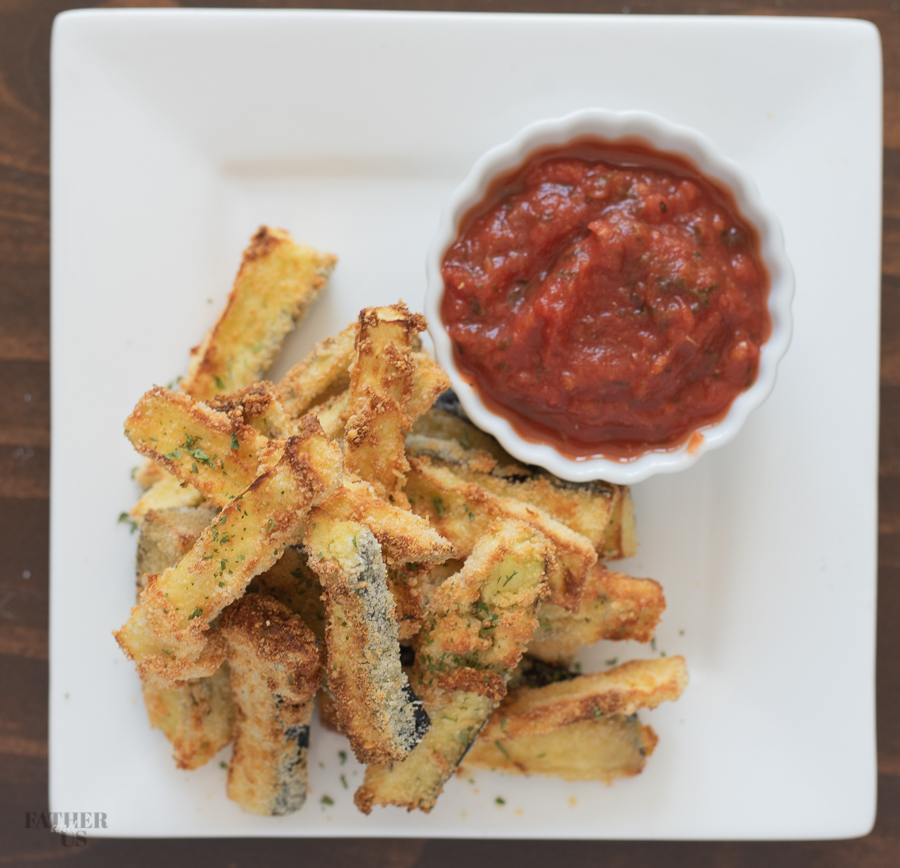 Air  Fryer Vegetables
Let's get right to it! Here is why you'll love cooking vegetables in your Air Fryer and, specifically, why you'll love the Air Fryer Eggplant Fries!
HEALTHY – We all know that vegetables are healthy. But, sometimes they aren't our favorite things to eat. But, when you Air Fry them, they retain all their nutritional supplements but are also so delicious! These Eggplant Fries are super addictive! With a zesty, flavorful breadcrumb coating and tender eggplant inside, they are great to dip into just about anything! Or just eat them plain. 
EASY – Eggplant is really easy to work with and to cut into fries. From there, just dredge it through the egg and breadcrumb mixture and you're ready to go!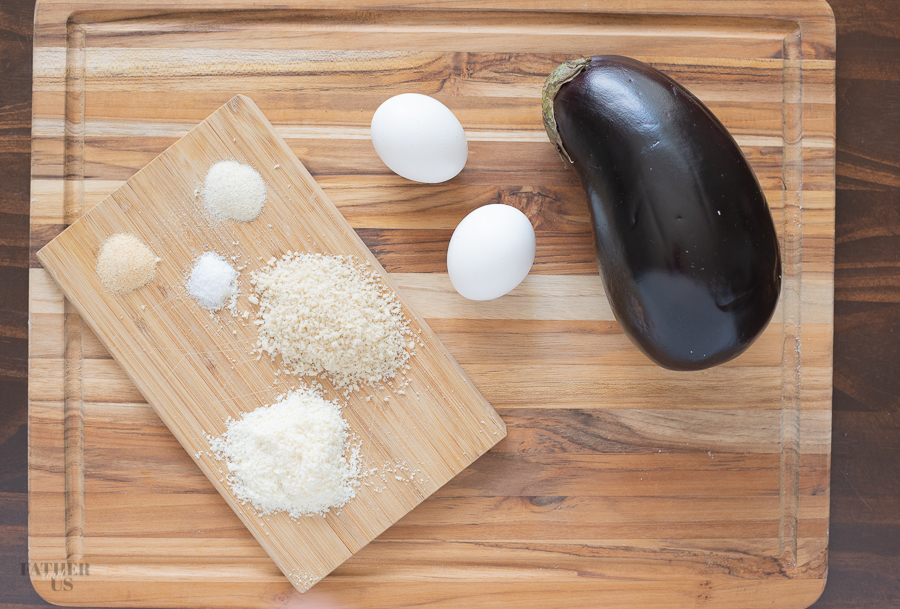 Air Fryer Eggplant Fries
But a couple months ago, I made Air Fryer Zucchini Fries and they were one of my favorite recipes. It is an awesome substitute for traditional french fries when you are watching your waistline. So, I thought it would be awesome to try the same thing with Air Fryer Eggplant Fries! I can't believe it took me this long to discover that Eggplant tastes great when it is Air Fried.
You could certainly make an Air Fried Eggplant Sandwich, which I am certainly planning to do. But these Eggplant Fries are a great idea because they can go with just about anything. They make a great side dish for a sandwich or entree. Or you can make a batch of them for the big game or any gathering at your house. 
Air Fryer Eggplant Ingredients
Here is what you will need to get started:
EGGPLANT – When shopping for your Eggplant, try to find one that look healthy and doesn't have any marks or blemishes on the skin. It should also be fairly firm. 
PARMESAN CHEESE – We add this to our Panko Bread Crumbs to give these Eggplant Fries a little pot of flavor. 
PANKO BREAD CRUMBS – Panko Bread Crumbs are great to make breading with because they are lighter and end up a little crispier than regular bread crumbs. But you can use regular breadcrumbs if that is all you have. You can add your own seasonings (Italian Seasoning) to them or you could also use Italian Breadcrumbs. 
SEASONINGS – We use a combination of Garlic Powder, Onion Powder and Salt. 
EGGS – 2 large eggs that we will use to dredge the eggplant with. 

Gluten Free Air Fried Eggplant
I had some of the eggplant left over but had used all of my breading. So I thought I'd try out a gluten free version of this. Whoa! My wife and I liked these even more than the eggplant with the Panko breading on them. They were delicious. And, since you don't need to dip the in egg wash and coat them, they literally took about 2 minutes to prepare for the Air Fryer. Here is what I put in the Gluten Free Air Fryer Eggplant Fries:
I simple mixed all the ingredients in a large bowl and threw them in the Air Fryer at 390 degrees. I did 4 minutes, flipped them and then took them out after another 3 minutes. They were AMAZING. I will definitely be trying this again!
Additionally, you can also just substitute the Panko Bread Crumbs for the Gluten Free Breadcrumbs. 
What Sauces Can You Dip Air Fryer Eggplant In?
Eggplant tastes great in just about any sauce. Some ideas would be ketchup, ranch, fry sauce, hot sauce, marinara sauce or pasta sauce. 
Notes, Tips and Variations:
*BRADY STREET CHEESE SPRINKLE- I HIGHLY recommend always having some of this magical cheese sprinkle on hand. It makes just about everything in the world taste awesome. But, if you don't, you could mix in a couple of tablespoons of parmesan cheese and 1/4 tsp of garlic powder.
PANKO SEASONING TIP-  I've found it is very beneficial to take my Panko seasoning ingredients and put them in a food processor for a couple seconds. Or, if you have a coffee bean grinder, that works too! This makes it into a "finer" product that will stick to the egg wash a little better. It's worth the extra step to do this.
USE A FORK!- I've also found that using a fork to dip your eggplant in the egg wash an panko mixture really helps. I dump as many of the eggplant fries into the egg as possible to get them coated. And then take one out at a time to put them into the Panko seasoning.
ADD SOME SPICE!- Next time, I may try adding 1/4 tsp of chili powder into the mix to give it a little kick!
ALL AIR FRYERS ARE DIFFERENT- I've got two different Air Fryers and they both cook the same foods at different rates. The times I put on here are meant to be flexible. Keep an eye on your eggplant fries. Take them out when they are nice, golden brown and crispy on the outside.
DON'T OVERCROWD – The Air Fryer works best when there is room for the hot air to circulate around and cook the food. So make sure you are leaving room in your Air Fryer Basket for it to do that. And keep the Eggplant Fries in a single layer. You may need to cook in batches. 
I hope you enjoy these Air Fryer Eggplant Fries. Let me know how they turned out for you!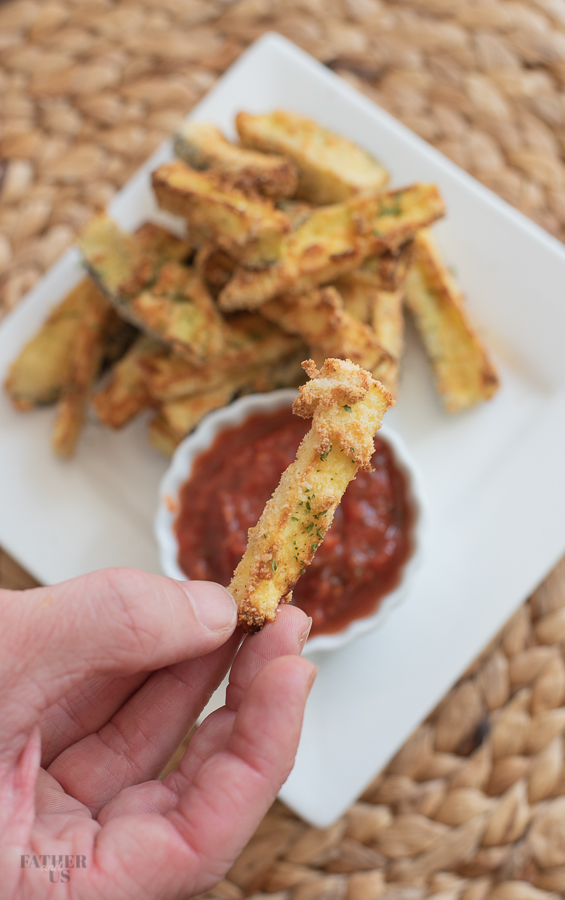 LOOKING FOR MORE AIR FRYER VEGETABLE RECIPES? CHECK OUT: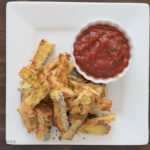 Air Fryer Eggplant Fries
These Air Fryer Eggplant Fries are loaded with fun but trimmed of the fat and calories of regular fries. Crispy seasoned Panko Bread Crumbs on the outside give way to tender Eggplant on the inside. They are cooked to perfection in your Air Fryer in just minutes! Easy, simple, delicious and healthy! Check these out!
Ingredients
1/2

cup

Grated Parmesan Cheese

1

cup

Panko Bread Crumbs

1

tsp

Garlic Powder

1

tsp

Onion Powder

1/2

tsp

Salt

2

Eggs
Instructions
Preheat Air Fryer to 390 degrees.

Cut eggplant in half. Then in 1/4 inch "slices". Cut those slices into "fry" shapes and then cut those in half.

Mix together Panko Bread Crumbs, Parmesan Cheese, Garlic Powder, Onion Powder and Salt. If possible, pulse in a food processor for a couple of seconds.

Put egg into one bowl and the Panko Mixture into another. Dip the Eggplant Fries into the egg and then coat with the Panko Mixture.

Spray Air Fryer with cooking spray and put the Eggplant Fries in. Don't layer the Eggplant. If you have a rack, you can use that. Otherwise, do them in batches.

Cook at 390 degrees for 5 minutes. Flip them and cook for another 3-4 minutes.