THIS POST MAY CONTAIN AFFILIATE LINKS WHICH MEANS WE EARN A SMALL COMMISSION.
Looking for a quick, easy, tasty and healthy side dish? Check out this Air Fryer Broccoli Recipe. You will never look at broccoli the same again!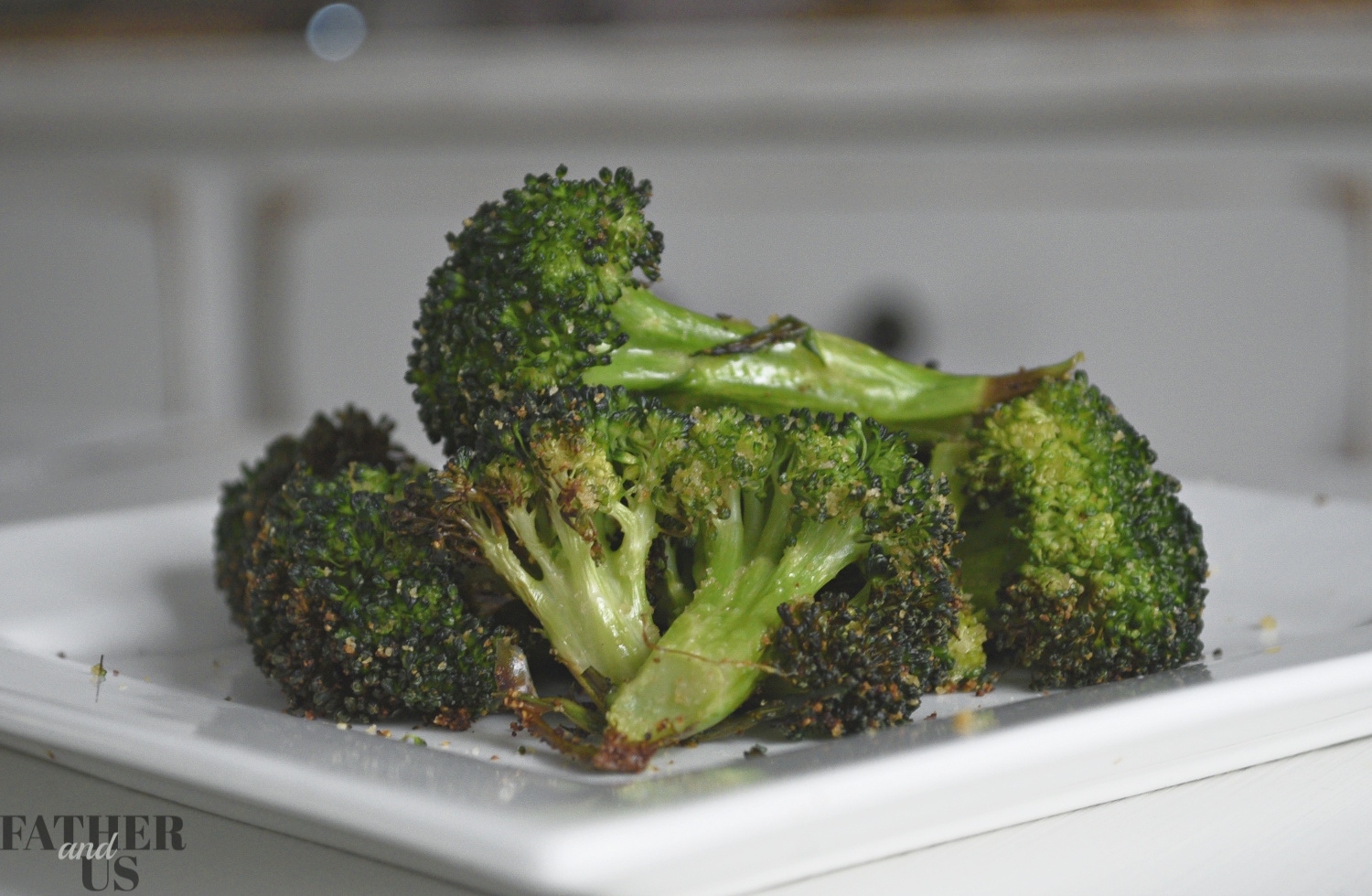 I'm Loving Air Fryer Vegetables!
I've always loved Roasted Vegetables! I just love how warm and soft they are with that nice, slightly burned crunch on the outside. Lately, I've discovered that cooking vegetables in the Air Fryer is an awesome way to prepare them! So far, I've made Air Fryer Brussels Sprouts, Air Fryer Asparagus and Air Fryer Carrots. Broccoli makes a pretty frequent appearance during dinner time at our house. Believe it or not, it is my son's favorite vegetable! So, I thought it would be fun to cook Broccoli in the Air Fryer!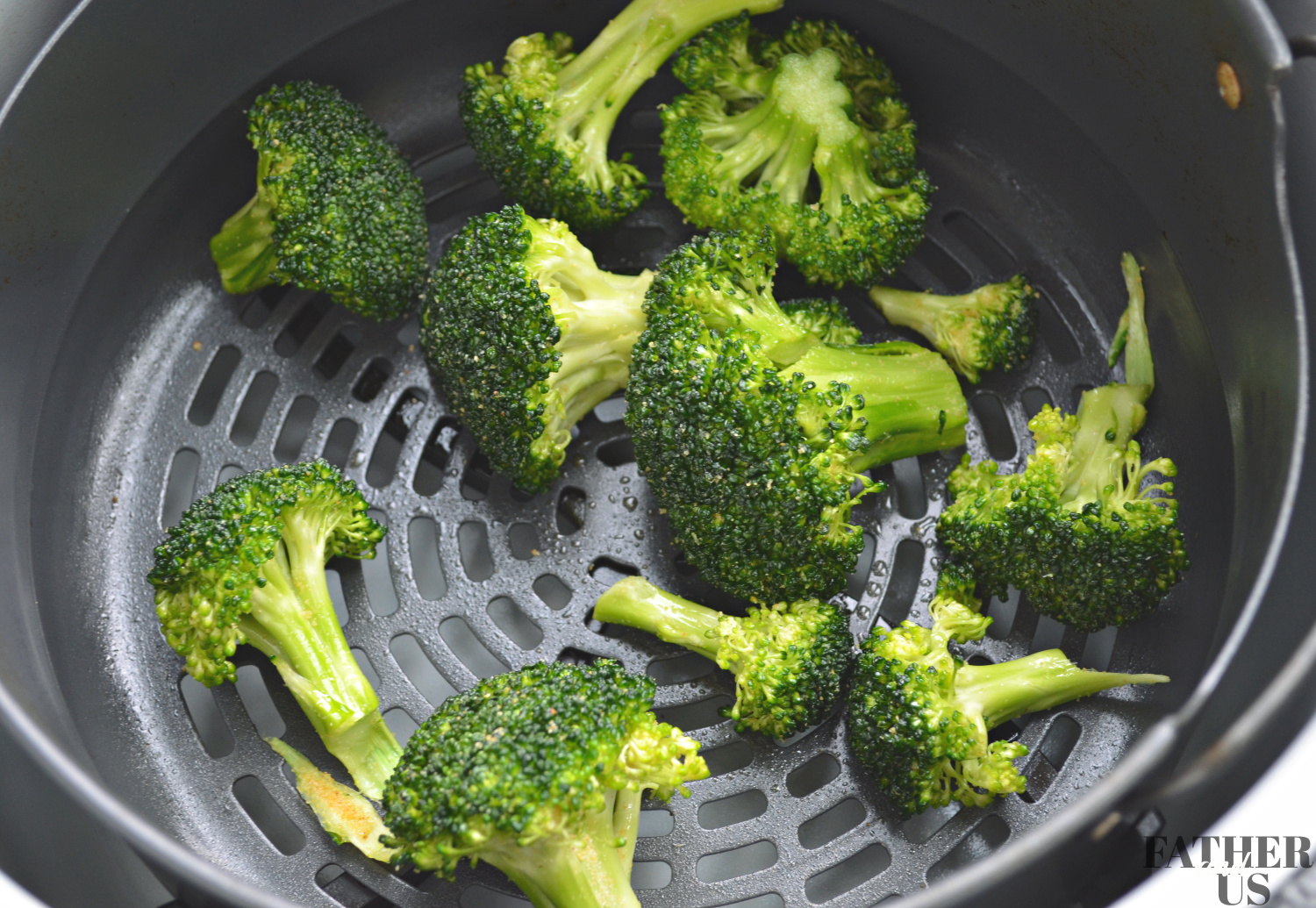 What Is An Air Fryer?
If you haven't already heard, Air Fryers are the new stars of kitchens all around the world. Why are they so popular? Basically, you can get the same result that you would get from deep frying a dish, but with a fraction of the amount of oil. Some recipes don't use any oil at all! So, any dish that you would think of that would be traditionally deep fried, like Chicken Tenders and Onion Rings can easily be made a lot healthier in an Air Fryer! But you can also make some other really cool stuff, like the Bacon Wrapped Brussels Sprouts and Avocado Fries. I've even been making some of my favorite Asian Dishes in the Air Fryer!
I currently use two different Air Fryers and they are both awesome. My main one is a Ninja Foodi. This is a great product because you can not only Air Fry your recipe, you can also use it as a pressure cooker too!
I also have a Black+Decker Air Fryer that is a little more affordable. It's not quite as fancy but it works great!
What Ingredients Do You Need For Air Fryer Broccoli?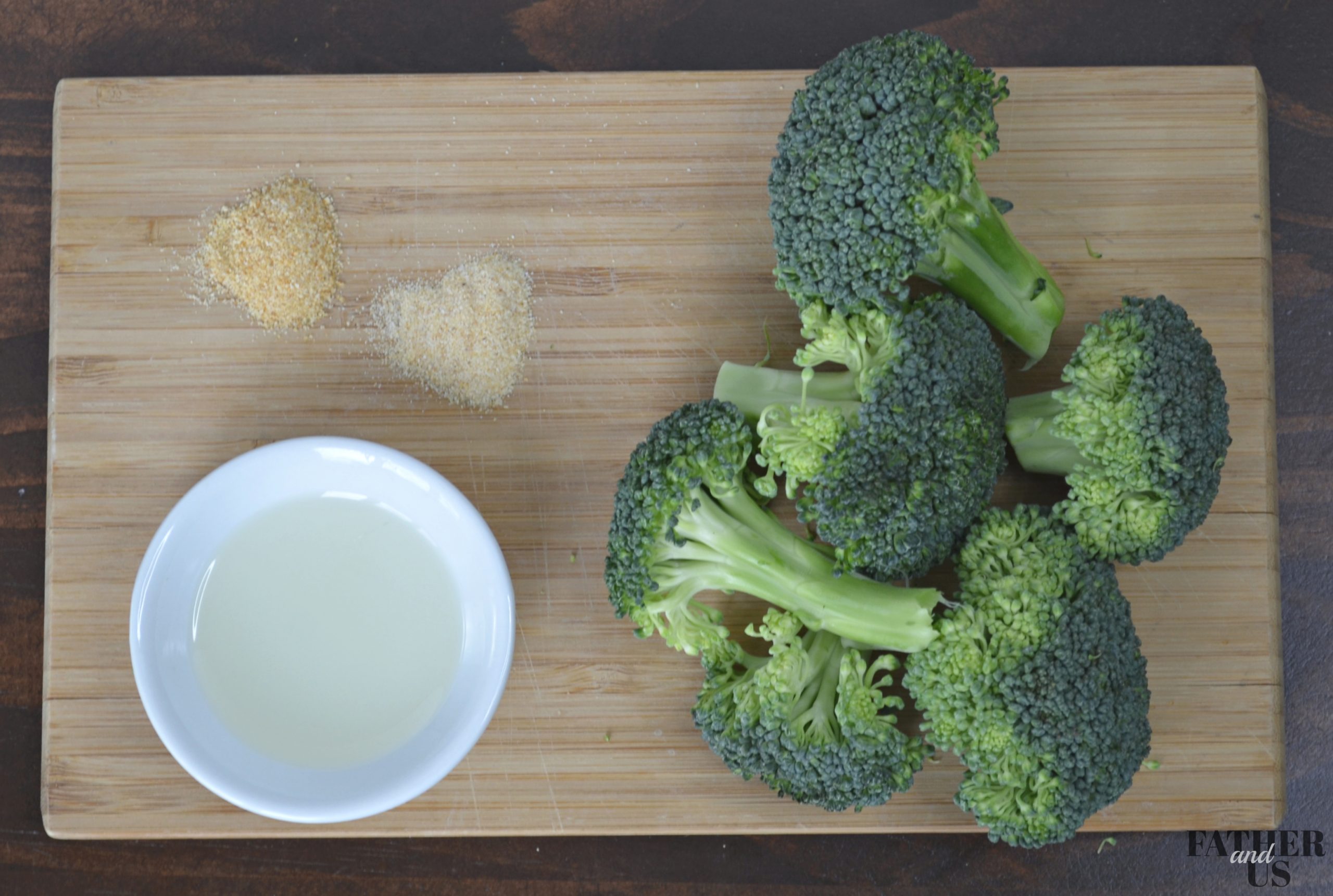 You just need 4 things! Super simple! And you'll be on your way!
Broccoli
Olive Oil
Garlic Salt
Onion Salt
Air Fryer Broccoli Recipe
What I usually love about the Air Fryer is how easy it is to use. Many times, my dishes will come out perfectly cooked without too much fuss. It's a lot like an Instant Pot in that way. But, with vegetables, I've found you have to be a little more tricky. I actually had to make this dish a couple of times to get it to turn out right. The first time, I had the temperature turned up way too high and the tops of the Broccoli burned. The hard thing about Air Fryer Broccoli is to make sure the thicker stalks get cooked without burning the thinner areas up top.
My solution to this problem was to turn down the temperature and make sure the broccoli is evenly cut without any portions that are too thick. If the stalks were too think, I cut that piece in half.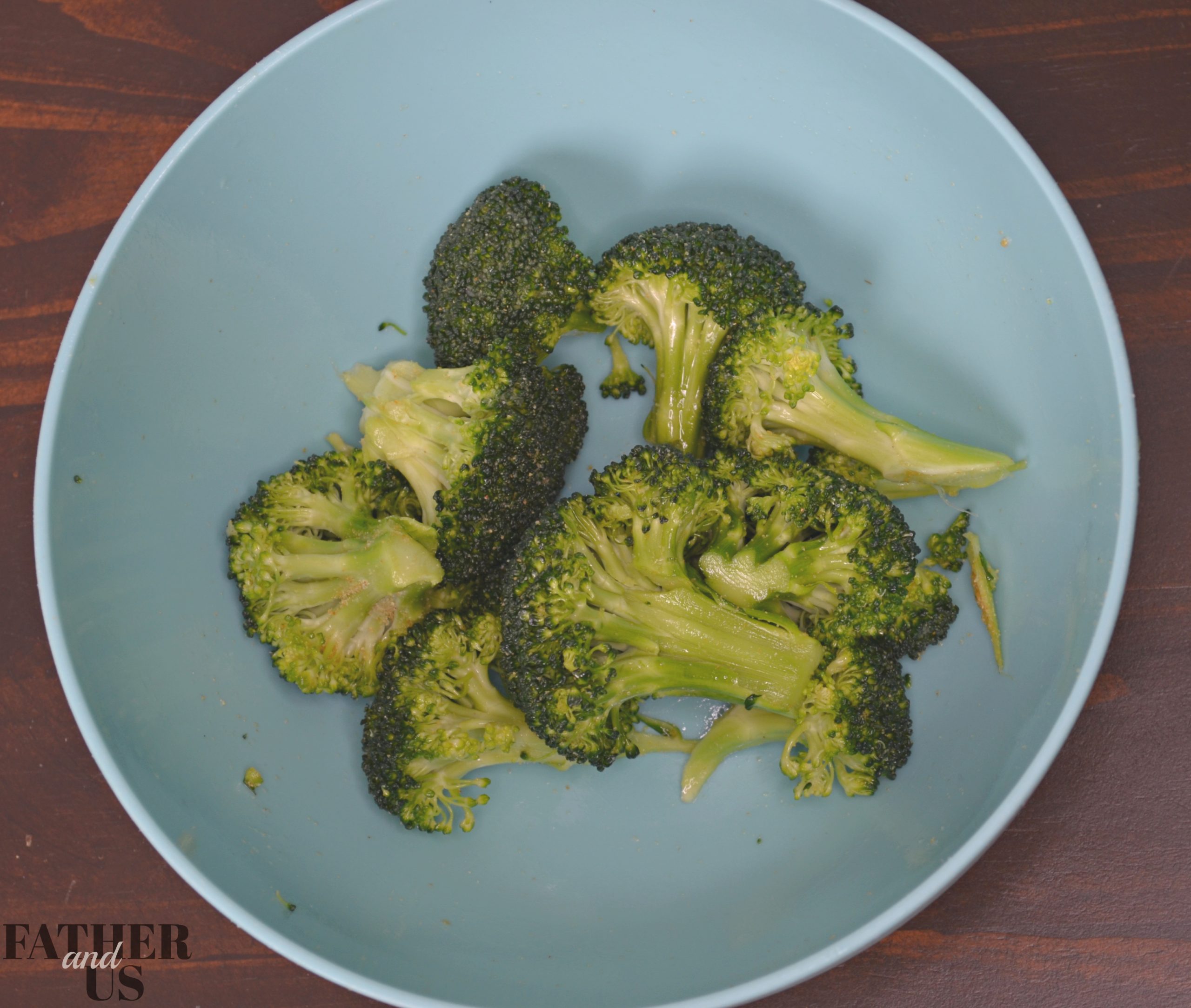 Another important note is to make sure the Broccoli is fully coated with olive oil. What I did for my second batch was use the Broccoli like a paintbrush and brush the tops of the veggie along the bowl to sop up all the olive oil.
I've also found that my two Air Fryers cook a little bit differently. I can put the same dish in both of them with the same settings and I can get a slightly different result. So, keep any eye on your Broccoli so that it doesn't get burned!
I hope you enjoy this recipe for Air Fryer Broccoli. Let me know how it turns out in the comments section!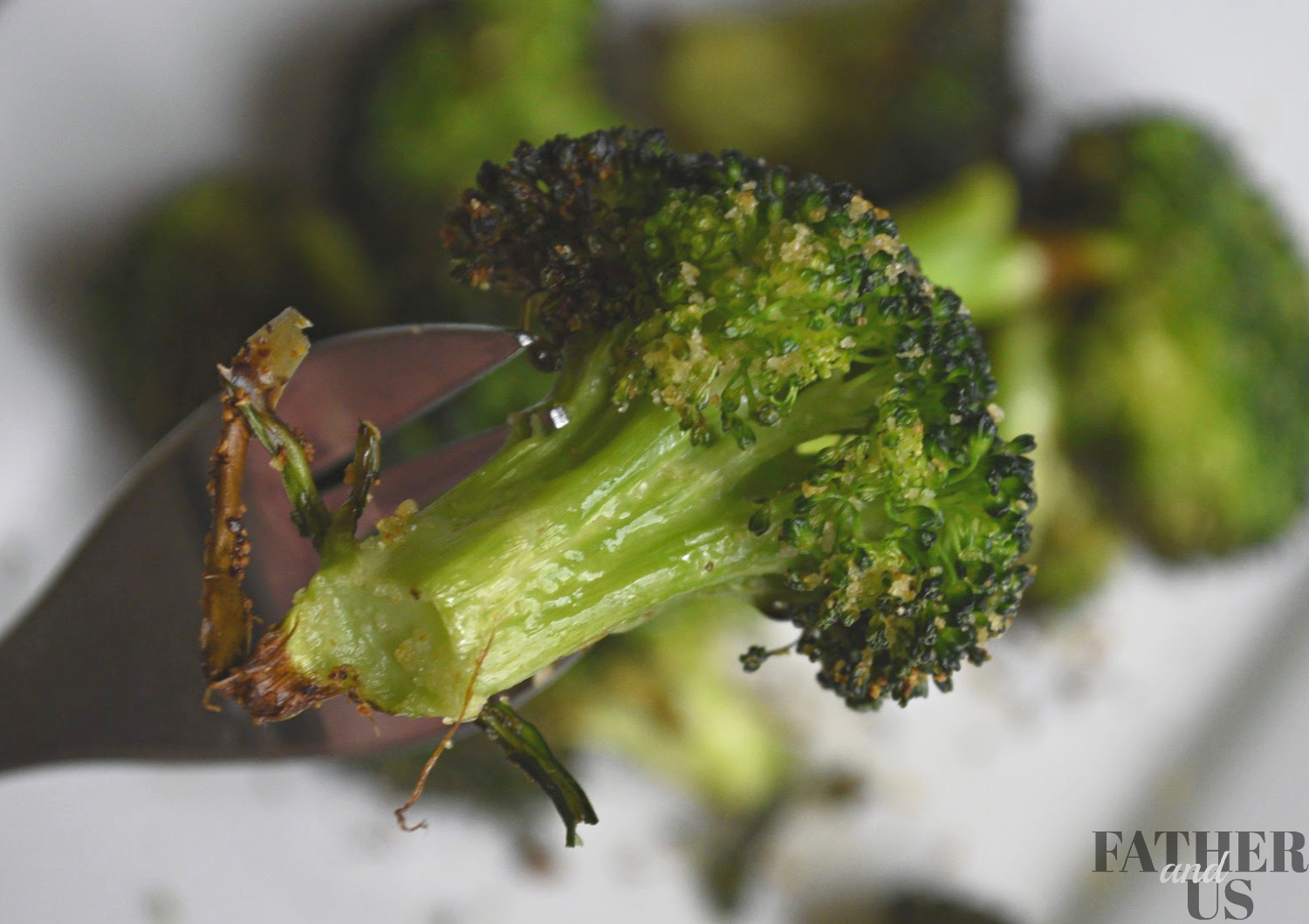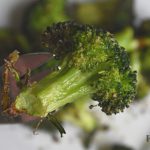 Air Fryer Broccoli Recipe
Looking for a quick, easy, tasty and healthy side dish? Check out this Air Fryer Broccoli Recipe. You will never look at broccoli the same again!
Ingredients
2

cups

of broccoli

2.5

tsp

olive oil

1/2

tsp

garlic salt

1/2

tsp

onion salt
Instructions
Preheat Air Fryer to 325 degrees

Cut Broccoli into even pieces, making sure no piece is significantly larger than the other.

Mix Broccoli, Onion Salt, Garlic Salt and Olive Oil together in a medium sized bowl. Brush to tips of the broccoli along the inside of bowl to make sure it is evenly and thoroughly coated.

Place in an Air Fryer and Air Fry at 325 degrees for 5 minutes.