THIS POST MAY CONTAIN AFFILIATE LINKS WHICH MEANS WE EARN A SMALL COMMISSION.
These Air Fryer Brussels Sprouts are tender on the inside and crispy on the outside. Easy and quick to make, they are a healthy and delicious side dish for any occasion. Bursting with flavor, they are low carb, gluten free, keto and Whole30 approved!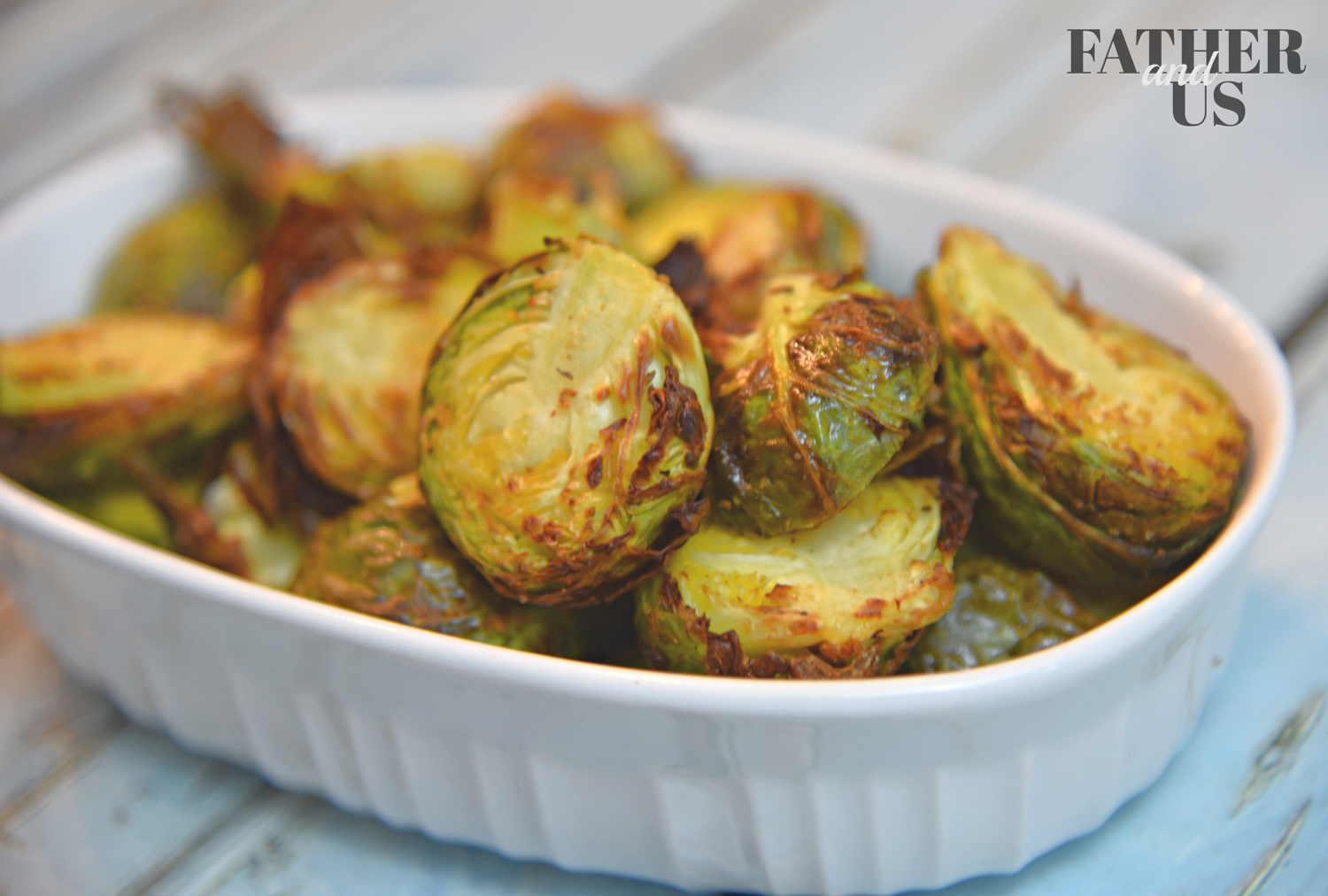 Why You Will Love This Recipe
EASY – Just prepare your Brussels Sprouts, preheat your Air Fryer and let them cook to perfection! There isn't much cleanup afterwards so we can keep dishes to a minimum! 
HEALTHY – Brussels Sprouts are full of health benefits! Rich in minerals and vitamins such as Vitamin K, Vitamin C and Vitamin A, they can be an important part of a healthy diet. They are also full of fiber and antioxidants!
VERSATILE – Brussels Sprouts can go with just about any main course!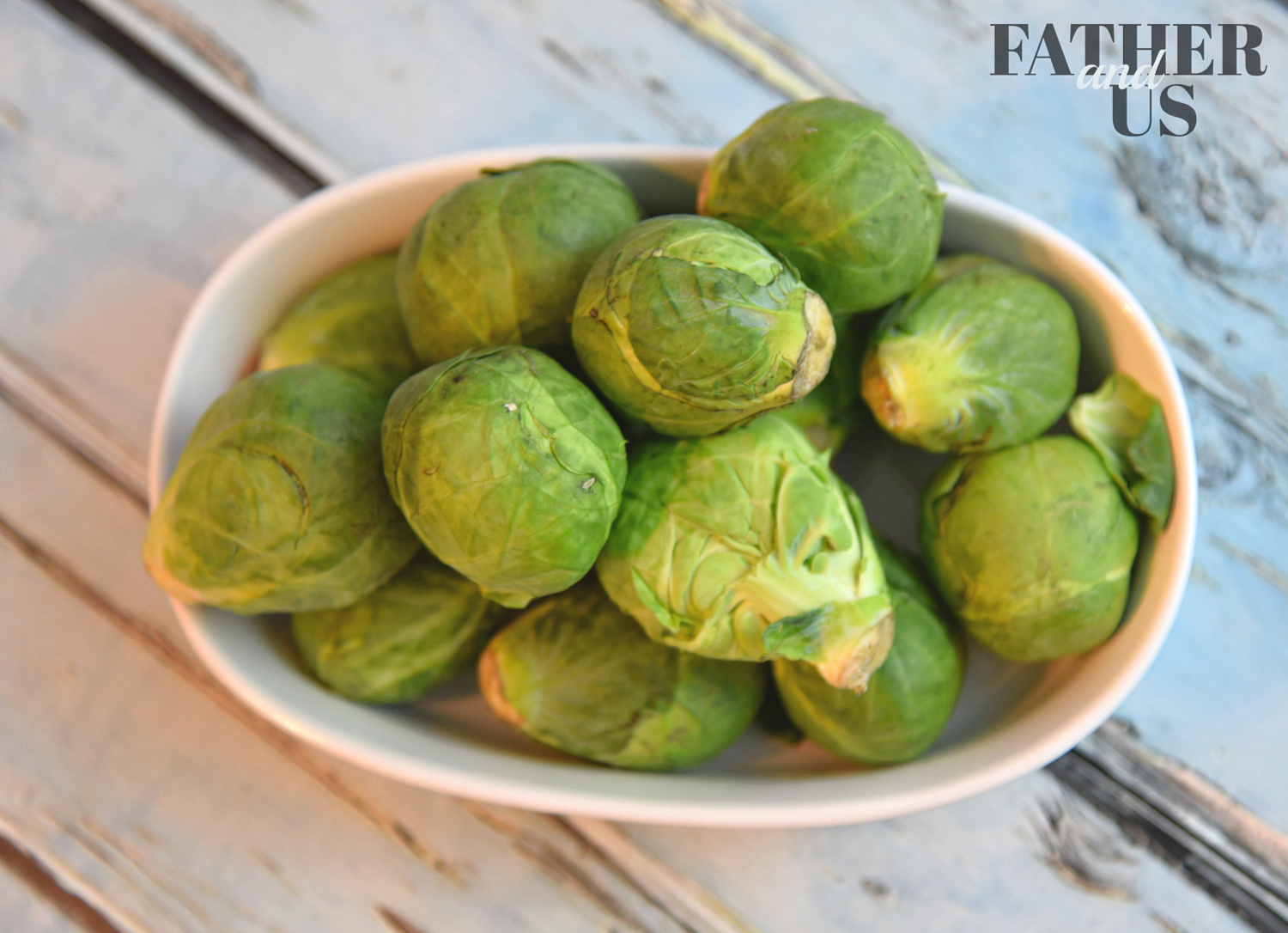 Air Fryer Brussels Sprouts
There are a lot of people that say they don't like Brussels Sprouts. To those people, I say "you just haven't had them prepared the correct way!". Once I discovered you can roast brussels sprouts in your oven and not boil or steam them like my mom used to, I was hooked! 
But cooking them in an Air Fryer might be even better than roasted brussels sprouts. Having that crispy outer layer give way to the soft vegetable is pure perfection in every bite! I got so excited, I've even wrapped them in bacon and brushed them with a balsamic glaze!
Ready to get Air Frying? For step-by-step instructions, check out the printable recipe card below. But here is what you'll need to get started. 
BRUSSELS SPROUTS – You want large, fresh Brussels Sprouts. At the store look for the ones that have a vibrant green color and no blemishes on their leaves. 
OLIVE OIL – We like to use Extra Virgin Olive Oil for our Brussels Sprouts. It's high smoke point works well in an Air Fryer. 
SEASONINGS – We use a combination of Salt and Garlic Powder. But you can really use anything you'd like. This includes black pepper, onion powder, cayenne pepper or red pepper flakes. 
BALSAMIC VINEGAR – We drizzle this over the brussels sprouts after cooking, just before serving. But you can omit this if you'd like. 

Storage and Leftovers
You can store leftovers in an Airtight Container in your refrigerator. They should be good for about 3 days in your fridge. They will never be as tasty as they were fresh out of the air fryer, but you can reheat them in your Air Fryer. Just about 3-4 minutes should do it. 
I would not freeze leftover Brussels Sprouts.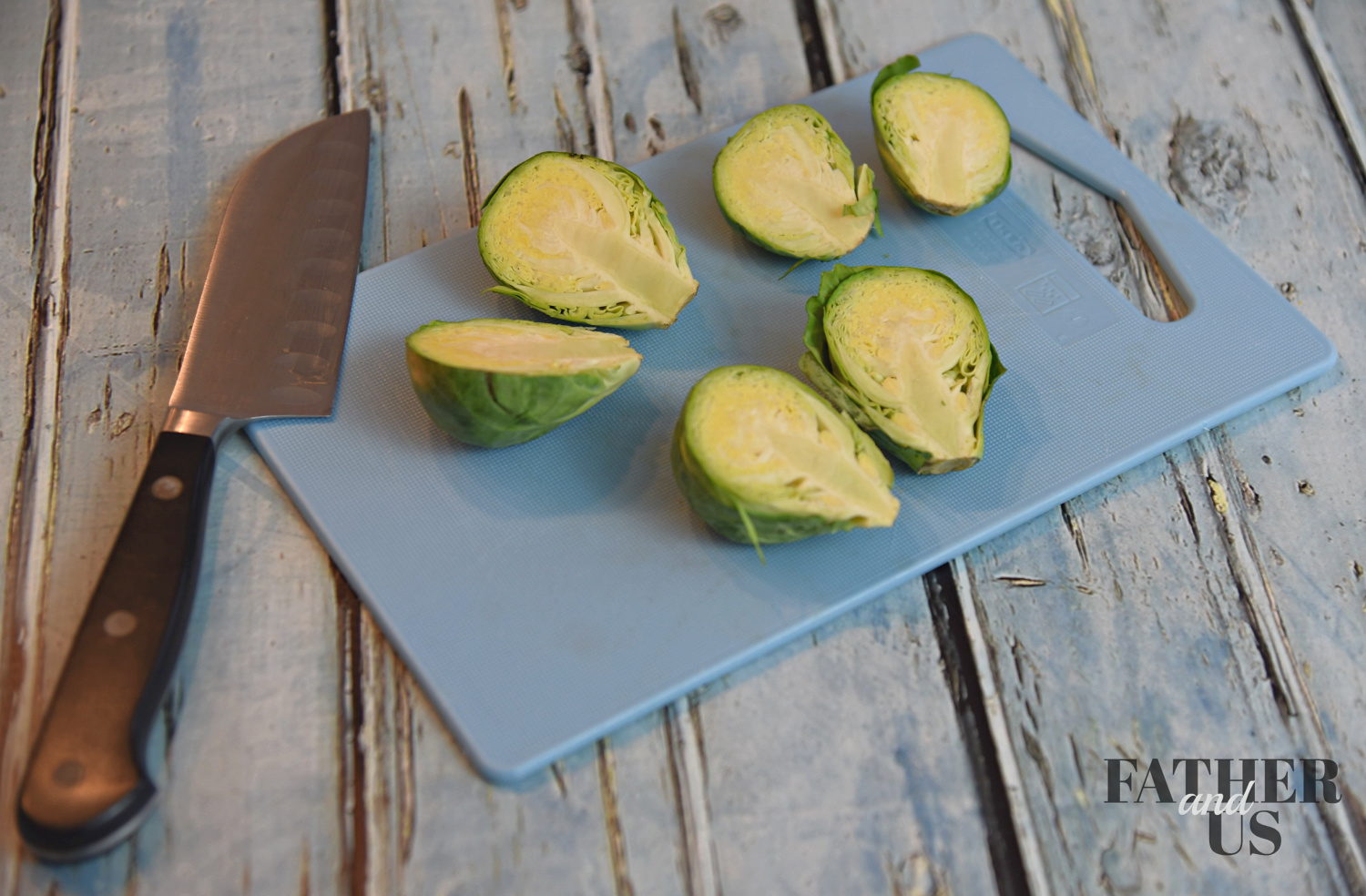 What Is An Air Fryer?
If you haven't already gotten on board the "Air Fryer Train", you need to asap.  An Air Fryer is a small, simple kitchen appliance that cooks food by quickly moving very hot air over it.  The result you get is just like traditionally frying your food in oil.  But an Air Fryer uses very little or no oil at all so it is much healthier!  I have made a ton of stuff in my Air Fryer.  I've made chicken wings, fried rice and crispy fried vegetables.  Everything turns out great!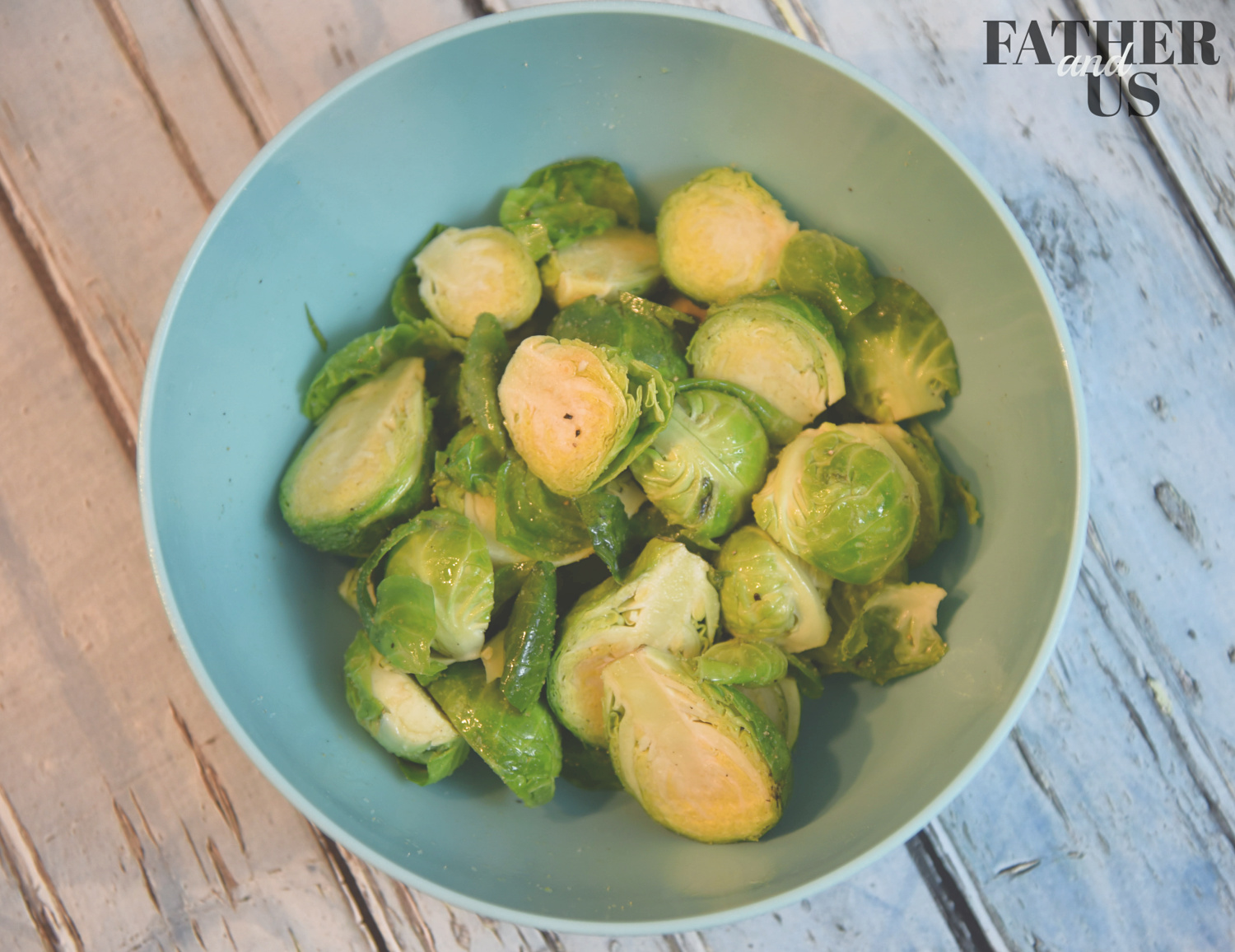 Notes, Tips and FAQs
WHAT GARNISH CAN YOU PUT ON AIR FRYER BRUSSELS SPROUTS? – You can top your Brussels Sprouts with diced green onions, parsley, bacon or red pepper flakes. You can also sprinkle some parmesan cheese on top. 
DON'T OVERCROWD YOUR AIR FRYER BASKET – Air Fryers work best when their is room for the hot air to circulate around and cook the food evenly. This is not possible if there is no space in the basket. Try to keep them all in a single layer with space between them. Depending on the size of your Air Fryer, you may need to cook in batches. 
We hope you enjoy these Air Fryer Brussels Sprouts. Let us know how they turn out for you in the comment section!
LOOKING FOR MORE AIR FRYER RECIPES? CHECK OUT MY :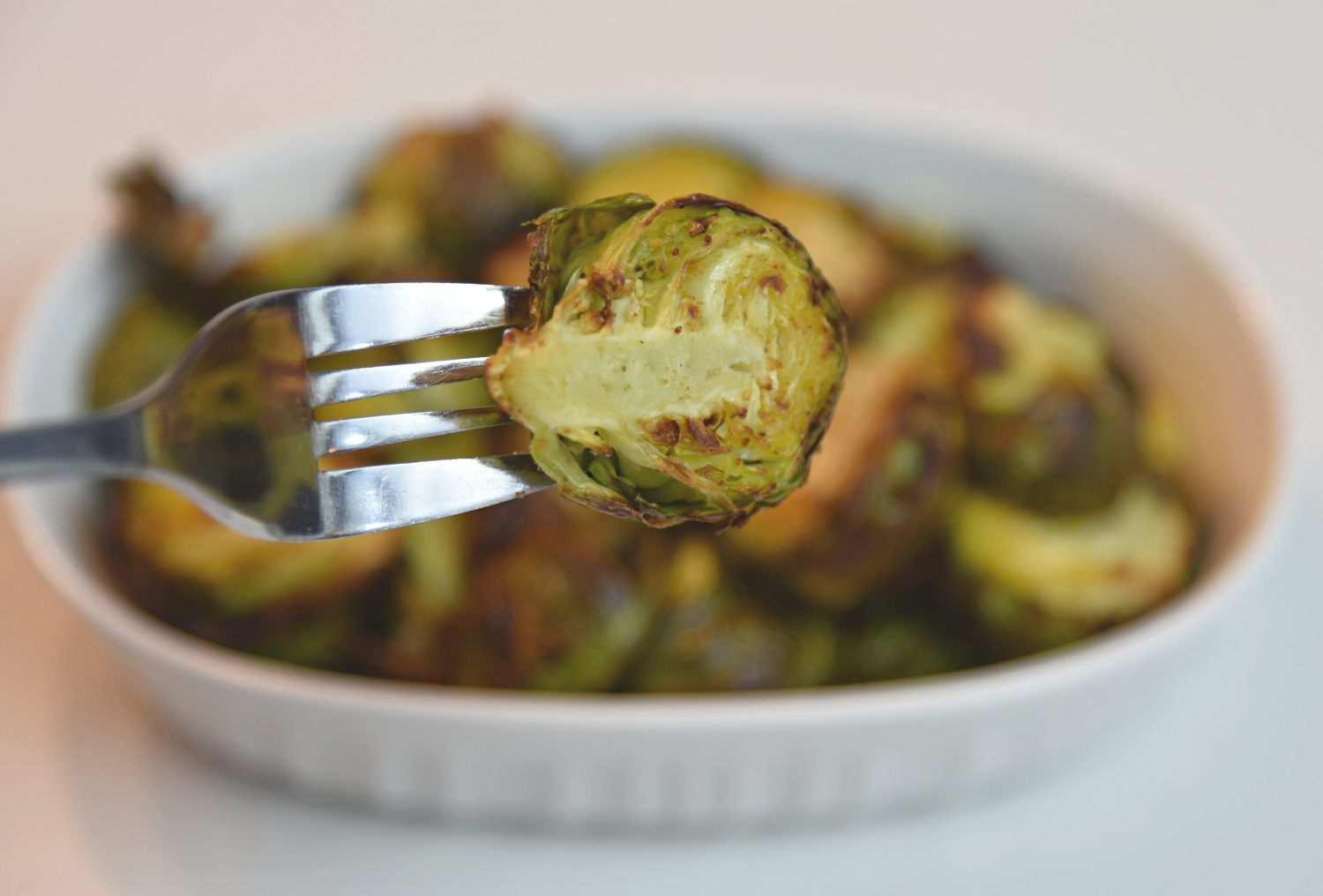 Crispy Air Fried Brussels Sprouts
These Air Fryer Brussels Sprouts are tender on the inside and crispy on the outside. They are the perfect side item to any dish.

Ingredients
10-12

Large, Fresh Brussels Sprouts

1

tablespoon

Olive Oil

1

teaspoon

Salt

1

tsp

Garlic Powder

1

tbsp

Balsamic Vinegar
Instructions
Preheat Air Fryer to 350 Degress

Cut stems off Brussels Sprouts and cut them in half

Toss them in oil, salt and garlic powder

Cook for 12-15, checking on them ever couple of minutes and toss in basket to promote even cooking

Drizzle Balsamic Vinegar to taste preference if desired.
Pin For Later