THIS POST MAY CONTAIN AFFILIATE LINKS WHICH MEANS WE EARN A SMALL COMMISSION.
These Air Fryer Vegetables will be your favorite new way to cook this healthy side dish! Quick and easy, they come out tender inside with a nice caramelized char on the outside.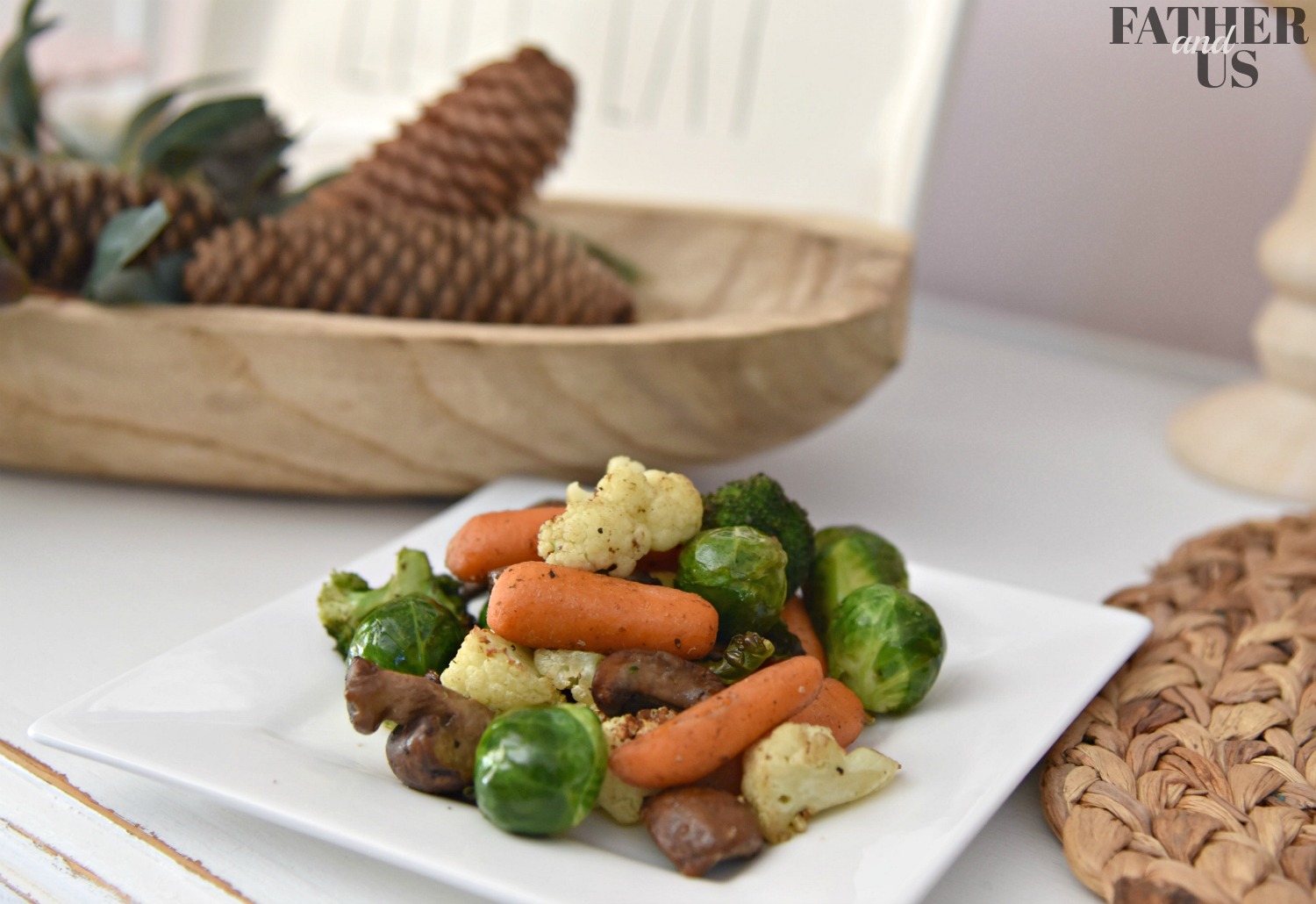 I have been using my Air Fryer for about 6 months now.  It is an amazing contraption!  Just about everything that I have tried to cook in it has turned put fantastic. I've always been a fan of crispy, cooked vegetables and I knew it was only a matter of time before I came up with an Air Fryer Vegetables Recipe.
What Is an Air Fryer?
If you don't know what an Air Fryer is, it is a small electrical kitchen appliance.  It cooks your food my moving very hot air around your food.  This results in the food having a "fried food" quality but with very little or now oil.  Your mozzarella sticks will have that crispy outside and soft inside but you won't have a huge tub of hot oil to deal with afterwards.  Air Fryers are pretty inexpensive and they are very easy to clean up.  Usually the cooking baskets on most models are dishwasher safe or easily washed with some soap and water.
Now that the Fall season is upon us, I thought it would be a great idea to try out a new Air Fryer Recipe.  So these Air Fryer Vegetables are my newest creation.  I didn't get too fancy with them at all, the most important part is to make sure you cook them long enough.  Depending on your Air Fryer, anywhere between 20 minutes and 30 minutes.  Here is what I did to achieve this tasty Air Fryer Vegetables.
If you don't already have one, jump on board and get an Air Fryer today by ordering one from Amazon. Check this one out!
Why Air Fry Vegetables?
There are a couple of reasons I love to cook vegetables in an Air Fryer.
It's SO QUICK! Faster than roasting vegetables in the oven! Yes, you do need to preheat your Air Fryer, but it preheats quicker than an oven. Also, the cook faster in your Air Fryer than an oven.
They come out perfectly roasted. I love my veggies with a nice little char on the outside, but still tender inside.
You aren't using your oven! You may need to use the oven to cook another dish. Or maybe it's a hot day and you don't want to heat your kitchen up. Air Fryer to the rescue!
How To Cook Vegetables In An Air Fryer
Here's what you'll need:
ASSORTED VEGETABLES – I used carrots, brussels sprouts, mushrooms and cauliflower. You can really use anything you'd like. Just keep in mind that different veggies will cook differently in your Air Fryer. More tender vegetables, like red onions, red bell pepper or tomatoes (I know that's technically a fruit!) will cook much faster. Harder vegetables like sweet potato, squash or potatoes will cook slower. You can make up for this by cutting the slower vegetables smaller or by cooking separately.
OLIVE OIL – We like to toss the veggies in olive oil before putting them in an Air Fryer. Olive Oil has a high enough smoke point and it gives them that great, crispy roasted texture.
SALT AND PEPPER – To taste. We think that salt and pepper is all you need for tons of flavor. Let the veggies speak for themselves! Looking for some more fun seasonings? Try Garlic Powder or Onion Powder. Or use Italian Season or Cajun Seasoning!
Can You Air Fryer Frozen Vegetables?
Yep! You sure can. Just note that they will probably take a little longer, and I wouldn't coat them with oil while frozen. Let them heat up in the Air Fryer for a couple minutes and then toss them in oil. Or spray them with a cooking spray.
Instructions
Preheat Air Fryer to 375 degrees
Cut the vegetables up into smaller sections.  This will help them cook faster and more evenly. 
Put the cut up vegetables into a bowl. 
Drizzle the vegetables with olive oil, sprinkle with salt and pepper and mix.  
Put vegetables into Air Fryer Basket. 
Cook on 375 degrees for 20-30 minutes, depending on how well done you like your vegetables.  Every 5 minutes, shake or stir the vegetables to make sure they cook evenly
Enjoy!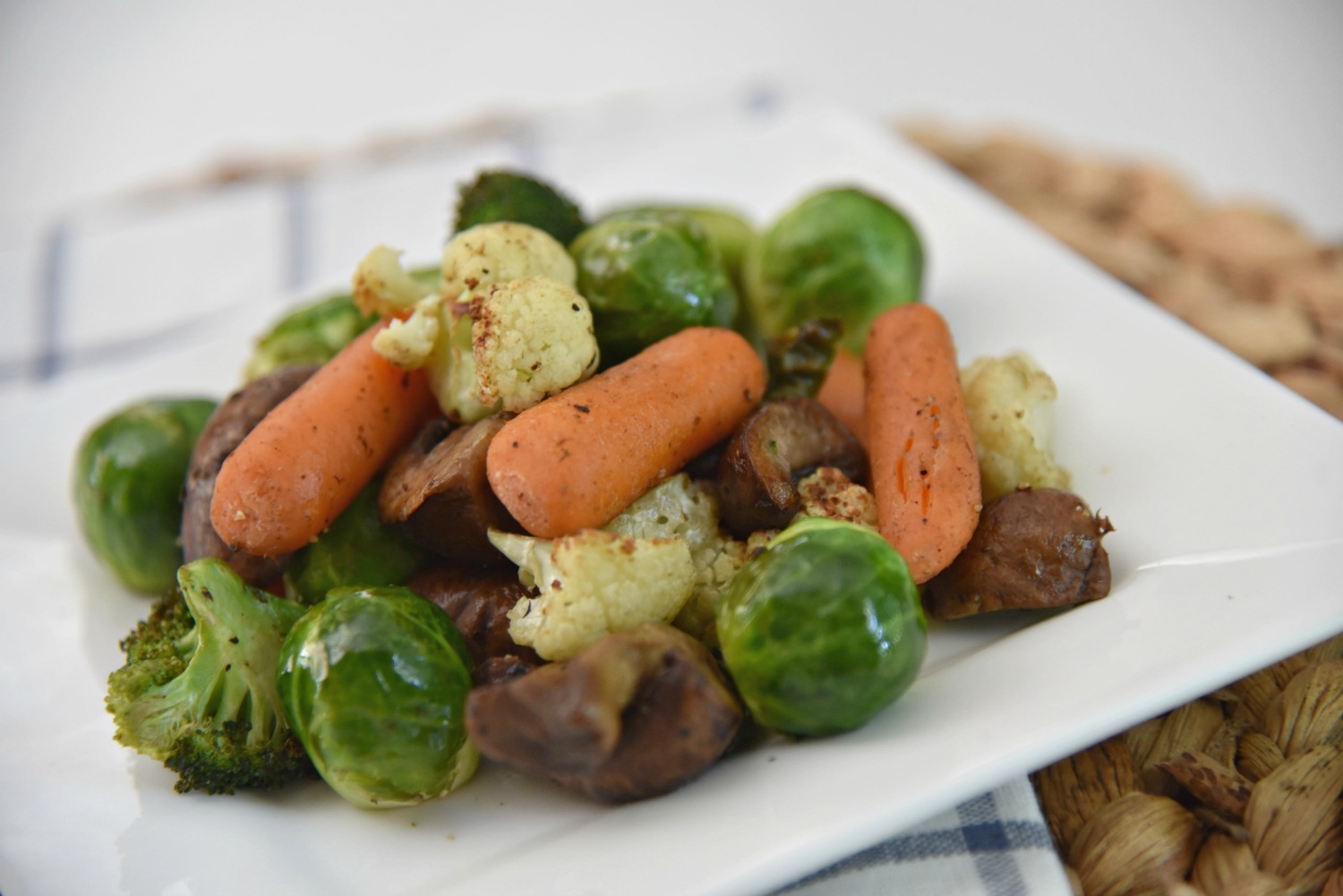 Notes, Tips and Variations
DON'T OVERCROWD – Air Fryers DO NOT work well when the basket is overcrowded. You want to keep the thickness of the layer of food to a minimum. You may need to cook in batches.
TOP WITH PARMESAN CHEESE  – When the veggies are done and ready to serve, I love sprinkling some parmesan cheese on top!
LEFTOVERS – Have leftovers? The Air Fryer is great for reheating leftovers too!
ADD SOME HEAT! – Add some crushed red pepper flakes to this recipe!
ADD SOME CRUNCH! – Add sliced almonds!
We hope you enjoy this recipe for Air Fryer Vegetables. We'd love to hear how it turns out for you in the comments! Thanks for reading!
LOOKING FOR MORE AIR FRYER RECIPES? CHECK OUT MY:
Air Fryer Vegetables
This quick and easy Air Fryer Vegetables Recipe makes the perfect side dish or light meal.
Ingredients
Assorted Vegetables

3

Tbsp

Olive Oil

Salt and Pepper
Instructions
Preheat Air Fryer to 375 Degrees

Cut the vegetables up to make sure they cook quickly and evenly

Put Vegetables in a bowl

Drizzle with Olive Oil

Sprinkle with Salt and Pepper to taste

Put in Air Fryer Basket

Cook at 375 degrees for 20-30 minutes

Enjoy!