THIS POST MAY CONTAIN AFFILIATE LINKS WHICH MEANS WE EARN A SMALL COMMISSION.
NEWLY UPDATED RECIPE ON 3/6/23!
These Air Fryer Pork Chops are tender, juicy and the Panko Bread Crumbs give them the perfect crisp on the outside. Made in your Air Fryer, they are a healthy dinner option for the whole family!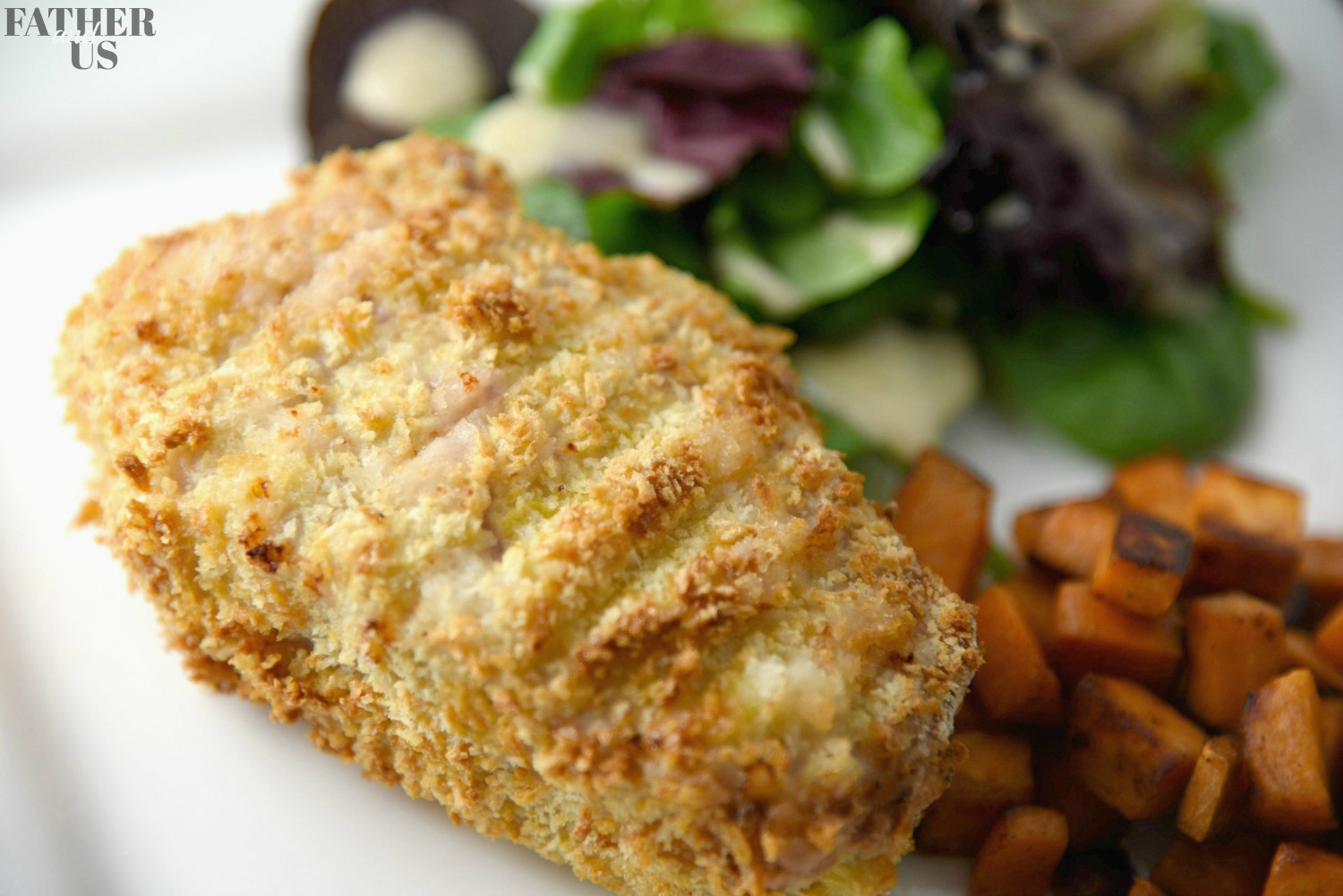 Why You Will Love Air Fryer Pork Chops
My infatuation with the Air Fryer continues. This time, I've decided to make Air Fryer Pork Chops. To be honest, I have always been a much bigger fan of pork chops than my wife has been. She says that they always seems to taste a little too dry, no matter where or when she has them. So, I figured it would be a great idea to try to learn how to cook Pork Chops in the Air Fryer. After a little experimentation, I've found a great recipe that I'd love to share with you.
By using your Air Fryer, you'll get that crispy outer coating just like you would if you pan fried them in a skillet. But without all the oil, mess and hassle! The panko breadcrumbs bring these pork chops to life with a boost of flavor and texture! The ingredients are also pretty simple, you probably have them in your kitchen right now.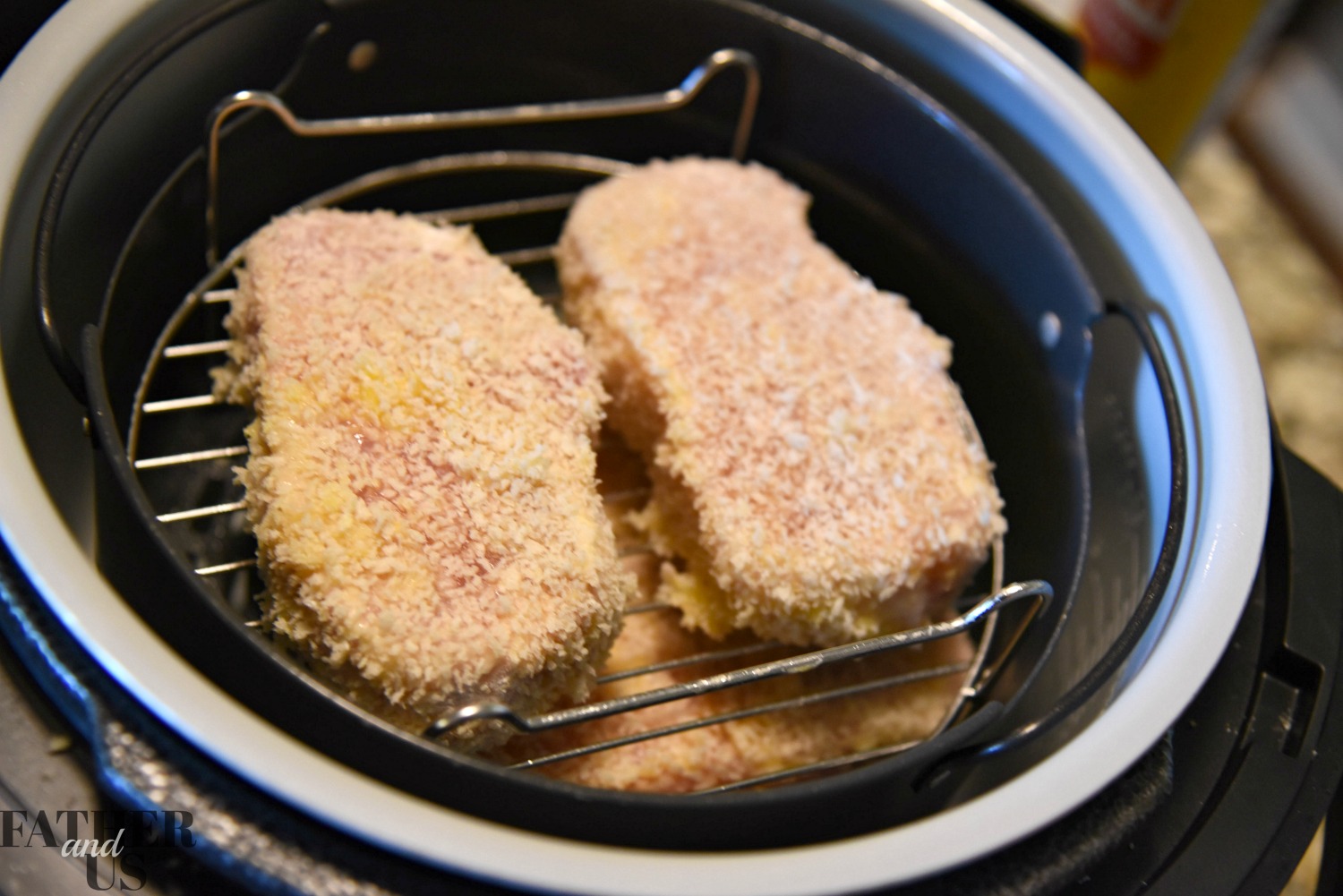 What is an Air Fryer?
An Air Fryer is a small electrical kitchen appliance. They do come in various sizes but most (if not all) of them can fit comfortably on any kitchen counter. How does an air fryer work? The key part to an Air Fryer is that it uses "rapid air technology" to cook your food. This is quickly moving hot air that, paired with the metal basket that most of them use, gives your food a crispy outside and an evenly cooked inside. So, you can get that "fried food" result without using any oil at all!
TO LEARN MORE ABOUT AIR FRYERS, CHECK OUT MY AIR FRYER GUIDE!
Air Fryer Pork Chops Recipe
Like just about anything that is cooked in an Air Fryer, making Air Fryer Pork Chops is super easy. For step-by-step instructions, check out the printable recipe card below. But here is what you'll need to get started:
PORK CHOPS – We used boneless pork chops. But you can use bone-in if you'd prefer.
EGGS – To use as an egg wash to get our Panko coating to stick.
FLOUR – Any brand of All Purpose Flour will do.
PANKO BREADCRUMBS – The star of the show. You can use any brand.
SEASONINGS – We simply use a combination of garlic powder and onion powder. But you can also add a little kosher salt and black pepper to taste if you'd like.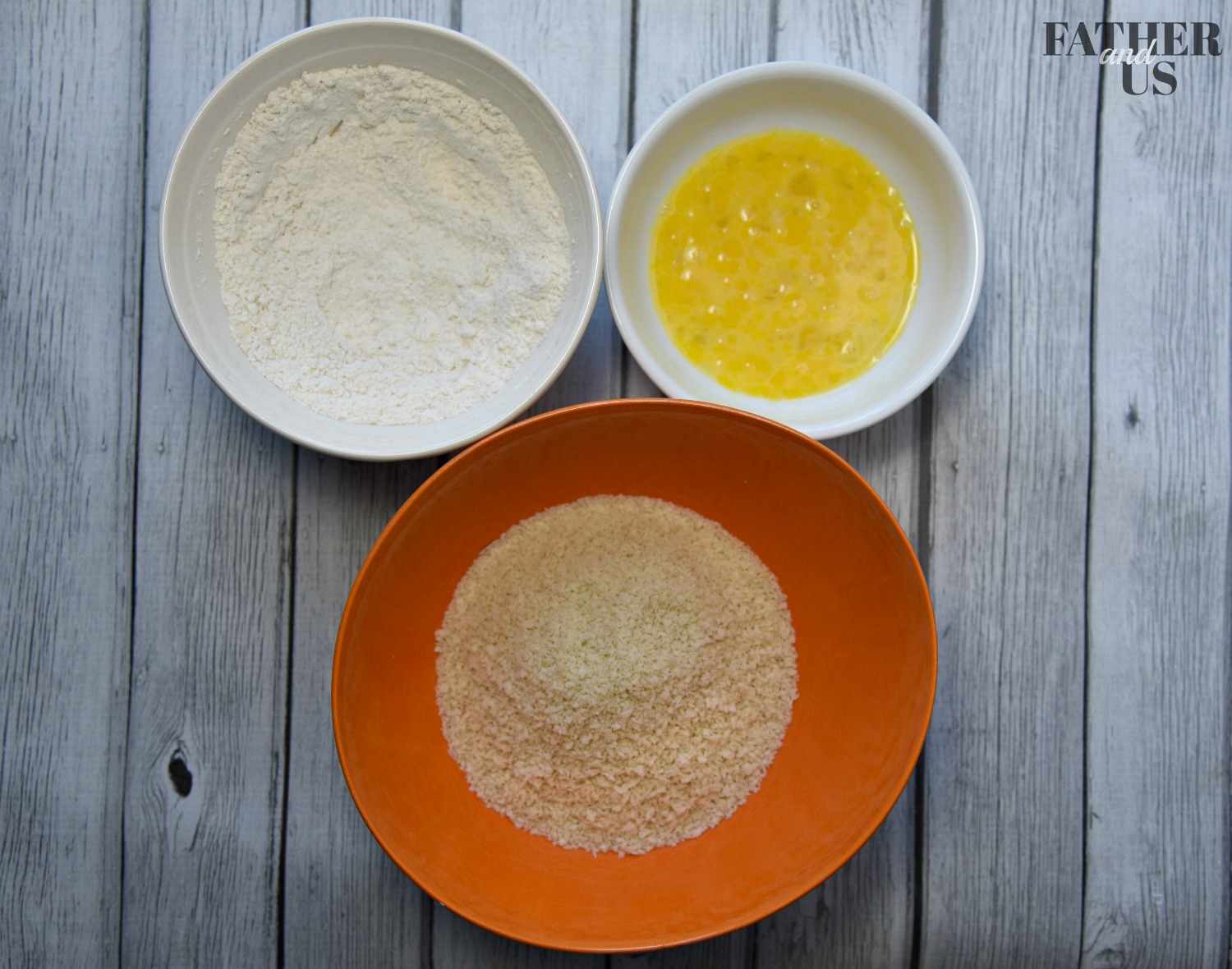 Storage, Leftovers and Freezing
You can store your leftover pork chops in an airtight container in your refrigerator. They should be good in your fridge for 3-4 days. You can reheat them on a skillet with a little oil, or in the oven. I would not microwave leftover pork chops. The breading will get pretty soggy.
Likewise, I would not freeze Panko Crusted Pork Chops, as they thaw out, the breading will get too soft and they won't be as enjoyable as they could be. These pork chops are best eaten freshly cooked.
What To Serve With Panko Crusted Pork Chops?
These Pork Chops would be perfect with a number of different side dishes. I love serving mine with these Sweet Potato Fries. But regular fries or Tater Tots would work well too. Or even some new potatoes or mashed potatoes. Or go the healthy route and serve with a side salad or some mixed vegetables!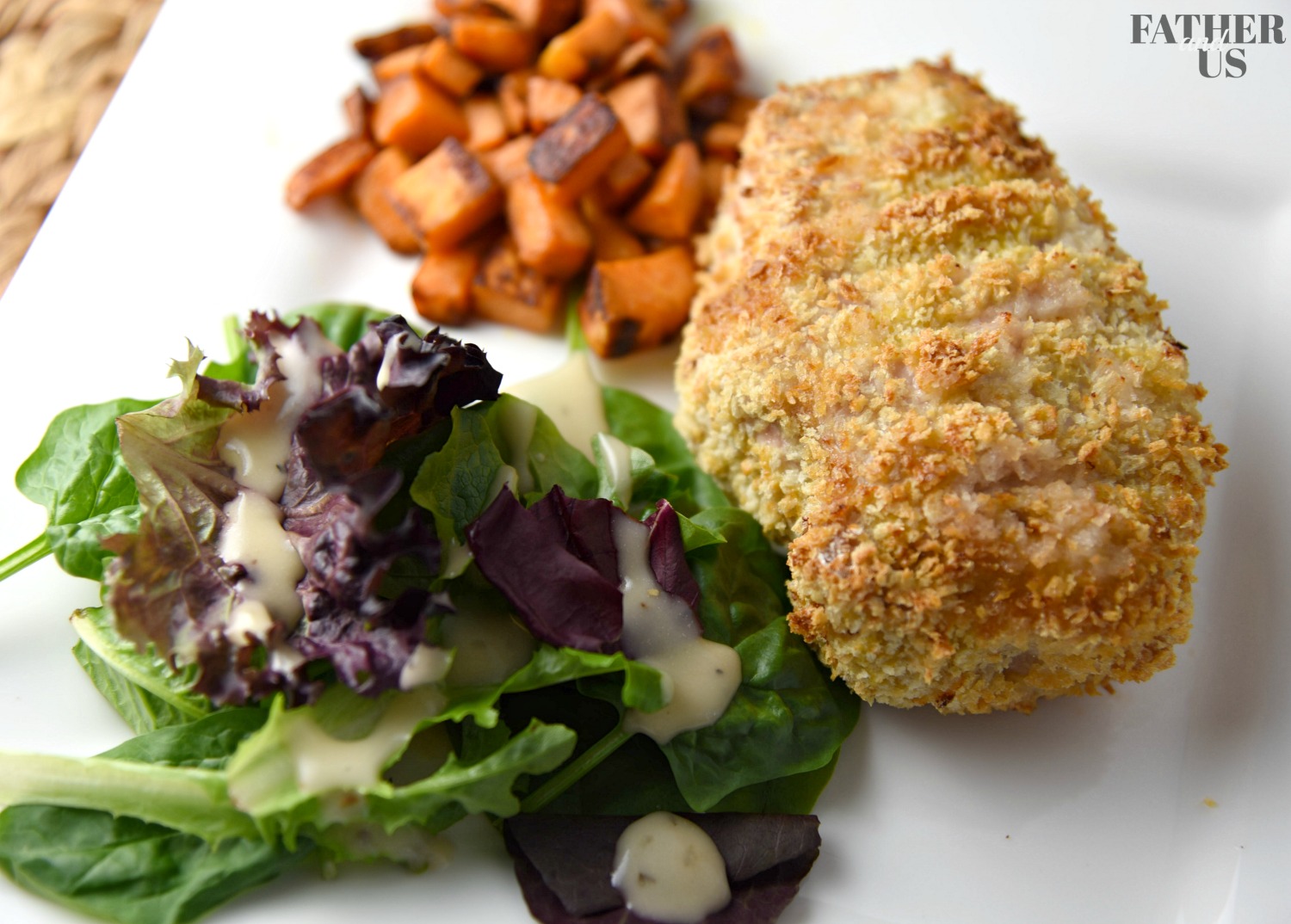 Notes, Tips and FAQs
DO YOU NEED TO USE BONELESS PORK CHOPS? – Nope! You can fry Boneless and Bone-In Pork Chops easily.
EGG WASH – We used eggs to get our panko breading to stick. But you could also use BBQ sauce for some extra flavor. Or use honey for the breadcrumbs to stick to. You can even use Mayonnaise or Dijon Mustard!
HOW DO YOU KNOW WHEN YOUR PORK CHOPS ARE DONE? – The pork chops should have a nice golden brown color and the internal temperature should be at least 145 degrees.
A NOTE ON AIR FRYERS – While we cook our pork chops in the Air Fryer at 350 degrees, Air Fryers are notoriously varying in how they behave. Your cooking time/temp may be a little different. Keep an eye on them and use the criteria above to decide when they are done. Also, our pork chops were about 1/2 – 3/4 inches thick. If yours are thicker or thinner, that will also effect the cooking time.
We hope you enjoy this Panko Crusted Pork Chop Recipe. Please let us know how it turned out in the comment section below!
Enjoy!
LOOKING FOR MORE AIR FRYER RECIPES? CHECK OUT MY: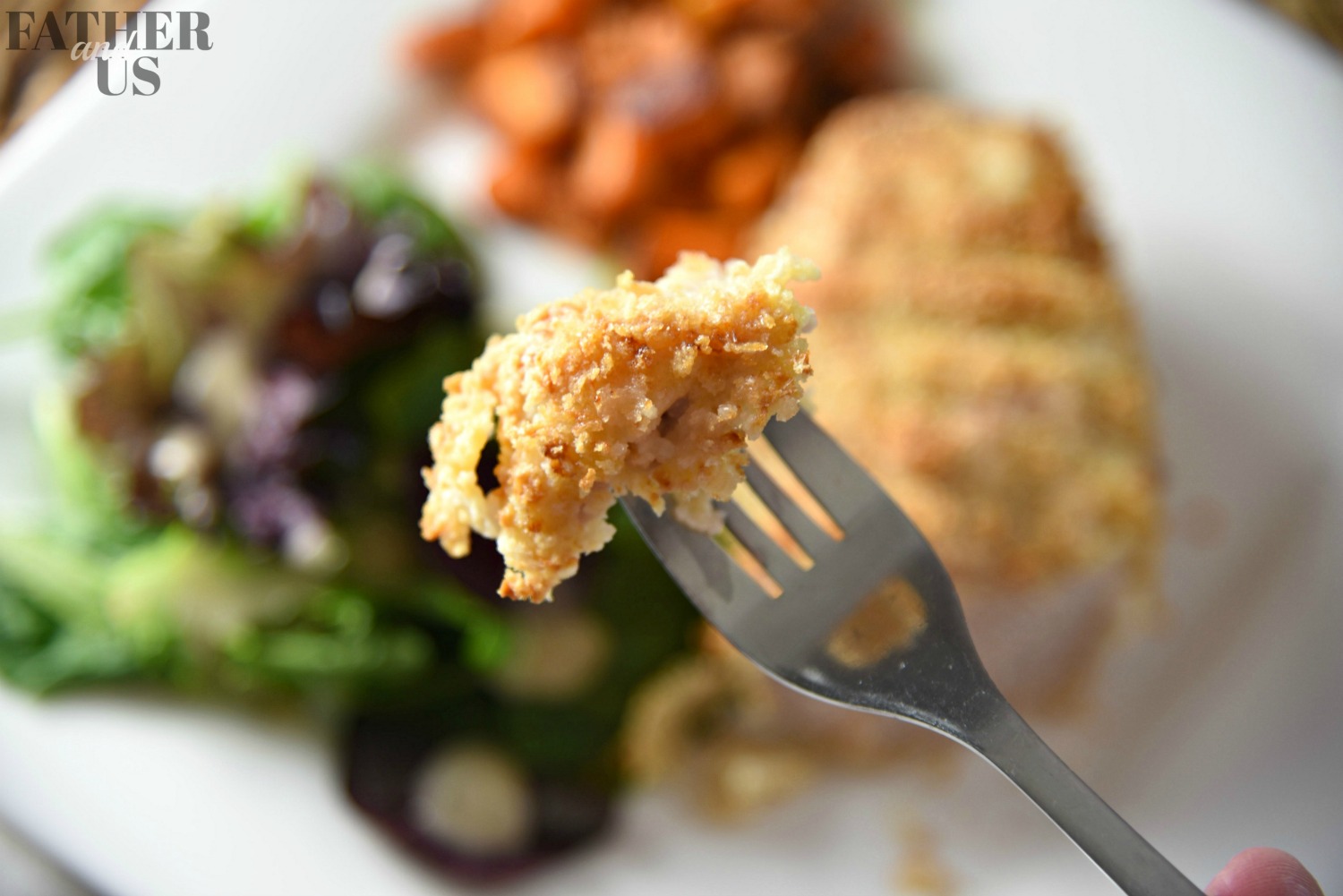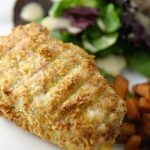 Panko Crusted Air Fryer Pork Chops
These Air Fryer Pork Chops are tender, juicy and the Panko Bread Crumbs give them the perfect crisp on the outside. Made in your Air Fryer, they are a healthy dinner option for the whole family!
Ingredients
Boneless Pork Chops

2

eggs

1/2

cup

flour

1

cup

panko bread crumbs

1

tsp

garlic powder

1

tsp

onion powder.
Instructions
Preheat Air Fryer to 350 degrees

Mix together the flour, onion powder and garlic powder into one bowl.

Put the eggs and panko bread crumbs in two separate bowls.

Dip the pork chops in the egg and then dip it into the flour mixture.

Dip it in the egg again and then dip it in the Panko Bread Crumbs.

Once all the pork chops are well coated, put them in the Air Fryer.

Cook for 10 minutes per side.

Once the internal temperature is 145 degrees, the pork chops are done.