THIS POST MAY CONTAIN AFFILIATE LINKS WHICH MEANS WE EARN A SMALL COMMISSION.
These  7 Air Fryer Fish recipes will make your dinners more exciting and healthy.  From tacos to salmon patties, these Air Fried Fish Recipes will change the way you think about dinner.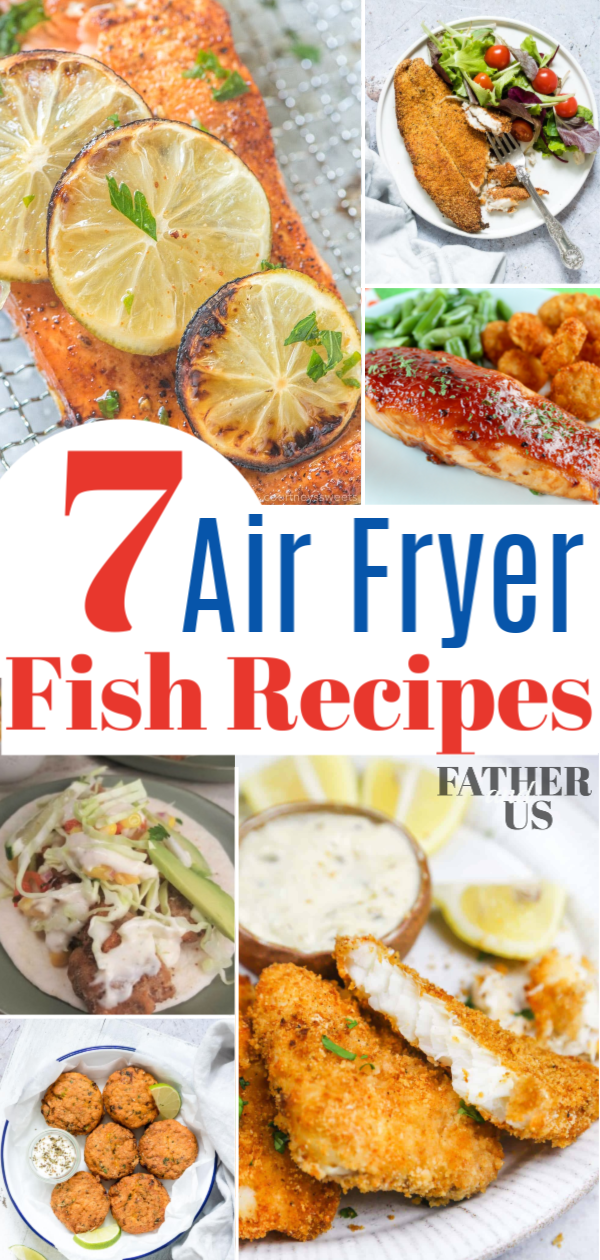 LOOKING FOR MORE AIR FRYER RECIPES? CHECK OUT MY 10 HEALTHY AIR FRYER RECIPES. 
I got my first Air Fryer about one year ago.  Since then, I've been Air Frying my pants off!  I've been racking my brain to think of anything possible that may taste great Air Fried.  I"ve made everything from Air Fried Chicken Wings and Air Fried Kale to Air Fried French Toast Sticks and Air Fried Sweet Potato Fries.   It turns out, you can make just about anything in an Air Fryer!
What is an Air Fryer?
What is an Air Fryer?  It is a small electrical kitchen appliance that can fit easily on your kitchen counter.  An Air Fryer works using "rapid air technology" to cook your food.  This is quickly moving hot air that, paired with the metal basket that most of them use, gives your food a crispy outside and an evenly cooked inside.  So, you can get that "fried food" result using very little (or no) oil at all!  The bottom line is your dish with be healthier, with less saturated fat, than traditional deep frying.
I've also recently gotten a Ninja Foodi.  This contraption can do just about anything!  It has a "tender crisp" function that works just like an Air Fryer.  But it also does Pressure Cooks, Broils, Sautees, Dehydrates and Steams!  I used it for the first time when I made my Sweet Potato Fries last week and it worked awesome!  This is definitely worth checking out.
Air Fryer Fish Recipes
We like to cook some sort of fish for dinner at least once a week.  Traditionally, we just broil some salmon in the oven.  But, sometimes, that gets a little bit old.  So, I've decided to do some research and come up with some fun Air Fryer Fish Recipes.  Check out some of these delicious Air Fryer creations!