THIS POST MAY CONTAIN AFFILIATE LINKS WHICH MEANS WE EARN A SMALL COMMISSION.
This recipe for Air Fryer Steak is a great alternative to grilling. It is quick, easy and the steak turns out tender and delicious.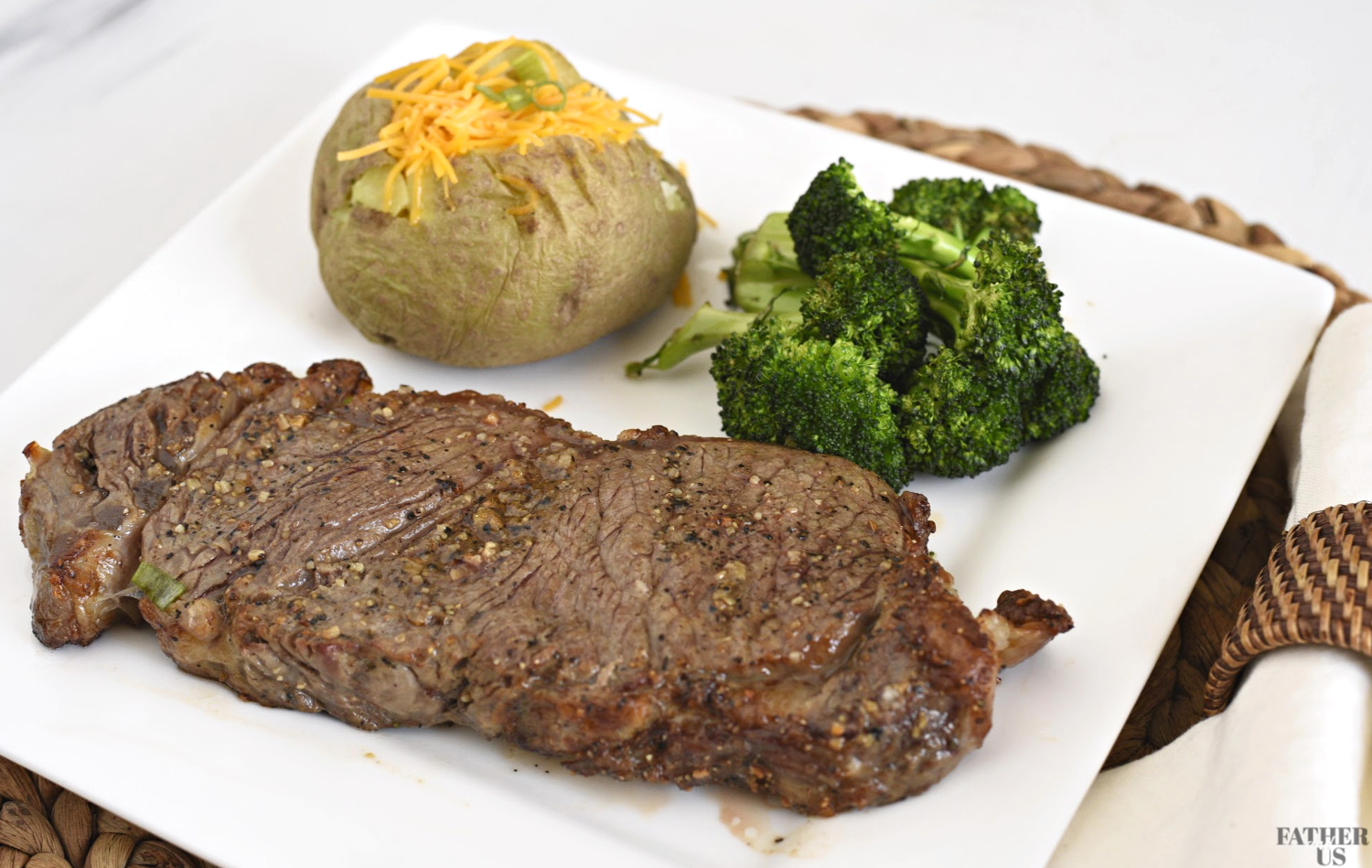 For the past couple of years, I've REALLY been into steaks. For most of my adult life, I could honestly take them or leave them. But, something happened about 3 years ago and now I just can't get enough of them. Most likely, I finally threw away my gas grill and got a well made charcoal grill. I'd been told that grilling steaks over charcoal was much better than gas, but I just didn't put much stock into it. But, now I get it. I get that grill as hot as possible, and put those bad boys on there to get a nice char on the outside and a tender pink inside.
The only problem is that I live in the Midwest and the weather doesn't always cooperate. It seems like it is always either snowing or raining here: not great grilling environments. So, I've been looking for a way to get that grilled result indoors. I've seen people saute their steaks on the stovetop or broil them. I've tried both of these methods but they just didn't get me that crispy outside that I love on my steak. Who would have thought that making an Air Fryer Steak would be the answer to my prayers?
What Is An Air Fryer?
About three years ago, I got my first Air Fryer. Since then, I've been making all sorts of things in it. I've made "deep fried" food healthier, like these Loaded Air Fryer Mashed Potato Cakes. I've made healthy foods tastier, like this Air Fryer Broccoli Recipe. I've also made new versions of classic Asian Dishes, such as Air Fryer Cashew Chicken and Air Fryer Orange Chicken.
How Does an Air Fryer Work? It's a pretty simple, electrical kitchen appliance. They come in all shapes and sizes, but they all basically work the same way. You food is cooked in a basket by super heated, quickly moving hot air. A lot of times, you use a small amount of oil add to the food. The combination of that oil and the heated air gives you a "crispy" outside and a tender inside, just like you would get if you deep fried your recipe. But we are using a fraction of the oil and are consuming a fraction of the saturated fat!
I use two different Air Fryers. The first one is a Ninji Foodi. This thing is awesome, it can do so much more than just Air Frying, including working as a pressure cooker too!
I also have a Black+Decker Air Fryer that isn't quite as fancy but it works great!
 Air Fryer Steak
This may be one of the easiest Air Fryer Recipes that I've tried. The key here is to let your steak sit out and get to room temperature before cooking (you should be doing this before grilling too!). Otherwise, just coat it with oil and your seasonings and get Air Frying!
Like cooking most steaks, you want to cook at as high a heat as possible. My Air Fryer can be turned up to 400 degrees, so that is what I set it to for these Air Fried Steaks.
Can You Air Fry Frozen Steaks?
There ARE many things that you can put in an Air Fryer frozen and get great results with. A steak is NOT one of them. You will want to defrost this in the fridge overnight. And, like I mentioned above, get it to room temperature before cooking.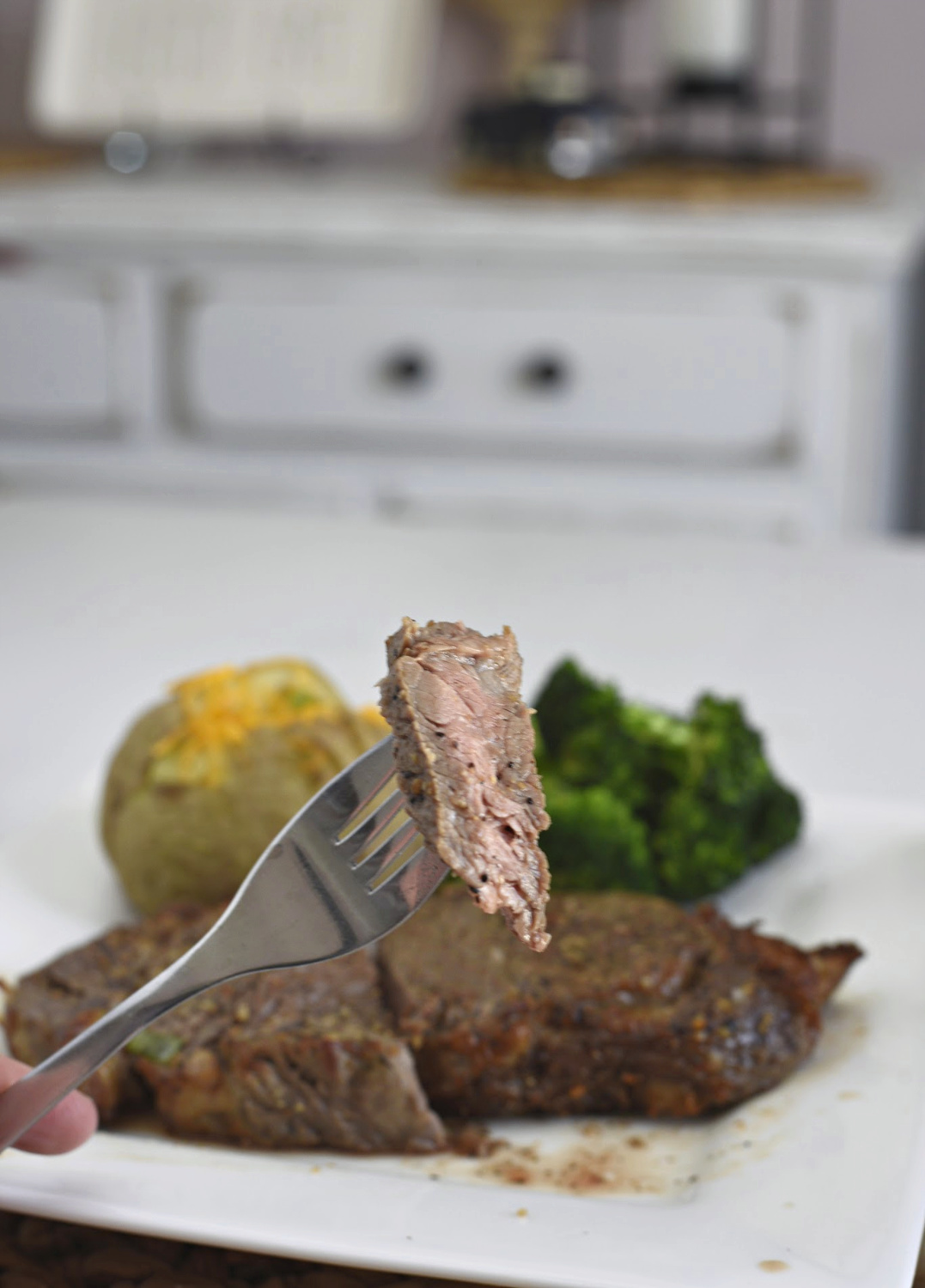 Best Seasoning For Steaks?
If you ask 100 different people this question, you will get 100 different answers. I've had steaks that were simply seasoned with salt and pepper and they were amazing! But, I've always been a fan of the Montreal Steak Seasoning from McCormick Grill Mates.
How Long Should You Cook Steaks In The Air Fryer?
These times worked for my Ninja Foodi, but I've learned that many Air Fryers will cook at different rates, even when set at the same temperature. So, I'd keep an eye on your steak and keep a meat thermometer handy to get the internal temp. The steak I used to test these times was a New York  Strip that was about 3/4- 1 inch thick. All these times are for an Air Fryer set to 400 degrees. The time listed is the TOTAL cooking time. Always flip the steaks over halfway through.
Rare: 7-8 minutes
Medium Rare: 8-9 minutes
Medium: 10-11 minutes
Medium Well: 11-12 minutes
Well Done: 12-13 minutes
I was really amazed that these turned out almost exactly how they would have if you grilled them on a charcoal grill! There was a nice and crispy crust but the inside was perfectly tender. Honestly, I'll still choose to cook my steaks out on my grill if possible. But, if the weather isn't cooperating, I certainly won't hesitate to make to make some Air Fryer Steaks again!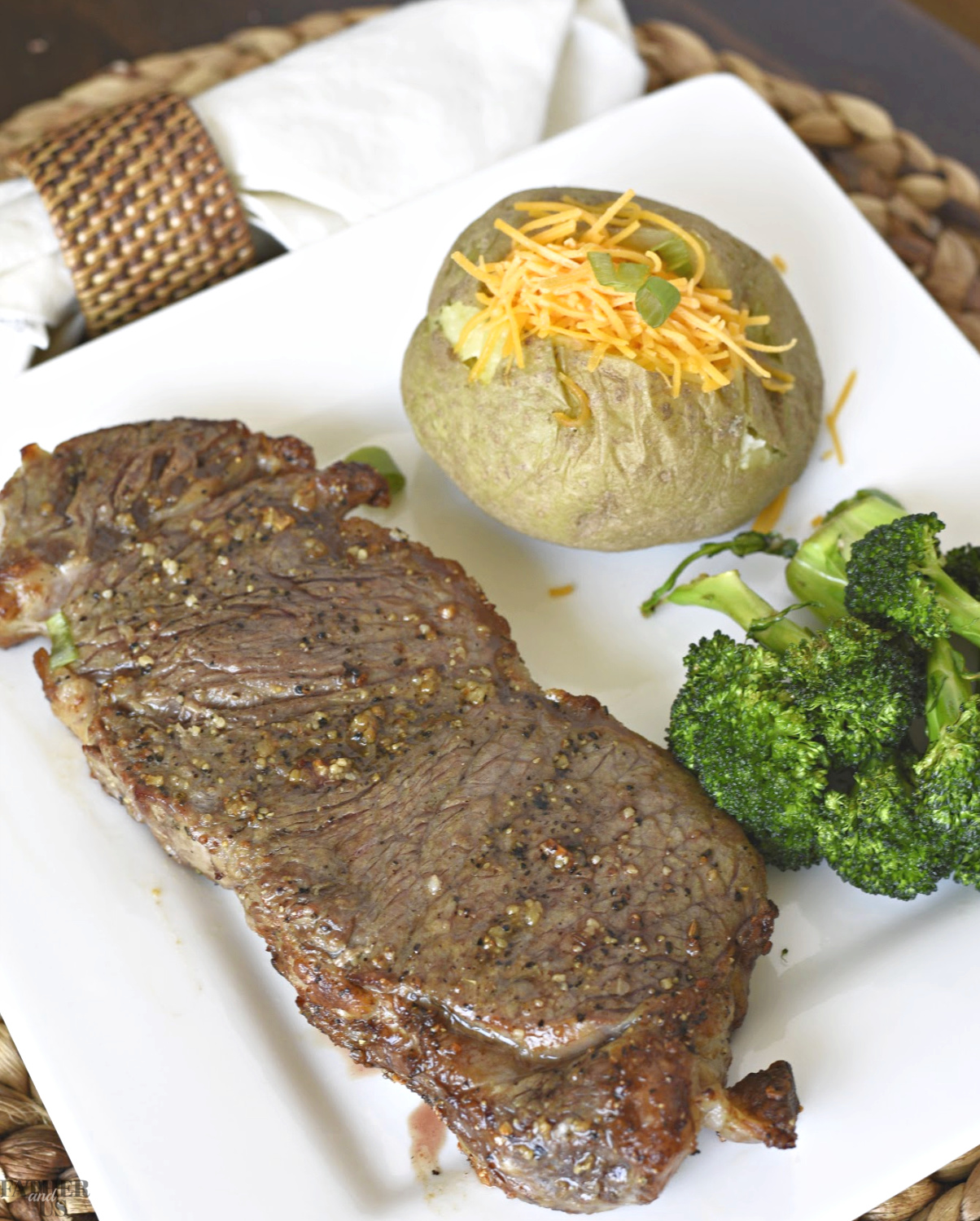 Air Fryer Steaks
This recipe for Air Fryer Steak is a great alternative to grilling. It is quick, easy and the steak turns out tender and delicious.


Ingredients
1

New York Strip Steak

1

tbsp

Olive Oil

2

tbsp

McCormick Grill Mates Montreal Seasoning
Instructions
Preheat Air Fryer to 400 Degrees

Coat steak with Olive Oil and liberally coat with Montreal Steak Seasoning.

Cook in Air Fryer for 10 minutes, flipping the steak halfway through. Take out when internal temperature is between 138-140 degrees.