THIS POST MAY CONTAIN AFFILIATE LINKS WHICH MEANS WE EARN A SMALL COMMISSION.
What are Fatherhood Quotes?
As fathers, I believe that there are a lot of common questions we ask ourselves.
What do we want to pass down to our children? How do I want them to measure success in their lives?  What do I want to influence them? Where do I fit in all of this? When should I just stay out of the way? How much of myself do I really want them to inherit?  These, and lots of other questions, are things I think of often in my quiet moments.  I have a feeling other dads do the same. 
I also believe that we are living in a really cool era of fatherhood.  A lot of us are more involved in our children's lives than past generations.  That is pretty awesome. Parenting, from a male perspective, has changed a lot in the past several decades.
How does this change in fatherhood influence some of these big questions?  I think every dad has something interesting to say about this. That's what Fatherhood Quotes is. What are the big issues that you, as a dad, think about?
My intention with this series is to ask these 12 questions for dads that really try to get to the heart of what it means to be on this crazy adventure called parenting.  
If you are a dad (or know a dad) that would like to take part in Fatherhood Quotes, please reach out to me.
Fatherhood Quotes Vol. 2
Steven Potaczek
For the second volume of this series, I'm pleased to introduce you to Steven Potaczek.  I've had the pleasure of getting to know Steven during some recent musical projects.  Steven runs his own studio and is an incredible musician and producer.  Recording with him was an amazing experience.  It was fun, educational and he made my guitar playing sound awesome (no easy task!).  He's also, simply, a great guy!  I've been lucky to cross paths with him.  Please take a moment and check out heraftermusic.com to learn more about him and to see what he has been up to lately.
So, introducing Steven!  I was excited to hear his responses to my 12 questions.  Thanks, Steven, for taking part in this and for your thoughtful responses.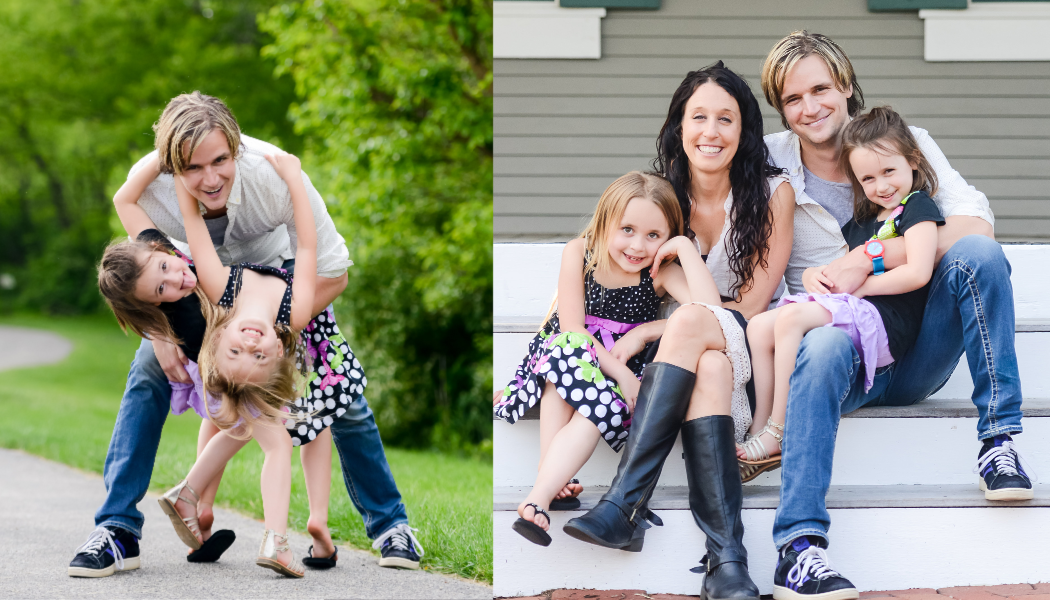 Your Name: Steven Potaczek
Your Age: 38
Number of kids and ages: 2 girls, ages 6 and 8
In one word, what does being a father mean to you? Present
What piece of parenting advice did you get before having kids that stands out as being most helpful? Probably the best advice we got was to make sure that kids have consistent sleep times. This was really hard to implement when they were first born, but I truly believe that forcing them to be on a consistent sleep schedule truly made a huge difference in them being emotionally consistent and strong.
If your child (children) were to describe you in one word, what would it be?  (Feel free to ask them and then answer this!) My youngest says: love; my oldest says: snuggly. I am overjoyed to hear these descriptors. 😉
What is your best guess as to what your child will be when they grow up? My hope is that they would be healthy, whole individuals who see and love others well, contributing a larger picture of reality than just themselves.
If you could choose one book for your child to read as an adult, what would it be. Why? Wow, interesting question! Probably a book about the Enneagram, which would hopefully help them better understand themselves and others.
Do you remember the first thing you ever said to your child?  What was it? Probably just "I love you!"
As your child becomes an adult, how do you want them to define success in their lives? By the amount of contentment they have in their lives, as well as if they feel that they are living up to their full potential. Everything else is someone else's definition of success.
What quality about yourself would you most like to pass on to your child? My empathy and kindness to strangers
What is one material object that you want to pass down to your kid?  Why? That's a tough one. I guess I'd say my 9′ concert grand Baldwin piano, simply because it's such a mammoth beast and I think it will be something they can use to fill their home with music and joy.
What is your biggest fear as a father? That I'm going to blow it. The truth is, I know I blow it all the time, but I promise to them and myself to humbly ask for forgiveness, and then move forward learning from my mistakes.
What quality about yourself would you least like to pass on to your child? My anxiety. I have struggled so much with my own discontentment and desire to control the outcome of situations. I'm growing in my spiritual journey, and this is my area of greatest growth potential.
If you and your kid formed a rock band, what would you name the band?  You are not allowed to name the band your last name… The Steves (featuring Steve and Steve)
For more great dad thoughts, check out Fatherhood Quotes Vol. 1. This one features my great friend Tim and his 1978 CB750K Motorcycle!